This is the third time we have used our Magic for Less agent, and each time he makes our planning process easy and stress free. He is very knowledgeable about the services requested and help us out a great deal. We will always use him when we plan a Disney Cruise.
-Kevin B
I felt like all of the details were taken care of before we arrived. Working with our counselor took a lot of the stress out of our vacation.  This is the second time I have used The Magic For Less for my Disney vacation. The communication that our counselor provides is top notch. The notification of discounts (that I didn't have to work for on my own) was always a great surprise! I have already booked my next vacation with your company. Great work!!

-Meredith P
We've used our agent many times and have never had anything less than stellar service. She goes above and beyond, always, and gives great tips. We wouldn't go to anyone else.
-Angela B
Thanks for sharing this great picture with us Angela!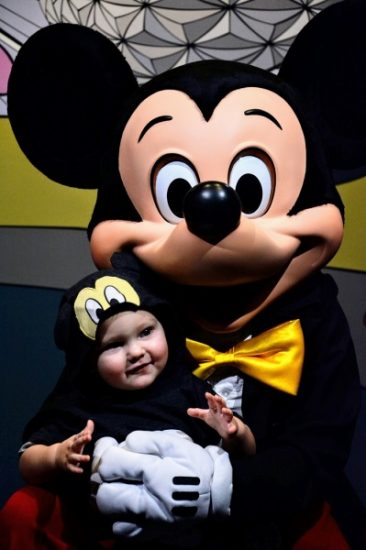 Can't say enough good things about our Magic for Less counselor. She is so helpful and attentive. Great to work with. We look forward to working with her each time we plan a Disney vacation and look forward to working with her on future "non-Disney" trips.
-Shawn W
Our agent is always quick to respond and is very knowledgeable about all things Disney!  We are so grateful to have her assistance when we plan our trips to WDW and on the DCL.

-Kelly T
Our counselor is awesome! We have used her before and she goes out of her way to make sure all details are covered. She is very knowledgeable and easy to work with. I recommend her to anyone who mentions Disney!!
-Angel R
Our Magic for Less agent is an excellent representative of the Magic for Less travel. She booked our trip & patiently went over all the options with us, quoting our trip at different resorts & with different ticket & dining options just as we requested. She noted our 20th anniversary celebration on our reservation & we believe we received some extra special treatment (room upgrade, champagne at dinner) as a result of this notation.  We are thankful we chose to use a travel agent, specifically one with The Magic for Less, for our special trip. We have a trip to WDW this summer already booked with her! Thank you!

-Jennifer B
It's always great with our agent. This was our third time using her help. She always has new ideas and ways to help us save money and have the best time. She's super prompt in response and always has an answer to our questions. Can't imagine planning a trip without her.
-Emily McD
Our counselor was great!! Super helpful and knowledgable!  We are already working together on our next cruise. She was able to answer our long list of questions that we had as first time cruisers. She never seemed rushed and always took the time to help us with everything we needed. She even gave us tips where to shop on our extra in the Galveston area.

-Michelle
Our magic for less counselor did it again!  I really think she knows more about planning a Disney trip than Walt Disney himself would have, and she's not shy about sharing her knowledge, tips, and tricks.  It was white-glove service all the way with her, just as always. 
-Sonia C
When planning a trip with our Magic for less agent we give her our basic idea and she provides options, schedules, prices, suggestions to make the vacation more fun, valuable and easy……  Communication is excellent.  She really cares about our experience.  Awesome!

-Bruce A
Our agent knows us from our past 2 WDW trips and knows what we like.  She suggested we stay at Port Orleans Riverside-we could not have been happier. Also, we appreciated her input/advice when planning our Cirque du Soliel  – especially when it came to seating location.
-Sharon H
Our counselor is great, she has brought up little things that we wouldn't have even thought to ask when planning/booking out trips.  We have booked 4 trips with her and have no plans to use anyone else.

-Roger L
Similar Posts: