We were at ft lauderdale airport when the shooting was happening, our Magic for Less agent got in touch  with us to make sure we were ok and helped us to check on insurance coverage for getting what we needed for our cruise, since we had no luggage, nor would we get it till after the cruise, she was so kind and caring and comforting along with informative!
-Beverly D
You need to have a rating higher than 5…..my agent was a 10!  Over and beyond making us feel excited and prepared about our Disney trip! She even communicated with us while we were on our trip which I thought was fantastic!  I can't say enough about her attention to seeing that our trip was perfect!

-Susan O
Our counselor was wonderful!!!! I was worried to death because it was just my granddaughter and myself traveling and she provided me with so much helpful info. I also lack in computer skills and everything I was unsure of she had it done before I could even worry about it. She is the bomb!!!!
-Colleen P
Thanks to Norma A for sharing these great family photos of their vacation.  Not sure who is more intrigued, Chewy or the baby?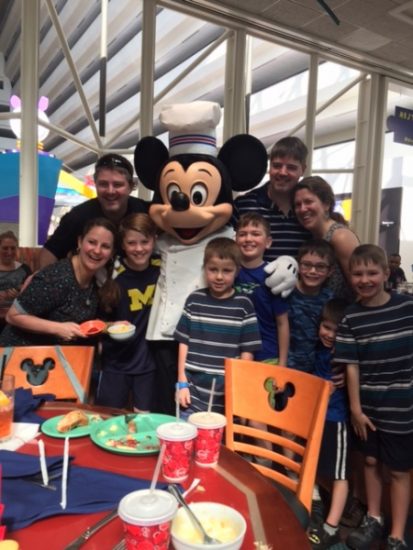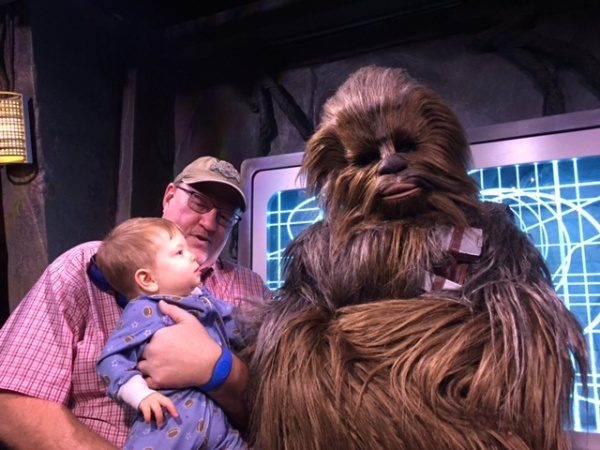 She was available for us leading up to our vacation and even answered a few questions while we were there!! Excellent service!
-Alysia B
Our travel counselor is the very best ,  She has made every Disney vacation for us to be very very special. We have a severly handicapped child  and she understands our needs and the extra work to take care of him ..She always goes that extra mile for us … I give her a perfect 10 for all her help every year.  Thank You for running a good honest company

-Roy & Patty O
When there was a hurricane approachING she kept us up to date on airport closures and made us feel safe, like we would deal with this together.  
-Sarah M
Our counselors would send me reminders about reservations and when they were available. She responded same day or next morning on 99.9% of my inquiries. Even around holidays.

-Kathie C
Our counselor was able to book our recent stay with available discounts, eliminating me sitting on the phone on hold for long periods of time.  She was also helpful in answering questions so we could make the most out of our vacation.
-Jennifer P
In the past I had always done all of the planning myself, decided to give TMFL a try two years ago.  I will never go back to doing it myself.  Our Magic for Less agent was knowledgeable, fun, and so very great to work with in planning our group trip (when you have many women who have known each other for years and have many ideas it can get sticky planning.  She made it a cinch!)

-Susan B
Our counselor planned our whole week with Disney – top to bottom;  Room, park passes, best times for Fast Passes, food plan appropriate for my husband and me, magic bands.  It was a pleasure to be able to go on vacation and not have to worry about all the details.
-Sue C
Our counselor went above and beyond my wildest expectations in providing us with the most amazing Disney adventure. She was extremely involved and attentive to every detail as well as gifting us with such meaningful small tokens of kindness during the planning stages. Our room at the resort was fabulous and her recommendations for dining and things to see and do were spot on. We could not imagine taking a Disney vacation without her planning it for us.  I am a bit of a worrier when I travel, always hoping for everything to be great and she took ALL the worry away and I felt very relaxed and calm planning this vacation.

-Laura F
Our Magic for Less counselor is always helpful and always there to answer our questions and give us pointers and advice~!
-Stacie
Our agent was amazing!! She helped me plan from the very beginning.  I felt overwhelmed with a lot of the initial decisions, and she broke everything down for me.  She walked me through each step.  She helped us find the best resort for us, helped with dining options, and fast pass decisions.  She booked everything for us, including getting up early to book our FastPasses.  She was even available during our trip with in the moment questions.  She gave us tons of info along the way, and as a result we were very prepared during our trip.

-Ashley B
I had a few questions here and there despite my own research. She was able to answer or let me know where/how to find out the info needed.
-Katy M
Our agent has helped plan our last 8 trips to Walt Disney World!   She always provides me with the most up-to-date information about the parks, restaurants and events.  This year we were able to take part in Egg-stravaganza at EPCOT and the Park Hopper Express Transportation, all because she kept me up to date!!  The only thing better would be if she came on vacation with us!  Already hoping I can plan another trip with her!!
-Maureen N
Similar Posts: