On our recent Disney Cruise Line cruise, my family and I experienced the Blue Lagoon Island Dolphin Encounter in Nassau Bahamas. My 15-year-old daughter has been a dolphin lover for most of her life. She has always wanted to interact with a dolphin, but the thought of swimming with one was intimidating. Although she is a good swimmer, she has been hesitant to participate in other dolphin swim programs due to being dragged through the water by an animal. The Blue Lagoon Island offers a Dolphin Encounter that doesn't involve swimming with one.
The Dolphin Encounter program took about 3 hours. We went through an orientation prior to meeting the dolphin that lasted about 30 minutes. During this time, one of the knowledgeable dolphin trainers gave us a basic dolphin education. We learned about the anatomy of a dolphin and where we were and were not allowed to pet one. He instructed us about the dolphin habitat on the island and introduced us to the dolphins that were in the training area. Our trainer demonstrated training techniques that are employed at the island. The dolphin also demonstrated his skills for us as well.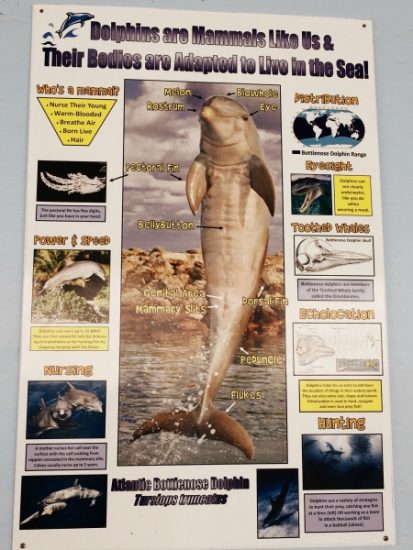 The actual encounter took place on a floating platform, allowing us to stand in waist-deep water. Our assigned dolphin was able to swim up to us. We were able to interact with the dolphin while standing safely on the platform. This is a great option for someone that is not comfortable with swimming or being in deep water. As the trainer called out instructions, the dolphin interacted with everyone individually. We were able to dance, hug, pet and kiss our dolphin. Our trainer had a great sense of humor, having the dolphin pay special attention to certain guests. We were in the water with the dolphin for over ½ an hour. They divided our group of 20 up so there were 7-8 guests interacting with the dolphin on the platform at one time.
At the end of our encounter, we were led to the photo area. Here, video and photo souvenirs of our encounter were available for purchase. The photos were available in both CD and digital download form.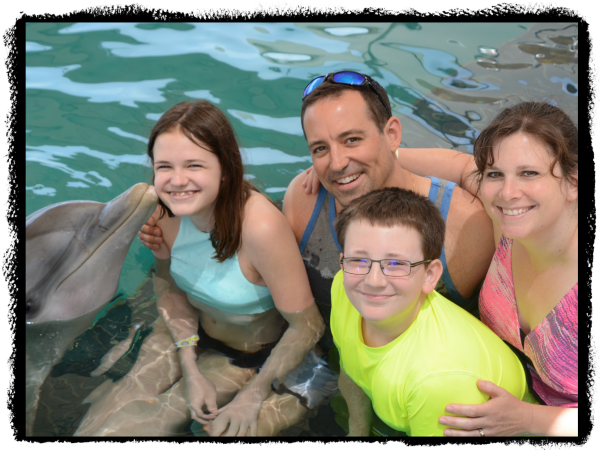 Once we finished with the photo department, we were free to enjoy the rest of Blue Lagoon Island. Beautiful white sand beaches and crystal tranquil waters were in abundance. There were also sand volleyball courts and a separate snorkeling area. There were beach chairs and hammocks in abundance.
The Blue Lagoon Island Dolphin Encounter was a unique experience and my family thoroughly enjoyed it. We received great value for the cost of the excursion.  I would highly recommend this to anyone that loves dolphins, but are hesitant about swimming with one.  For more information about Disney Cruise Lines and the available excursions, contact me at The Magic for Less Travel.
Similar Posts: