Fantasmic and World of Color Dinner Packages at Disneyland Resort
There are a couple of dinner package options at Disneyland for Fantasmic, World of Color and even the new Paint the Night parade.  What this involves is booking a reservation for a dinner package which includes a meal at a fixed price from a select menu, and you are given a Fastpass ticket to return to a designated area during a range of times for special seating.
So why should someone pay for something like this when you can see the show without it?  Simple… the dinner package offers guaranteed space for the show and often a 'better' location in which to view it.  If you are already planning on a table service meal, why not throw in a reserved viewing at a show afterwards?  With the dinner package you know you'll get in.  Fantasmic at Disneyland is not in a stadium that seats many thousands of people like its Orlando counterpart:  it is along the waters edge of the Rivers of America.  In my opinion there just is not a whole lot of space for everyone who probably wants to see the show—plus there are no seats.  (You stand—or if you're close enough you sit on the pavement.  More on that shortly.)
FANTASMIC Dinner Packages
Take Fantasmic, at Disneyland Park, for example.  A dinner package is offered at River Belle Terrace and the Blue Bayou restaurants.   There is also a quick service "on the go" option at Aladdin's Oasis which offers a Fastpass but not reserved seating; for purposes here we're going to discuss the dinner packages with a table service meal.
Since Fantasmic at Walt Disney World is probably my most favorite thing in all of Disney, when I learned I was going to Disneyland I knew I had to book it to book the dinner package as I probably wasn't going to get back to California any time soon.  Since I had previously dined at the Blue Bayou on a prior trip, I decided to try the Fantasmic option at River Belle Terrace.
With a dinner package you receive an appetizer/starter, Entrée, and Dessert.  Unfortunately I was way too hungry and forgot to take pictures of my meal, but I found my food to be pretty good and service was fast.  I selected a salad for my starter, my entree was the chicken with extra veggies instead of potatoes (and I had no problems getting the substitution), and I had a yummy cobbler for dessert.  After my dinner I was presented with a Fastpass to return to a designated area between a certain time period, and I was able to sit on the ground to see the show.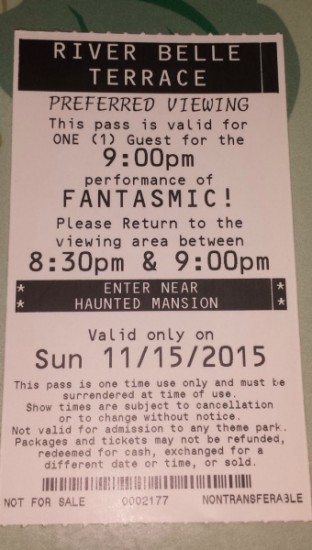 Now here is the big difference between Fantasmic in Orlando and the one in California:  In Orlando, there's a great stadium at Disney's Hollywood Studios for Fantasmic which seats about 9,000 people.  There are nice restrooms in the area and even a snack bar.  You get to sit on a bench.  In California, I had a great viewing area about 10' from the waters edge, but I was sitting on the concrete with other people around me on the ground too.  There was no option for a bench, no standing because of the people behind me, no snack bar, and going into this I knew I had better not need a restroom or I would lose my coveted spot.  As a 'middle aged' woman I can still bend over and touch my toes and have no issues logging 9+ miles a day in theme parks on foot so sitting on concrete for about an hour was not going to be a problem for me.  However I can see where this could be an issue for some folks.  Another problem for seating on the ground would be puddles and inclement weather.  That would be pretty UN-magical!
The show itself is pretty amazing.   It is not exactly the same as the Orlando show.  The story itself is the same (classic good vs evil) but how they do it is a bit different especially at the end.  I think what I liked best were all the characters on the actual boats in the Rivers of America.  During the day the Mark Twain steamboat ferries guests around; at night it holds characters for the Fantasmic show.  The sailing ship Columbia is also used in Fantasmic.  It was really awesome to see how they work this into the story.  I was enthralled by this show at Disneyland and have to say that it is 'better' than the one in Orlando.  As to not spoil anything, I'll let you decide if you want to look for a video of it on YouTube or not. Here are some photos: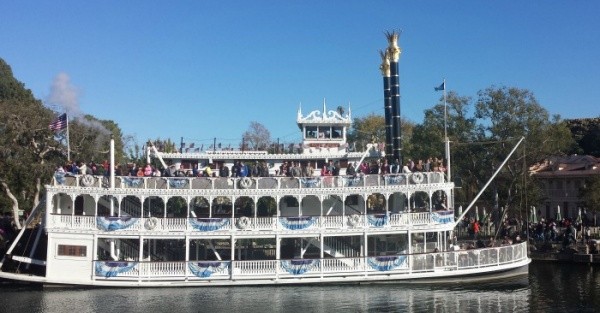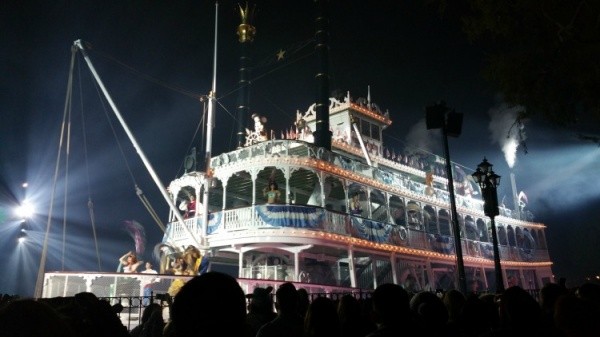 Mark Twain Steamboat during Fantasmic, filled with Disney characters.  
WORLD OF COLOR Dinner Packages
While in Disneyland I also did the World of Color package at the Carthay Circle Restaurant.  Again, what you pay for here is convenience–and pretty darn amazing food!  While River Belle Terrace was just food like I would make at home, Carthay Circle Restaurant was a signature dining experience.  There were six of us dining and we all enjoyed our meal and the quiet and relaxed atmosphere. Here's a menu from our November dinner and some of what we ordered: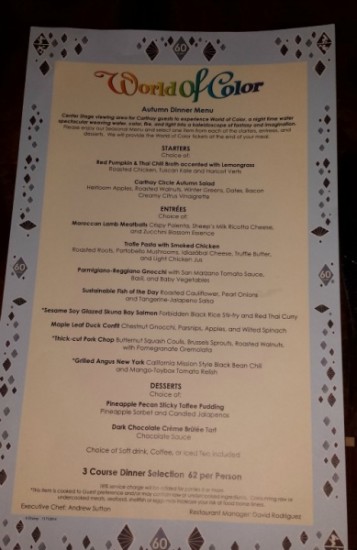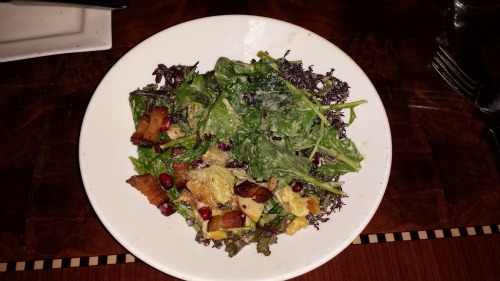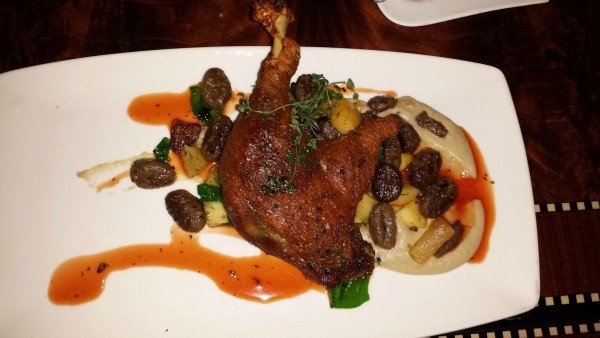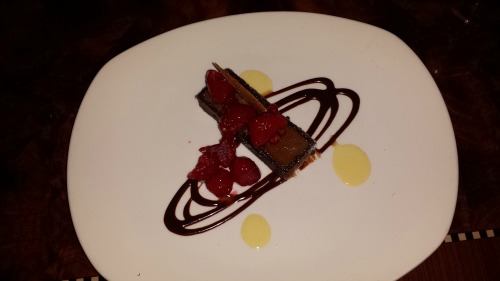 After dinner at Carthay Circle Restaurant we were presented Fastpass tickets and headed to our viewing area, which was clearly marked.  The viewing areas are tiered by ticketed experience.  There are three restaurants at Disney's California Adventure which participate in the dinner package:  Wine Country Trattoria, Ariel's Grotto (there are NO CHARACTERS at dinner) and Carthay Circle.  The restaurant determines the location of the viewing area.  There is also a "On The Go" option too which just offers a quick meal and a Fastpass.  Our viewing area with the 'premium' restaurant was at the top of the stadium.  Again, this was a standing experience and no seats in our area unless you were part of a group which required handicap access.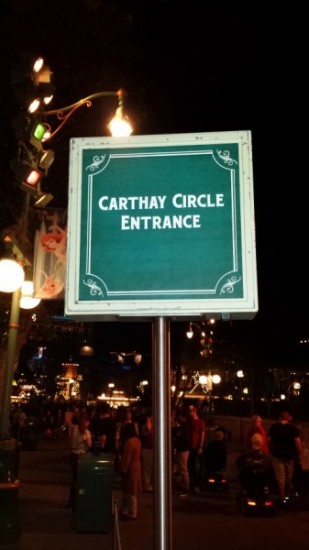 So what did I think of the viewing area for the 'premium' restaurant?  Well, upon first entering the area I was surprised that we were so far up and there were huge poles with projection equipment on them in the sight line.  It did bug me. However I had to go with Disney on this, and if Disney put them there, then there was a reason, and it didn't likely detract from the experience of the show.  At least that is what I kept telling myself!  As the show started I did notice those poles but I found myself engrossed in the story so the distraction was less of an issue for me. And regarding our viewing area on the top level?  Well, that worked out OK too because the lower level was rather crowded and there is also a 'splash zone' closer to the water.  It had been cold in southern California that week and we were wearing coats.  I was glad not to be lower in the viewing area as a 45 degree night with wind was not going to be much fun when you're wet.  And yes, I did love that show.  The technology was amazing.  Here's an overview of the World of Color viewing area, taken from Mickey's Fun Wheel the next day (and I still can't believe I got in that thing as I do not like heights.)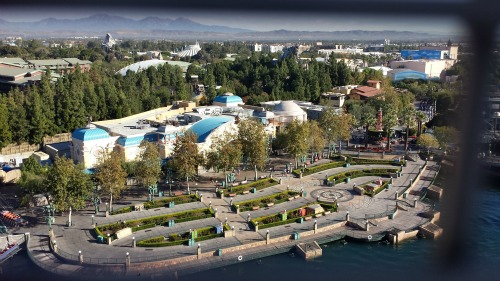 So is a dinner package 'worth it'?  In my opinion, I would say yes, especially if you are a first time visitor or it will be a long time until your next trip.  Although it is more costly to do a dinner package, Disneyland does not permit guests to enter these viewing areas early. If you are planning on a table service meal and you want to see Fantasmic, World of Color or Paint the Night without having to stand in line for a long time or stalk entrance points to see when they're letting guests in, the Fastpass voucher you receive with your meal means you will absolutely get into your area without a whole lot of crowds. Disney does offer a regular Fastpass for these events too, however I noticed the areas with regular Fastpass to be more crowded.  I had plenty of elbow room in my viewing areas.  With the meal you are paying for convenience and after a long day in the park or if it is going to be your only visit for a long time, I would say that the convenience is worth the cost.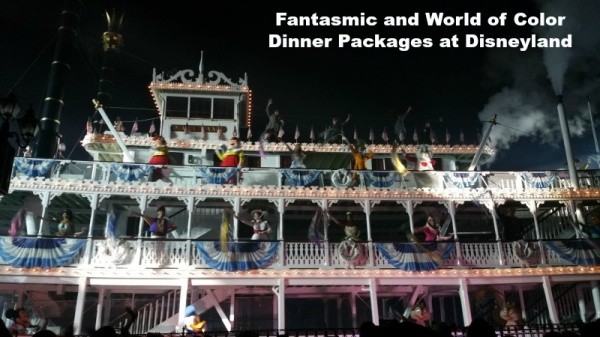 Similar Posts: