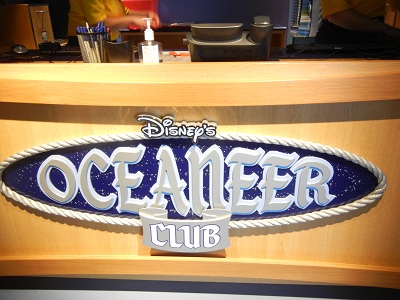 Disney's Oceaneer Club is a children's activity center located on Deck 5, Midship on the Disney Fantasy.  It is the ideal place for children 3 to 12 years of age to immerse themselves in the imaginative worlds that Disney is known for, while performing on stage, playing games and enjoying a wide variety of supervised activities.
The central rotunda is the main gathering place and, at the same time, a portal to other "lands," including:
Andy's Room
Monster's Academy
Pixie Hollow
Disney's Explorer Pod
This welcoming environment for children features twinkling constellations of Disney characters on the ceiling—as well as sparkling "pixie dust." The room's focal point is a stage area where kids can star in their own theatrical plays, join storytelling sessions and attend special visits by Disney characters, both in person and virtually.
The rotunda also has a 103-inch plasma screen for watching movies and for magical interactions with Crush, the totally tubular sea turtle from the Disney•Pixar movie Finding Nemo. The turtle personally chats with kids during his real-time animated appearances, asking them about themselves and the human world they inhabit.
Branching off from the central rotunda, Disney's Oceaneer Club includes 4 themed spaces:
Andy's Room – Inside this vibrantly-colored room, the world of Disney•Pixar's Toy Story comes to life. Children feel toy-sized, because everything around them is built large scale. Throughout this space, kids can play with larger-than-life characters from the animated film, including Rex the dinosaur, Hamm the piggy bank and Mr. Potato Head. This room also features a huge Slinky Dog structure that kids can climb through.
Monsters Academy – This area is based on the Disney•Pixar animated film Monsters, Inc., the centerpiece being an elaborately themed play structure, where kids can immerse themselves in the world of Monstropolis. It also boasts computers with unique interactive games.
Pixie Hollow – Inspired by the series of Tinkerbell movies, this fun interactive space transports children to the magical world inhabited by fairies. In the corner of the room, you'll find a pixie dust tree with glittering lights twinkling among its leaves. Throughout the room, there are acorn- and mushroom-shaped stools where children may sit. This endearing and tranquil environment is designed for dress-up play, individual craft projects and storytelling sessions.
Explorer Pod – Children can explore the Nemo Sub—a scaled version of a submarine inspired by the Disney•Pixar animated film Finding Nemo. The bright blue and yellow submarine is surrounded by a stunning seascape and features virtual environments for children to discover. Within the submarine, 16 interactive computer stations offer fun-filled games for individuals and groups.
What makes Disney's Oceaneer Club even more magical is an endless supply of toys and games, an open seating area for arts and crafts, and ongoing Disney movies. Mats for naps are also available.
Children are invited to enjoy lunch and dinner at Disney's Oceaneer Club.
Children ages 3-12 with special needs are welcome at Disney's Oceaneer Club. Simply let the counselors know in advance and they will accommodate the best they can.
Children are invited to partake in a wide range of delightfully themed activities available at Disney's Oceaneer Club. While some activities are recommended for certain age ranges, participation is based on a child's interest level and maturity—not age. As a result of this, siblings and friends ages 3-12 can play together without restriction.
Activities may include:
Disney's Once Upon a Time
Bartleby the Bookmaker leads the kids through the art of bookmaking and wows them with his very special talent: When he reads the books, he makes the characters come to life!
Puzzle Playtime with Mickey and Friends
Mickey Mouse and his pals stop by to play some of their favorite games with Disney Cruise Line's youngest cruisers and their families.
Tinker Bell's Talent Show
Tinker Bell has come from Pixie Hollow to Disney Cruise Line to help young cruisers discover their Fairy Talents and to give them the opportunity to shine.
Parents should note that children have the ability to move back and forth between Disney's Oceaneer Club and Disney's Oceaneer Lab during most operating hours to experience activities. Youth activities counselors will be on hand to direct children.
Open House is an opportunity for all guests to come and participate in a variety of exciting activities in the Oceaneer Club and Lab throughout the cruise. During these times the Oceaneer Club or Oceaneer Lab will still be available for those looking to check their children into care.
Similar Posts: