by Laura Augenti
 Cruising on the Disney Fantasy is a fantastic vacation for adults?   Yes, it sure is!  Here is just one of the many reasons!!   On the Disney Fantasy, the Quiet Cove Pool is for ages 18 & up only; located on deck 11 forward.    I was fortunate enough to have the pleasure of spending an afternoon at this slice of heaven!    The pool is a unique interlocking circular design that is not only appealing to the eye, but also appealing to the senses.   The pool consists of 3 parts; one 'circle' has benches all around it, so you can sit submerged in water; the middle 'circle' of the pool is a 4-ft. deep plunge pool (it felt more like 5 ft. to me, but maybe I was so relaxed that I wasn't at my full height!), then there is a 6-in. deep sunbathing pool, with benches and a little circle in the middle that gives off a mist to keep you cool (genius!).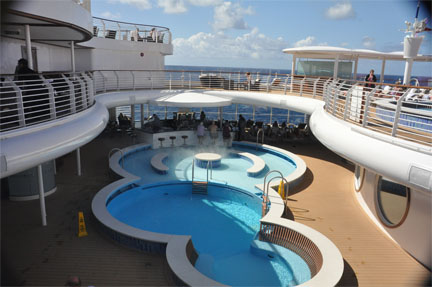 At the far end of the sunbathing pool, is the Cove Bar; which is also a circular shape.  The Cove Bar is a true pool bar, with bar stools in the pool (6 inches of water only).   If you don't want to get your feet wet, you have the choice to sit on the other side of the Cove Bar.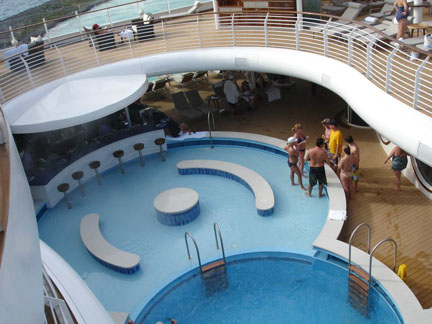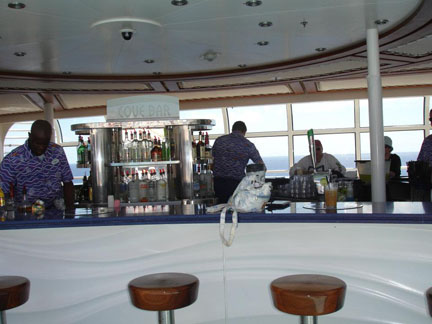 Have a cocktail while enjoying live music above you from deck 12 (near the wading pool, NEW to the Fantasy!); the menu offers classic vacation cocktails such as a 'Mai-Tai, and Pina Colada', along with a nice variety of tropical concoctions, beer and wine.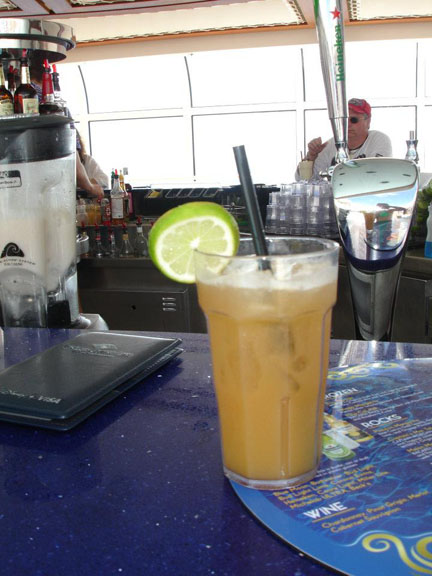 In the Quiet Cove pool area, along the plexi-glass with gorgeous views is a jetted hot tub.  The hot tub is shaded by the deck above, so you can relax and gaze out at the ocean without worry of burning or getting too hot.
The Quiet Cove pool area is complete with plush lounge chairs, and a few upright cushioned settee sets, creating a cozy, yet sophisticated atmosphere.
This is a great place for adults to gather for either relaxation, or a social setting.    Have a few cocktails with your travel mate; or make new friends; it's easy to do at the Quiet Cove Pool and Cove Bar.
Adults have not only the Quiet Cove Pool and Bar on deck 11, but also up on deck 13 is Currents Bar, with an incredible view, and Satellite Falls (splash pool), and many plush lounge chairs, which offers a quiet retreat.  The Fantasy offers sheer bliss for adults!
Similar Posts: