By Laura Augenti
On the Disney Fantasy, adults can choose from an array of nighttime bars, clubs, lounges and restrooms.  Restrooms?!?!  Yes… the most beautiful restrooms and intricately decorated restrooms you have ever seen!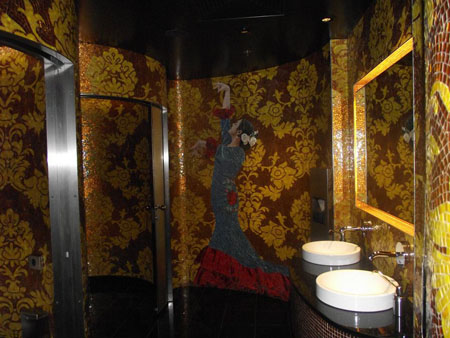 Europa Ladies Room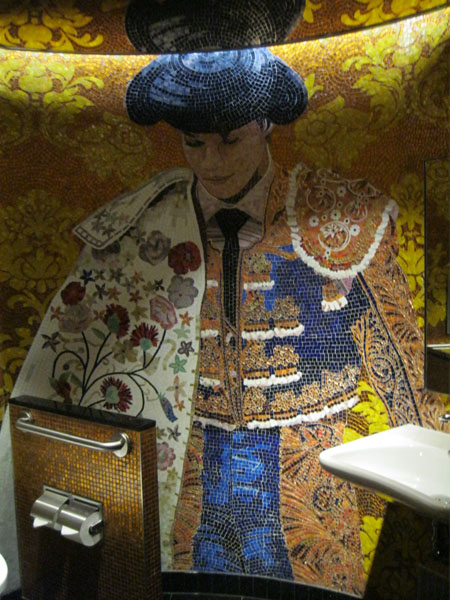 Europa Mens Room
But I digress….I did not plan to start off talking about the restrooms!  Europa is a district of 5 clubs and lounges/bars.   Each one has a completely different theme.   There is décor and mood to satisfy everyone's taste!   From ultra romantic, to urban sophistication, to fun pub atmosphere…. Europa has it all!
While some of us Magic For Less Travel Agents were on the pre-inaugural cruise on the Disney Fantasy last month, I made sure to check-out these amazing lounges.
O'Gill's Pub; is an Irish pub gorgeously done in dark woods, with brass accents.  One thing that stood out at O'Gill's was the bar stools; I wanted to buy them for my house they were so beautiful (in a masculine décor sort of way) and comfortable.    O'Gill's has pub tables and seating in a back room.   Maybe the best thing about O'Gill's is the flat screen TV's!   So have no fear, you can watch your favorite sporting events while on your Disney Cruise.   Wait, no, the TV's are the second best thing; the best thing is the special beer and Irish Cream made exclusively for O'Gill's (which means exclusively on the Disney Fantasy)!     The only way I can describe the O'Gill's Irish Cream is that it tastes like Bailey's Irish Cream, only it is even creamier and tastier!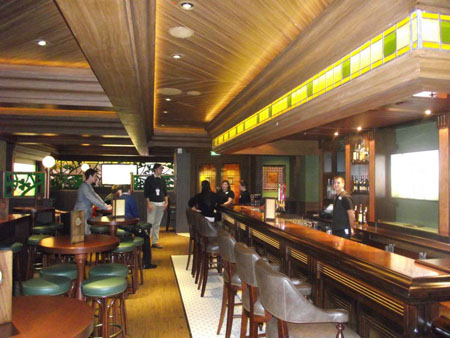 O'Gills Pub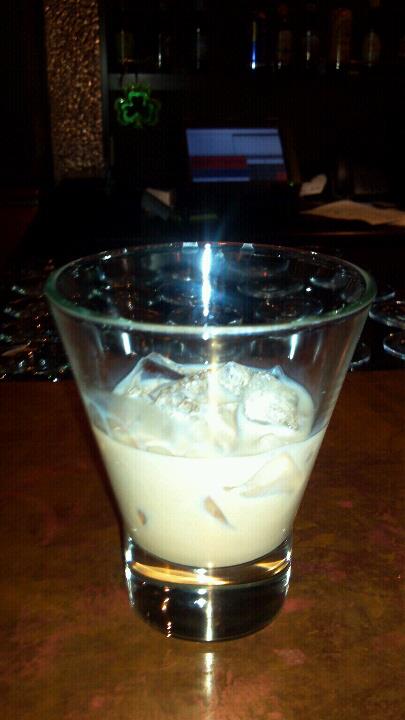 O'Gill's Irish Cream- yummy!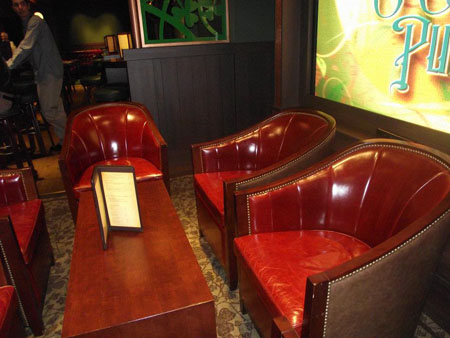 O'Gill's Pub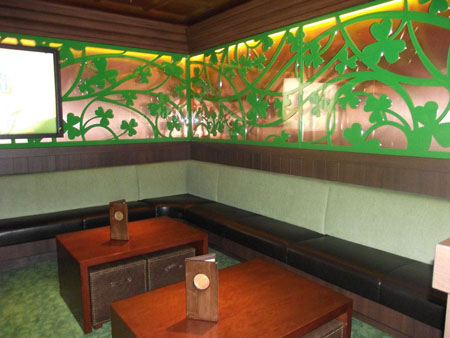 O'Gill's Pub seating area
Moving on to the Skyline bar.  Although a very difficult choice; I might have to say that this is my favorite of them all.   This bar/lounge is very dimly lit, with lighted scenes of European Cities behind the bar that change every 20 minutes.  A different European City is featured each day.    As you sit at the bar; you have a panoramic views!   The Skyline is so dimly lit (which makes the view of the cities dominant), that the menu is lit up; this I found to be very cool!    Although I'm a beer or wine kind of girl, I had to try one of their specialty martini's after seeing a martini being served with a glow cube.  I was excited at this prospect, lol.     So, I ordered one, a Paris 75 with a sugar rim (the blue martini below).  It was delicious!  (and fun too!)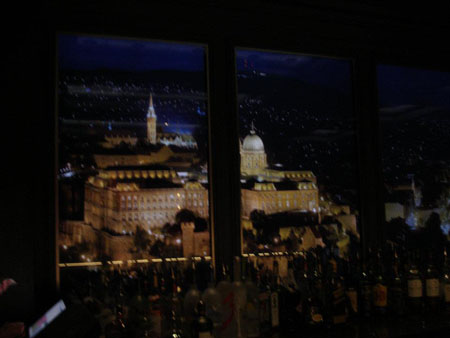 Skyline bar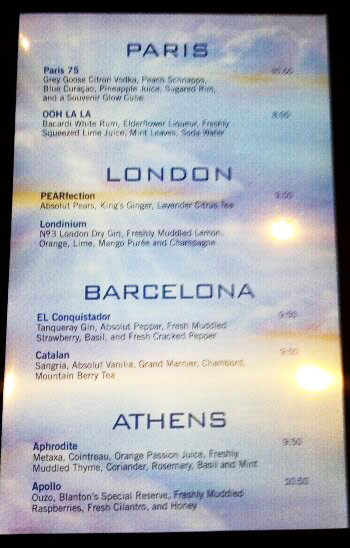 Skyline Lit Up Menu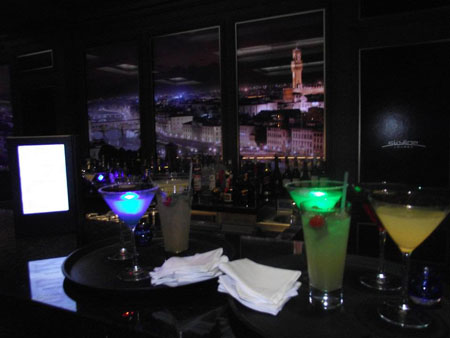 Skyline specialty cocktails and panoramic scenes
Ooh La La is a dimly lit lounge with a French décor.   This lounge screams romantic; definitely one of the most romantic bars/lounges I've ever seen.  The only unfortunate part was that it was so dark that the pictures I took did not come out.   However, I did manage to get a picture of a Martini with the backdrop of the bar behind it; the bar is themed after a jewelry box, and the behind the bar it looked like champagne bubbles, (see the picture below!)   It was gorgeous!   With a Victorian French décor, chaise lounges, and tufted walls; 'Ooh La La' is surely a 'must do' if you are on your honeymoon or for any couple in love.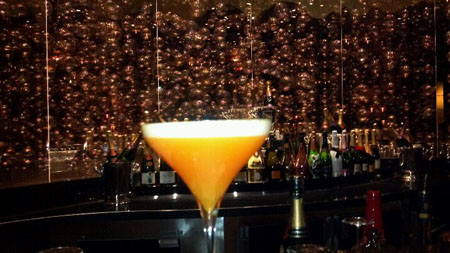 Ooh La La martini and backdrop of the bar
La Piazza is Italian themed, with a beautifully and uniquely designed décor (as they all are!).   The bar is designed like a carousel, and the bar stools are so unique that my eyes grew wide!    They are surprisingly comfortable; as comfortable as they are beautiful!  The bar is round (as a Carousel would be!) in the center of the room, and all along the walls are romantic booths and ornate decorations of motorcycles and even a piano.   La Piazza is a colorful, and gave off a romantic yet whimsical vibe.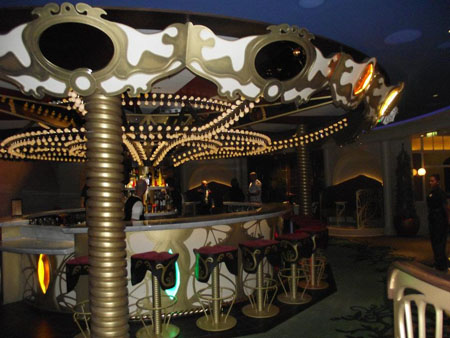 La Piazza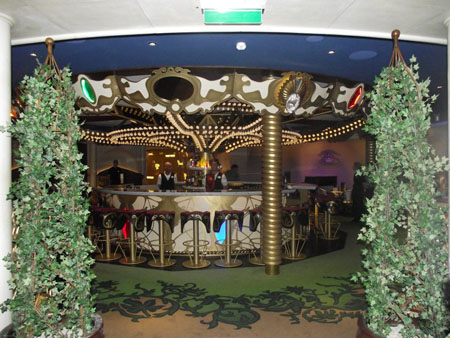 La Piazza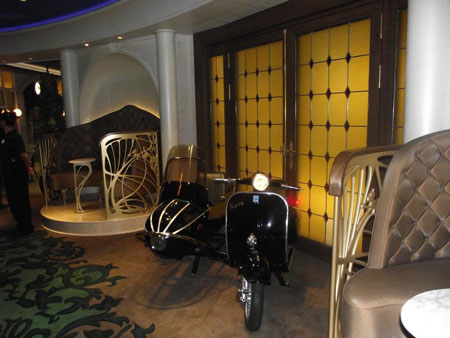 La Piazza romantic booths and motorcycles!
Last but certainly not least, I went to check out The Tube.   The Tube is the night club on board the Disney Fantasy; and the décor is designed after London.    Yes, there are even the signature phone booths (Epcot lovers will really like this!)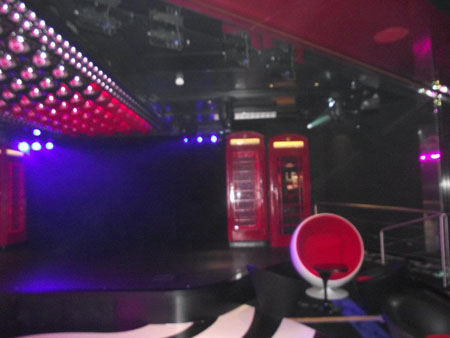 The Tube phone booths!
With a very modern and 'hip' décor, you will be ready to party all night. Standing at the bar, I drank in the atmosphere; and not surprisingly everyone was having a great time; dancing on the large dance floor, mingling, laughing and drinking.   The nice thing about cruising is that you see familiar faces, so making new friends and mingling is easy!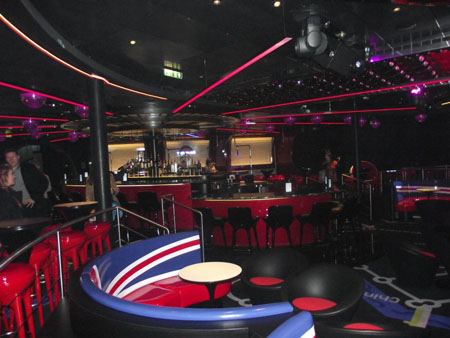 The Tube
I especially liked the ultra modern seating areas scattered along the walls; I found them cozy; if cozy is possible in a loud, party atmosphere; leave it to Disney to accomplish this!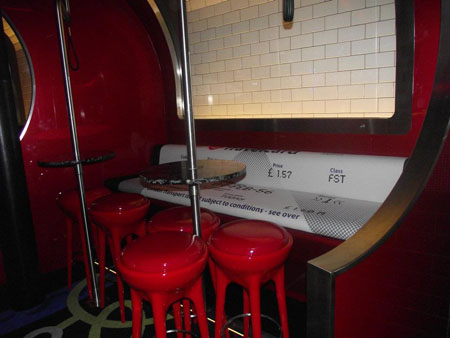 The Tube seating areas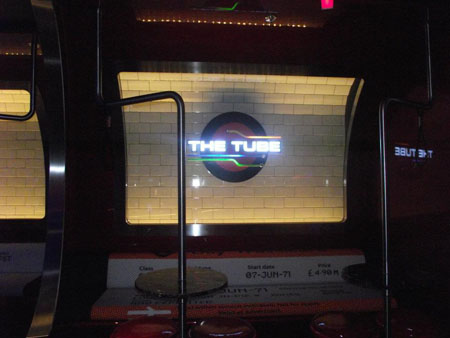 The Tube more seating areas
Europa is the ultimate in bars, lounges and nightclubs.  There absolutely is something to fit every personality or mood; and whether you are cruising with friends, your spouse/lover, co-workers or solo, there is a bar stool, booth, or dance floor to fit any mix of company.   Europa's incredible array of themes and unique decors are truly a treat you will not soon forget!
Once again…. Disney does it right!
Similar Posts: