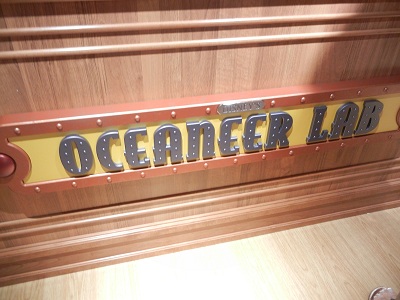 Disney's Oceaneer Lab is a play space designed for children and dedicated to adventure and exploration—located on Deck 5, Midship aboard the Disney Fantasy.  It's an ideal location for children ages 3 to 12 years of age to play, featuring:
A seemingly endless supply of toys, games and Disney movies
A space for educational experiments
A variety of supervised activities throughout the day
Individual computer stations
The staging area and starting point for a ship-wide quest game, in which young explorers gather and decipher clues during an exciting adventure around the ship
Disney's Oceaneer Lab is designed with delightful amenities, including:
A stage in the main hall, where kids can hear stories of great expeditions and star in their own swashbuckling plays
A 103-inch plasma screen, which displays Disney movies and interactive animated characters, including Disney's mischievous animated alien Stitch, whose unrehearsed, real-time antics are sure to bring laughter
A workshop and laboratory where kids concoct crazy experiments, stretch their culinary skills and participate in other hands-on activities
The workshop and laboratory connect Disney's Oceaneer Lab to Disney's Oceaneer Club.
Branching off the Disney's Oceaneer Lab's main room are several themed play spaces:
Media Room – Children can kick back and relax in bean bag chairs and watch movies, play video games or even read a book.
Animator's Studio – Designed as a working animation studio, this room allows children to create original, hand-drawn art or learn how to sketch their favorite Disney characters. With the help of a youth counselor, kids can even design and bring to life computer-animated characters.
The Wheelhouse – This space is all about technology, featuring numerous computers and large, high-definition LCD screens. Here, young technophiles can compete in a unique Pirates of the Caribbean game exclusive to DCL.
Sound Studio – This interactive area is dedicated to children who appreciate music and want to create it.
Craft Studio – Children seeking a more tactile artistic experience can escape from technology to this creative studio and create hands-on arts and crafts projects.
Children are invited to partake in a wide range of delightfully themed activities available at Disney's Oceaneer Lab. While some activities are recommended for certain age ranges, participation is based on a child's interest level and maturity—not age. As a result of this, siblings and friends ages 3-12 can play together without restriction.
Activities may include:
Monsters, Inc Open "Mike" Night
Mike Wazowski and the other monsters of the Disney•Pixar film Monsters Inc. have lost their voices and are unable to collect kids' laughter to power Monstropolis. It's up to the kids to put on a comedy show for their parents so they can save Monstropolis from certain doom.
Get the Hook!
Captain Hook's favorite dress hook has been stolen and the kids must help him find it and catch the culprit. Led by Detective Clue and featuring site-specific crime scenes, their 3-day search for clues will take them all over the ship as it sails the sea, culminating in a reward from the Captain himself.
Super Sloppy Science with Professor Make-O-Mess
Professor Make-O-Mess is a world-famous scientist who is known for performing the sloppiest science experiments around. Now teens can partake in some educational fun as the professor offers some hands-on training that will surely having them laughing and learning.
Children are invited to enjoy lunch and dinner at Disney's Oceaneer Lab.
Children ages 3-12 with special needs are welcome at Disney's Oceaneer Lab. Simply let the counselors know in advance and they will accommodate the best they can.
Parents should note that children have the ability to move back and forth between Disney's Oceaneer Club and Disney's Oceaneer Lab during operating hours to experience activities. Youth activities counselors will be on hand to direct children.
Open House is an opportunity for all guests to come and participate in a variety of exciting activities in the Oceaneer Club and Lab throughout the cruise. During these times the Oceaneer Club or Oceaneer Lab will still be available for those looking to check their children into care.
Similar Posts: