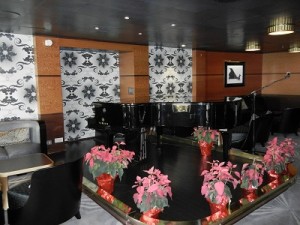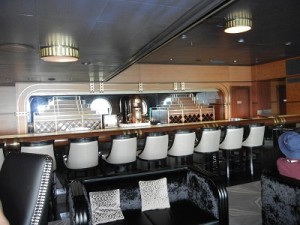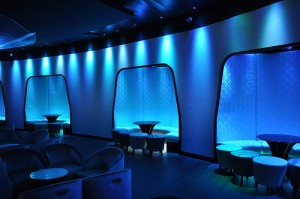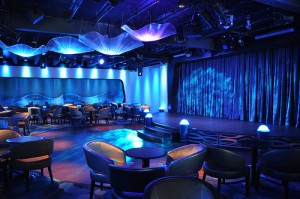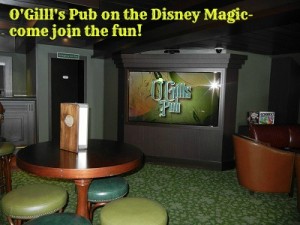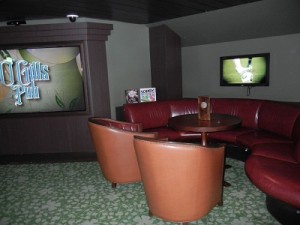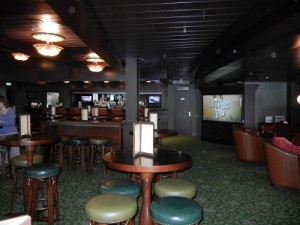 After the Disney Magic was re-imagined, she came back with all new names in the adult entertainment area.  The old Beat Street is now called After Hours and has a nice new look.
The hall leading from the ship's lobby is now etched silver with dark blue carpet, making it look very contemporary yet regal.  In fact, it is almost hard to look at the wall as you walk due to the patterns in it, but it looks great.  The first room you come to is the main nightclub, Fathoms.  This follows the sea theme seen elsewhere on the ship with beautiful lights representing jellyfish.  The blues in the room are like different shades of the ocean and the windows behind the bar also look out to the ocean.  This room is used for a lot of events through the day for families but after 9pm it's adults only where you can experience 80's night, a show based on the newly-wed show, adult shows by the guest entertainers on board, country music night, among other fun times.
Next we come to Keys, the redone piano bar.  This area was always overlooked before and seemed to be seldom used but now has a new look with the baby grand piano where great tunes are played every night.  This is a great location to enjoy your favorite music played by an amazing pianist.   The change to this will welcome an entirely new audience for
some very enjoyable nights.
The sports bar, formerly Diversions, is now O'Gill's Pub, named after Darby O'Gill and the Little People.  The tables have been replaced by high-top tables but there are still the intimate areas around the perimeter of the room where you can sit and visit.  There are several board games in there to enjoy as well as checkers and chess.  When there are games this is the place to be-whether it's football, basketball, soccer, you'll find the tv's tuned in (if the satellite is cooperating) and you can enjoy the liveliness of everyone cheering on their favorite team.  You can also find snacks in here during the night hours as well.
No matter what you want, the lively party in Fathoms, the tinkling of the ivory keys, or the cheering crowds, you'll find it in After Hours.  Cheers!
Similar Posts: