The newly refurbished Disney Wonder offers plenty of water activities to keep everyone in the family happy and busy.  There are some brand new spaces you will enjoy, as well as old favorites. You can have quality family time making some magical memories or indulge in some adult only peace and relaxation.  These spaces can be found on Deck 9.  Deck 9 also has plenty of places to refuel and you can grab a smoothie, ice cream, coffee, pizza, Cabanas buffet, and more!  Edge, the tween kids' club (ages 11-14) and Senses Spa is also located on this deck.
So what's new?
(The following water options take the place of Mickey's Kids' Pool.  They are located aft.)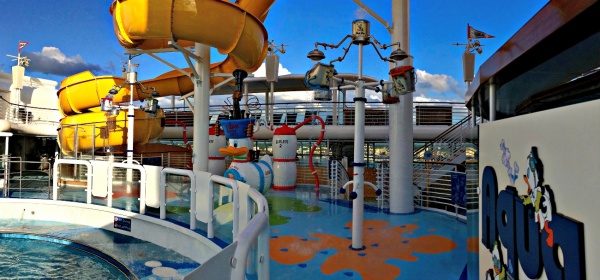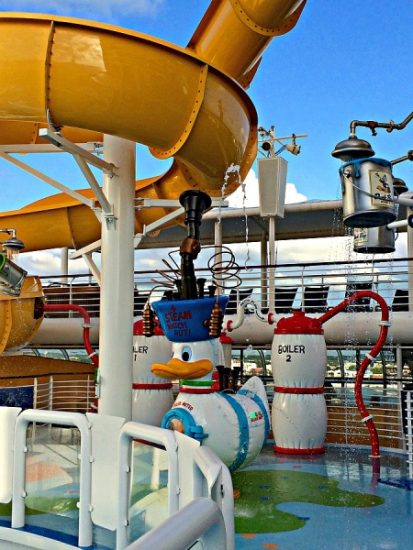 Aqua Lab: This area is reserved for guests that are fully toilet trained.  Water jets into the air, falls from unsuspecting buckets, and splashes as the kids run around laughing and playing. There is also a shallow splash pool.  Life vests are available in various sizes for the safety of your little ones, as well as lifeguards at the Aqua Lab, Twist 'n' Spout, and Goofy's Family Pool.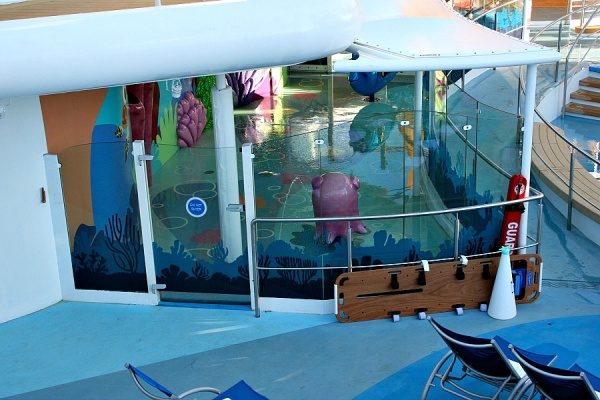 Dory's Reef: This area is specifically designed for guests whom are not fully potty trained.  Little tots splash around with Dory and Squirt on this adorable little splash pad area.  It is located right next to the Aqualab, but is completely blocked in with clear glass.  So, you can watch your tot in Dory's Reef and keep an eye on your older children playing in the Aqua Lab or enjoying the Twist 'n' Spout Slide.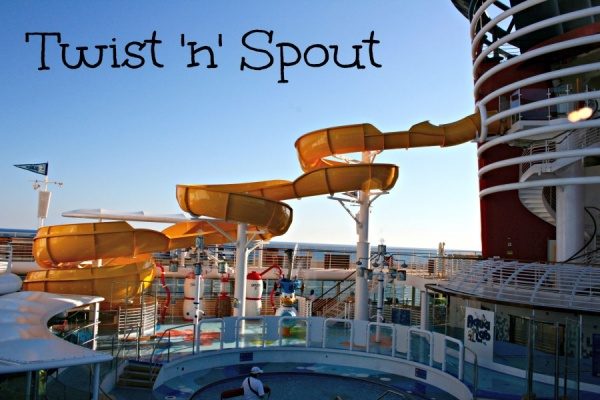 Twist 'n' Spout Slide: The slide starts three floors up and is for those guests that are 38" or taller.  It twists all the way down to the Aqua Lab area for a big finish.  They do require that you ride the slide one at a time; little ones are not allowed to ride on your lap.  There is a red light/green light located at the top of the slide to let you know when it is your turn, and a lifeguard at the bottom to ensure the safety of those who decide to take the plunge.  Children and adults alike will enjoy this mild, fun slide!
You can see a video of these wonderful new spaces here.
Old Favorites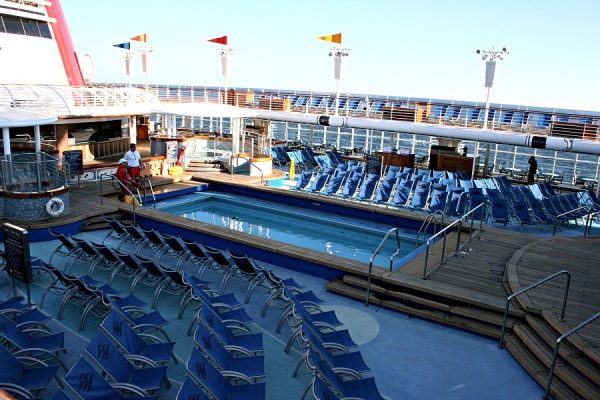 Goofy's Family Pool: Splish and splash along while watching movies on the big screen or listen to the music on deck.  At night this area is transformed for the deck parties. A deck covers the pool and kids dance while entertainers and characters lead them in fun games on stage.  This is where you will have the Sail Away Party, Pirate Night Party and other evening activities depending on your sailing.  It is also where you will view the fireworks, which on my sailing occurred on Pirate Night.  Goofy's Family Pool is located midship.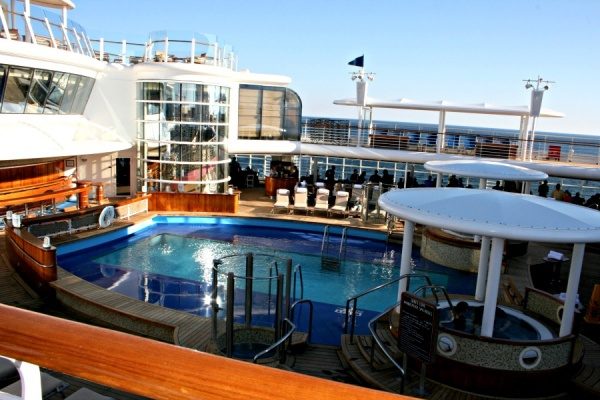 Quiet Cove Adult Pool:  The area around the Quiet Cove Pool is for adults only and has a bar, heated pool, and 2 whirlpools with plenty of deck chairs in the sun or shade so you can relax and enjoy your time, while the kids enjoy the kids' clubs.  The Quiet Cove pool is located at the forward area of the ship near the Senses Spa.  On our sailing, there was a chair massage available near the pool for a nominal fee.
You can view a video of this relaxing adult area here.
Where do you want to spend your day in the sun?
Interested in the other ships in Disney's fleet?  For more information, itineraries, or a no obligation Disney Cruise Line quote, view here.
Similar Posts: