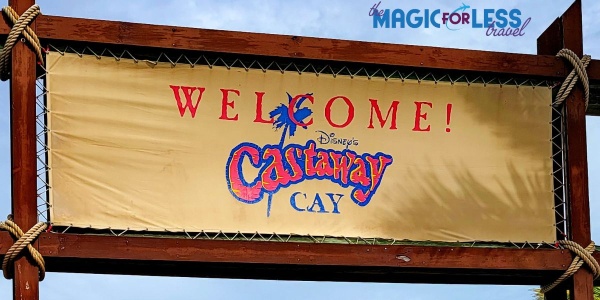 Disney's Castaway Cay, is a highlight of Disney Cruise Line Caribbean and Bahama cruises with activities, food and fun for everyone.
Disney's private island features beautiful family and adult beaches with ample seating and umbrella shades. With a choice of 3 barbecue restaurants with soft drinks and ice cream all complementary you can have a wonderful time on the island with no additional cost or planning. There are great spots for photos and Disney characters including Captain Jack Sparrow make appearances on the island. If you are looking for other unique activities, there are plenty to choose from.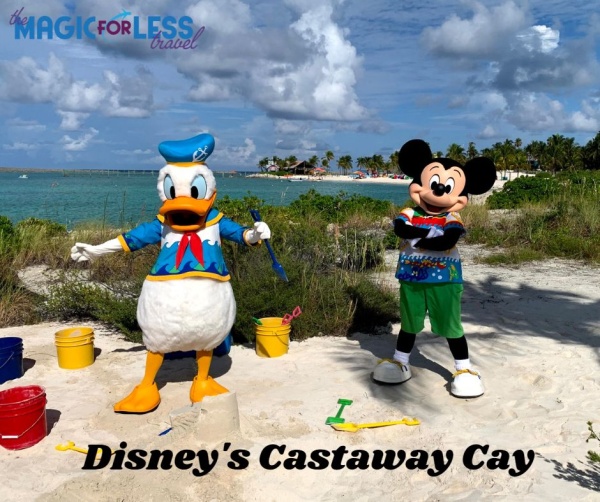 Island Layout
Castaway Cay has 4 main areas for guests. The Arrival area adjacent to the ship includes the Post Office, Harbor for charters/parasailing, Shuttle stop, security checkpoint and photo opportunities. The near end of Family Beach is where the snorkeling area, Stingray Adventure, watercraft rentals, Scuttles Cove and Cookies BBQ. At the far end of Family Beach is Pelican Point that includes bike rentals, Pelican Plunge, the Teen Hideout, Spring A Leak wet play area, Cookies Too BBQ and family cabanas.
Family Beach has sandy swimming areas, loungers, chairs, umbrellas, hammocks, covered eating areas, shops, bars, and snorkeling/float rentals. A shaded area with games is located in the middle of Family Beach before the Pelican Point area.
Serenity Bay is the last area and is an adult only refuge. It has it's own beach, BBQ, bar, massage cabanas, equipment rental and adult cabanas.

Getting To Shore on Castaway Cay
Getting to shore couldn't be easier. Castaway Cay has its own dock so you can walk on or off the ship anytime. Towels are provided on the dock so all you need is your Key To The World Card and an ID. Don't miss the fabulous photo opp locations right off the ship. Make sure to take your photos early as photographers are only out  in the morning .
It is a short walk to the Tram station that has 2 stops at either end of Family Beach. If you prefer to walk, it is about 10 minutes to the Family Beach. There is a second tram to take you from the Pelican Point to Serenity Bay. There are ample loungers and umbrellas on the beach but if you are picky about your location such as close to the water, you should try and get there early.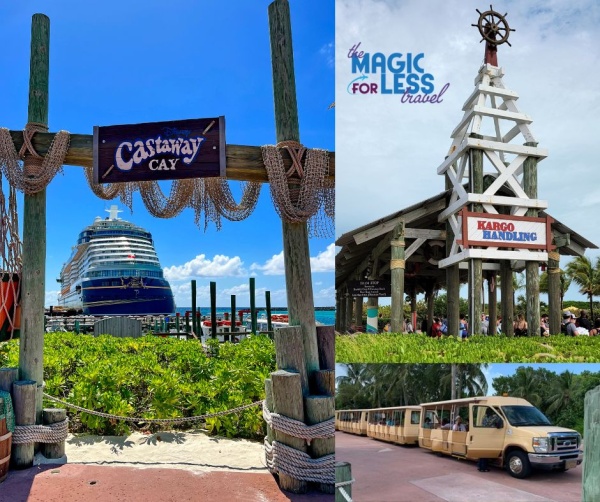 Fun For the Family
As you would expect on a Disney island there are many activities for the whole family to enjoy.
Family Activities with no reservations or extra charges
One of the best things at Castaway Cay are the pristine beaches. The expansive sandy shore has plenty of loungers and chairs with umbrellas to provide shade. hammocks scattered about for you to relax in.  They are steps away from the restaurants that provide free soft drinks and ice cream.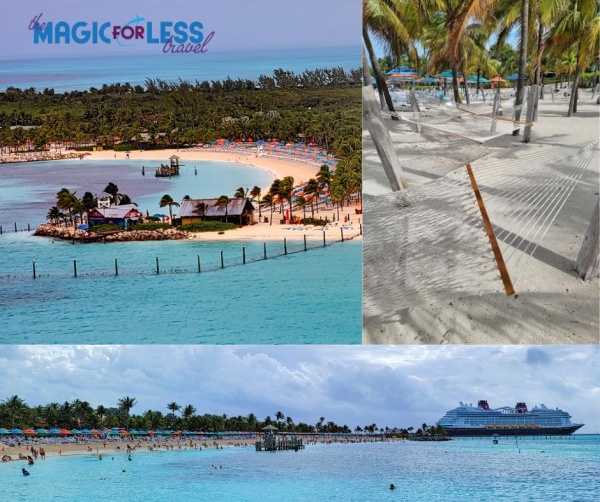 Castaway Cay Beach Activities
The Family Beach is on a protected shallow lagoon that provides a calm swimming area with a sandy bottom. There are lifeguards on shore and in the water for your safety. A designated snorkeling area has many colorful fish with sunken Disney character statues sprinkled around. Hint: check out under the buoys. You will have to wear an inflatable life vest provided free of charge if you are snorkeling.
Snorkeling is free if you have your own equipment or there is equipment available to rent at all the beaches (no advance reservations required). Strollers are available for free onshore as well as special wheelchairs with large sand tires.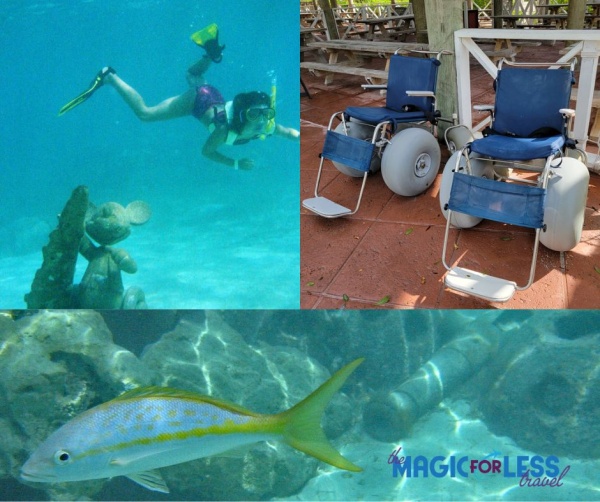 There are two play structures in the water. The structure off the first part of the Family Beach has ropes and ladders dangling over the water. Pelican's Plunge is located at Pelican Point and has waterslides and a wet play area.
For the Kids
For families with 3-12 year olds you can check your children in with the youth counselors at the supervised play area called Scuttle's Cove. Scuttle's Cove is free of charge and no advanced reservations are needed. Kids can also have fun digging for "whale teeth" at Monstro Point adjacent to Scuttle's Cove.  Spring-a-Leak is a splash area located near Pelican Point.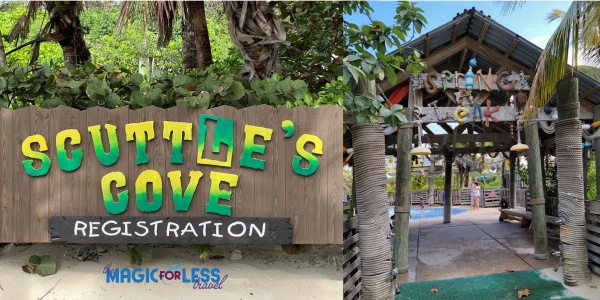 For the 14-17 year olds, there is the Teen Hideout for them to hangout or participate in sports activities. Guests of all ages have fun at In The Shade, a sheltered area with games such as foosball, ping pong, basketball, monster chess and checkers.
Castaway Cay 5K
Want some exercise or to see more of the island? Take advantage of the Castaway Cay 5K. The start/finish is near the tram stop at Pelican Point and the course runs down an air strip in the middle of the island, around a mile loop through a tree lined path (twice) and turning back at the Serenity Bay adult beach. Ask a cast member if you have any questions. A medal commemorating completing the run is available when you get back to the ship.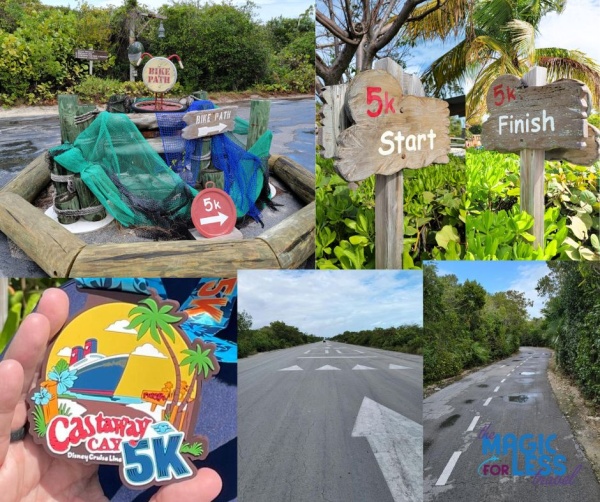 If That's Not Enough For You To Do
There are lots of additional activities at Castaway Cay for a fee. They can be reserved in advance but many can be booked the day before or on the island.
Castaway Cay Equipment Rentals
Floats, tubes and snorkeling equipment are available for rental at any of the beaches for the day. These almost never run out and can be rented on once on the island or in a discounted package beforehand that includes all three.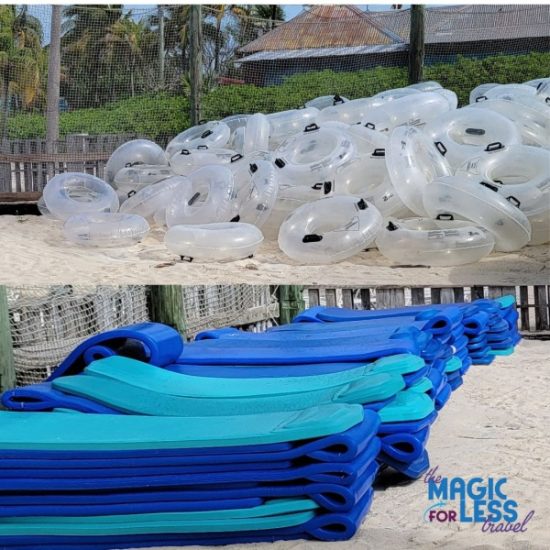 Bicycles are a great way to see more of the island and are available for rental at Pelican Point or Serenity Bay.  Cruise down the runway, explore paths through the interior of the island and visit the lookout with panoramic views of the ship and the entire island.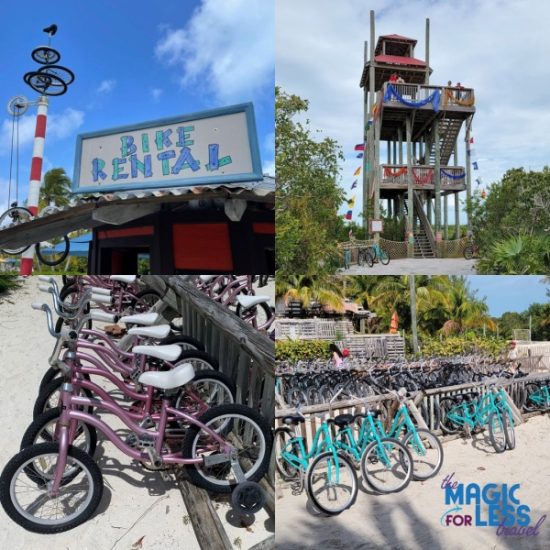 Family Cabanas
Very popular but by far the toughest thing to book are the private Cabanas with concierge service. There are 20 Family Beach Cabanas for 6 people and a double sized Grand Family Beach Cabana for 10. For an additional charge, a few extra guests may be added. The family cabanas are located on a private beach just past the Family Beach. They are independent structures with a covered area and an open deck with padded loungers and seats. There is a small refrigerator with complimentary soft drinks and water. A tray with fruits and snacks as well as sun protection products are provided.
The package includes snorkel equipment, sand toys, float and tube rentals, a one hour bike rental and a cabana host. Due to their limited number, cabanas book quickly and are often all taken by concierge guests even before it opens to platinum members. Persistence does sometimes pay off as there are often some cancellations but you need to be lucky with your timing. See Disney Cruise – Family Beach Cabana Castaway Cay for more information.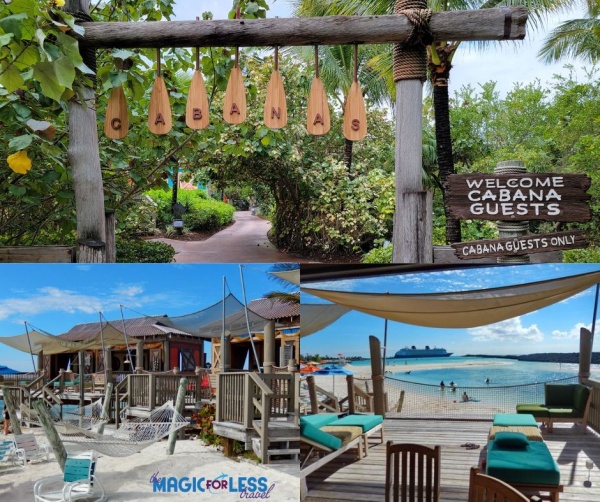 Activities on Castaway Cay
A popular activity for families is the Sting Ray Encounter located just before the Family Beach. You will get a close encounter with free swimming Sting Rays in a fenced area of the lagoon. On a busy day this activity sells out so book ahead of time.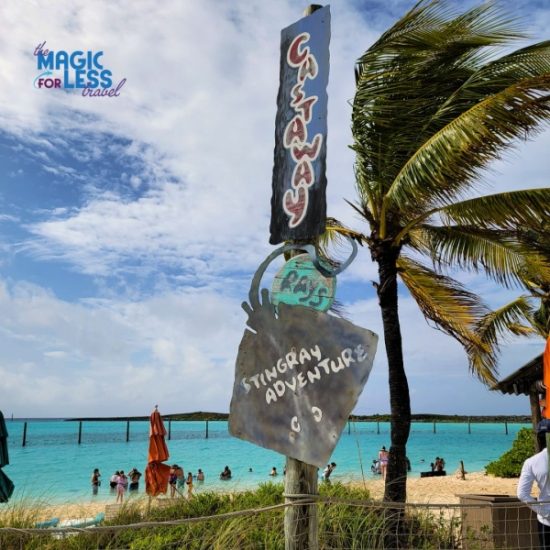 Tours for parasailing, Glass Bottom Boat and fishing trips depart from a dock on the island near the back of the ship. For the adventurous, parasailing offers spectacular panoramic views of the island. You are winched from back of a small boat into the air as a double or single. The Glass Bottom boat tours the reef outside the lagoon for a view of the abundant sea life. Parasailing and Glass Bottom Boat Tours often fill up so book in advance. Small group Fishing Adventures have limited numbers and fill up quickly. If interested, book fishing trips as soon as possible.  These activities are subject to cancellation due to high winds or rough seas.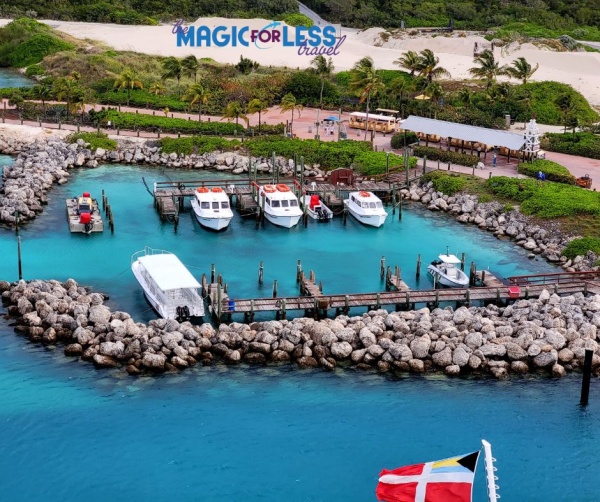 A variety of water craft are available for you to rent that allow you to explore the protected lagoon. You can choose from Aqua Trikes, Paddle Boats, Sea Kayaks, Hobie Cats, Water Bikes and Paddle Boards. There seem to be enough that it probably isn't necessary to book in advance. These rentals are on the beach between the ship and Family Beach which is also where the Banana Boat tours take off. The Banana Boats provide a good bouncy ride so don't be surprised if people end up in the water.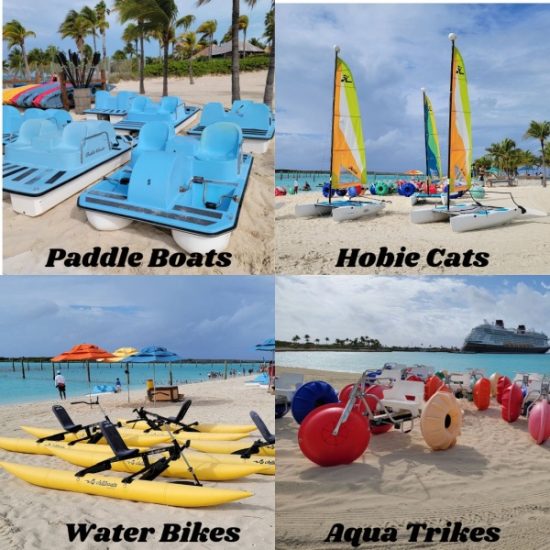 For The Adults
For adults looking for some relaxing time, there are great options on Castaway Cay. Whether travelling without kids or after dropping them off at Scuttle's Cove or the Teen Hangout, adults can enjoy some quiet time, enjoy some drinks at the bar or get a massage in an open air cabana.
Serenity Bay
Serenity Bay is an area reserved for adults with it's own beach, BBQ restaurant, bar, Massage Cabana and Adult Private Cabanas. There is a tram that takes you from the Pelican Tram Stop to Serenity Bay. The beach is not on the protected lagoon but a sand bar keeps things pretty calm. It is a smaller beach than the family beaches but isn't as crowded and has loungers and umbrellas available. Bike, float and tube rentals are available at the Windsock stand.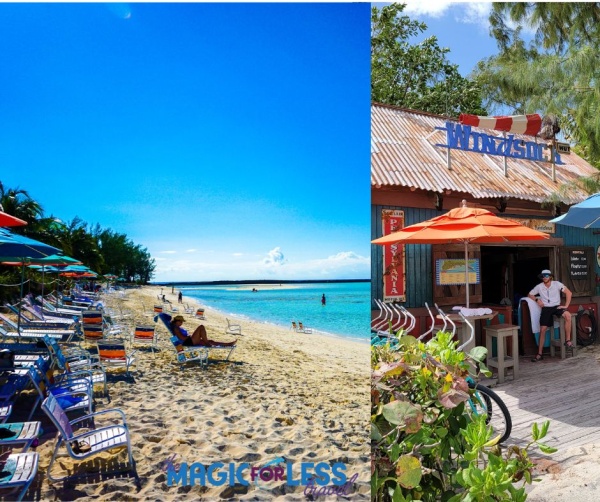 Adult cabanas at Serenity Bay cost a little less and don't book quite as quickly as the family cabanas. The beach there is not exclusively for the cabanas and the rental only includes 4 guests unlike the family cabanas that include 6 guests even though the cabanas are about the same size. More guests can be added for a fee.
Like the family cabanas, they include soft drinks, water, snacks, fruit, floats, tubes, bike rental, sun products and a cabana host. Unlike the family cabanas they do not include sand toys or snorkeling equipment. They have an enclosed seating area and covered deck with padded chairs and loungers and a hammock.
A beachside massage is a great way to relax at the open air Massage Cabana overlooking the water. Be sure to book this ahead of time or check for availability at the Spa.
Adult Beverages on Castaway Cay
There are plenty of options for adults looking to purchase something more than soft drinks or water. There are waiters walking the beach who will deliver your favorite drink to your lounger or even in the water. You don't even need your key card as they will take your room number and name.
Looking for a drink? There are bars almost anywhere you may be on the island. Close to Cookie's BBQ is the Conched Out Bar. Overlooking Pelican's Plunge is the Heads Up Bar on a pier with a great view of the beach and ship. Sand Bar near the end of Family Beach is the closest to Cookies Too. Castaway Air Bar is located next the Serenity BBQ on the adult beach. A popular drink on the island is the Konk Kooler. Order any drink in a souvenir bamboo cup at any of the bars.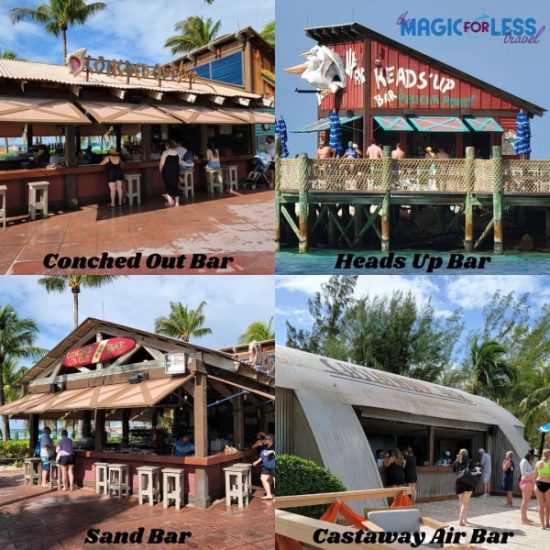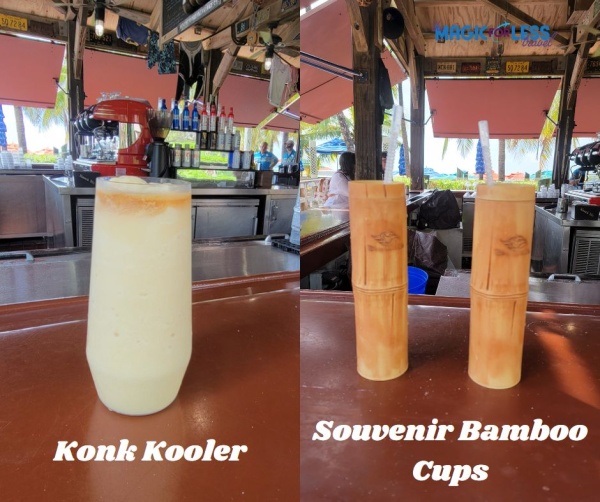 Frozen drinks are available for purchase at Summertime Freeze or Smoothies & Frozen Drinks. The Frozen themed Summertime Freeze offers a variety of non-alcoholic concoctions such as Yellow Snow and Olaf's Flurry Freeze. The souvenir Olaf cups are a popular option. Smoothies & Frozen Drinks offer more familiar drinks with or without alcohol.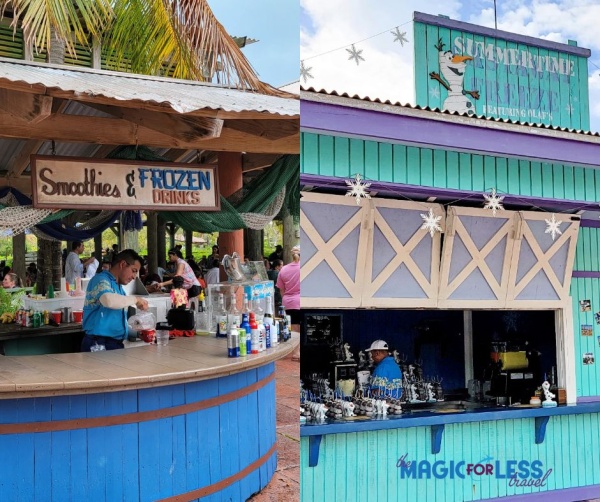 When You Get Hungry
Food on Castaway Cay is included for no additional charge. There are 3 BBQ buffet restaurants serving up mostly the same menu. Lunchtime runs from 11:30 AM until 2:00 PM. Cookie's BBQ is near the beginning of Family Beach and Cookie's Too is near Pelican Point. Both of these restaurants provide ample covered seating nearby. Serenity Bay has it's own BBQ catering to adults.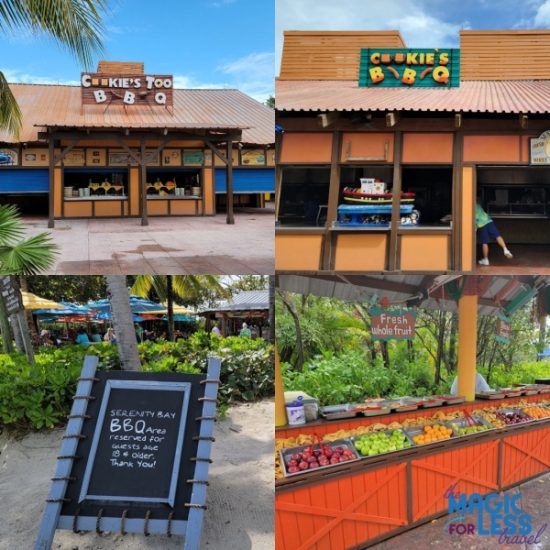 The menu is typical BBQ fare with hamburgers, hot dogs, grilled chicken breast sandwiches, BBQ pork ribs, rotisserie chicken, grilled salmon, flatbreads (pizza) and fried chicken. A great selection of fresh fruit, fresh salad, cornbread, rolls and potato salad along with a selection of chips is available. For dessert there are delicious cookies and cake.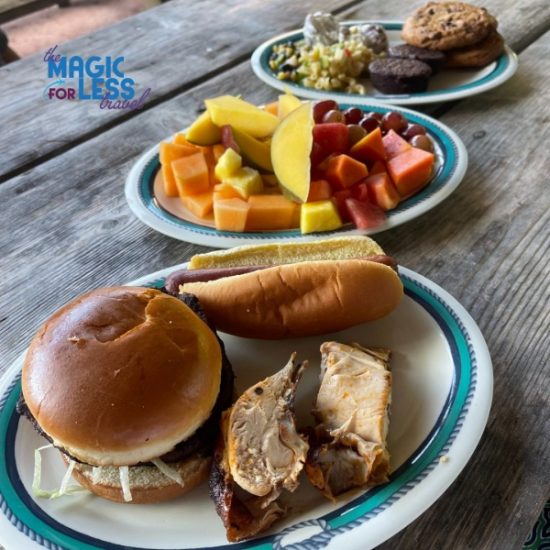 All the restaurants have a soft drink fountain and soft serve ice cream. The Serenity Bay BBQ has 2 additional items, ribeye steak and Cajun mahimahi. A fresh fruit stand is located in front of Cookie's BBQ. Special meals can be ordered ahead of time and picked up at Cookie's BBQ.
Shopping on Castaway Cay
There are souvenir shops at either end of Family Beach selling T-shirts, rash guards, hats, pins, beach towels, sun products, beach toys and other typical souvenirs. She Sells Sea Shells and Everything Else is located near Cookie's BBQ and has the largest selection of items. Buy The Seashore a smaller shop located near Pelican Point. Many of the items are specific to Castaway Cay and can't be found anywhere else. There is also a store featuring local Bahamian crafts called Cultural Illusions near Pelican Point. Purchases are made using your key card.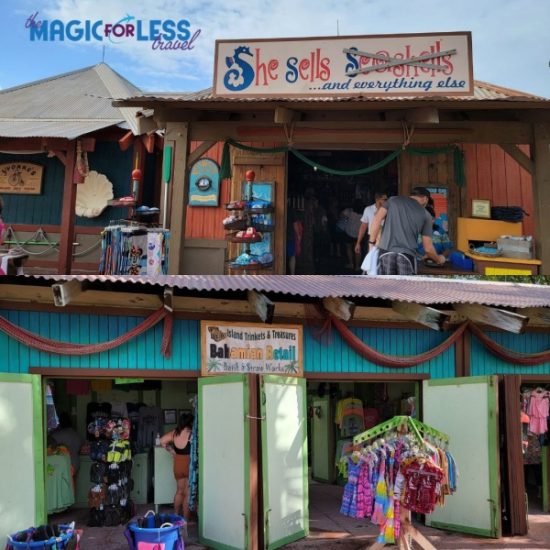 Castaway Cay Tips and Info
Originally named Gorda Cay, the island was once a popular stop for bootleggers.
There is a post office near the ship from which you can mail postcards with a Castaway Cay postmark. This is the only place on the island that only accepts cash.
Everything is charged to your room with your Key To The World Card other than the Post Office.
Many people head back to the ship in the early afternoon so later in the day is a great time to have a less crowded experience.
The ships always back into the dock so the best view of the island is from the starboard side of the ship.
There is a cell phone tower on the island so depending on your phone plan, you can use your cell phone with applicable roaming charges.
Photographers and Disney characters are onshore during the earlier and middle part of the day so don't wait until you go back to the ship to get those photos.
Rental packages such as the Castaway Cay Getaway Package that includes bike, tube and snorkel gear saves over individual rentals and can only be booked prior to the cruise or on-board.
Keep an eye out for double dip cruises that make 2 stops at Castaway Cay on a single cruise.
Some special tips can be found here Five Tips for Navigating Disney's Castaway Cay.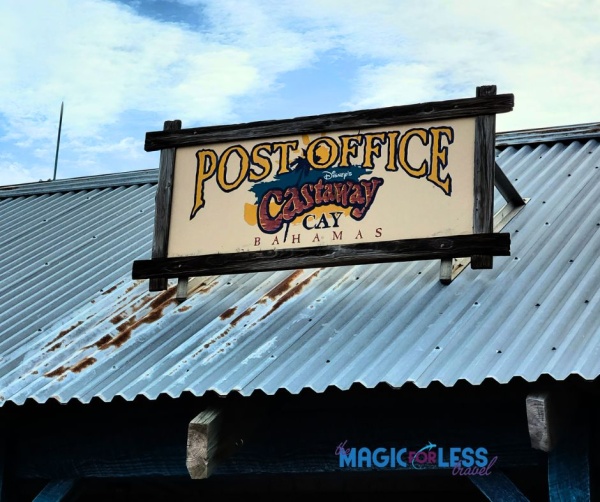 Ready to experience Castaway Cay?
Are you ready to experience Castaway Cay for yourself?  Let us help you find the best of many Disney Cruise Line itineraries that make a stop at Castaway Cay. Contact us to get your no obligation quote today! We want to help you make memories that will last a lifetime!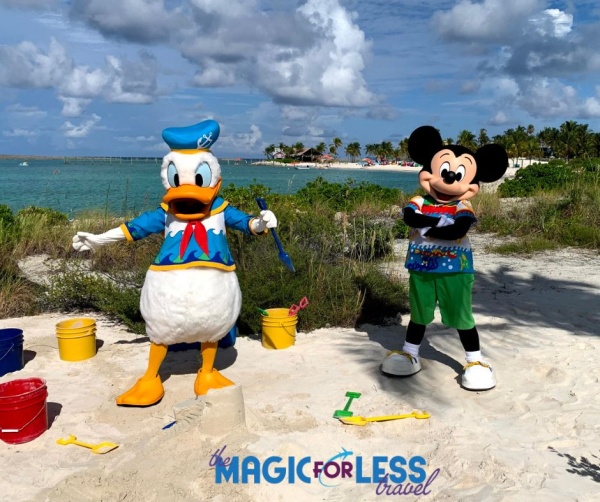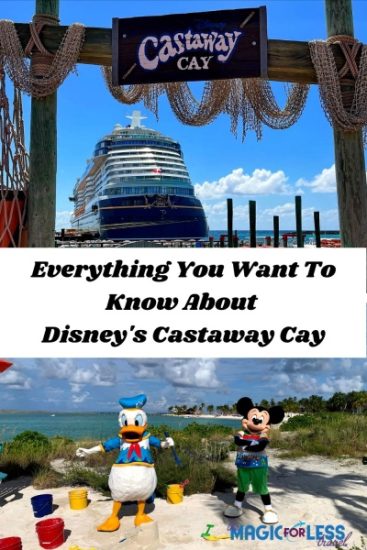 Similar Posts: