December 31, 2012
My agent (and his fellow agent when covering) have been superb. Our family's needs fluctuate based on medical challenges. They worked to accommodate everything we needed/requested (as the needs changed/arose). They always obtained answers to some very difficult/atypical situations/needs. Actually a positive comment that I doubt many realize is a big positive. One of the best features/services is having a TA who took the time to understand our extremely unique needs. This could be a big positive for others who haven't experienced this level of caring. Our agent was hand selected for our family based on our unique needs and I couldn't be more pleased.

-Joanne K
I didn't have to worry about anything.I've worked with my agent on two previous Disney vacations and I never have to worry about the little details. She handles reservations, she gives suggestions or recommendations when needed and is awesome to work with!

-Susan H
A co-worker knew I was looking to book a Disney vacation and she provided me with our counselor's contact information. Our counselor was so helpful through the entire process. It was nice to tell her the things we wanted to do and she took care of all of our reservations. She was so knowledgeable and shared so many tips that truly helped us enjoy our magical Disney vacation. I have already recommended The Magic For Less to several people who are interested in booking a Disney Vacation. We will definitely use this service in the future!

-Melissa M
My agent always gets back to me so quickly with answers to my many questions. If she doesn't know the answer right away, she lets me know she's working on it which I totally appreciate so I'm not left wondering. I'm never made to feel a bother despite changes and even cancellations of vacations through the years. I will always use her for any Disney vacation I have in the works.

-Zandra A
Very helpful in setting up the entire trip. Reserved dinners for us and set up breakfast with the Princesses. Made the trip very relaxing. Helped up with best places to visit etc. Very rewarding overall experience. Our counselor is the best. Great personality, great in responding to any questions and great knowledge of the entire parks. Cannot wait to book our next vacation with his help!!

-Lisa S
The Counselor was very, very patient. I must have changed my resort and room options 10-15 times. On a practical side, the most useful items were the free autograph books and the travel pack thingie you could wear around your neck. I got a lot of usage out of both of those, thank you very much.

-Marie B
---
December 29, 2012
Our agent was wonderful. She helped secure the free dining offer at the resort I wanted even after I had already booked prior to the offer. She is so friendly and helpful. I wouldn't hesitate to work with her again. Thank you.

-Danielle L
Our agent just made everything easy!

-Paula A
My agent gave me a lot of additional information about all the things I could sign my kids up for such as Pirate League. She also new the resort very well and put in our reservation a room request, which proved to be the perfect location for us. We had a great time!

-Michele S
We LOVE our agent!! (we) will use her again and have recommended her to others also.

-Lara S
I had so much information at my hands, that it made my vacation so much easier. I felt like I had been there before, when I hadn't because I had gotten so much information ahead of time from my agent. Thank you so much!!

-Marcy T
No surprises! Our agent informed us of how everything was going to work, scheduled our meals so that the only thing left for our family was to enjoy the trip!

-Randy B
Our TMFLT agent helped us know what to expect and how to plan our trip so that we didn't miss anything we wanted to do or see and so that we didn't waste any time trying to figure things out. All of her suggestions were perfect. She was a great resource for us. Our agent really helped make our cruise extra special. We will definitely be using her services again.

-John A
---
December 27, 2012
Vacation often comes to an abrupt end all to quickly. Had to immediately jump back into the family grind and work. Today I have a day off again! Had a wonderful time! Like I told my daughter, what is great about Disney is that they run this
"fine oiled machine."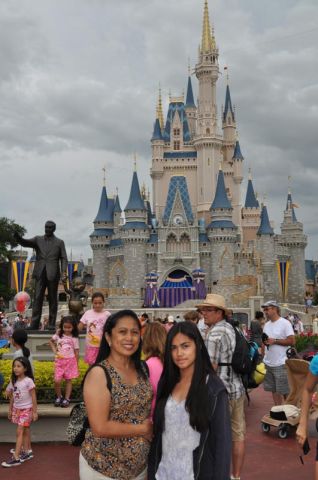 I knew about, because I have been there before at the same time, the oppressive humidity.
I warned my daughter, and she was a trooper. I know that most people find
planning ahead "anal," but we were able to do justice to all the parks. We had
this "gotta do" list, and did it. We started early, took breaks at high times. Though crowded,
it was manageable.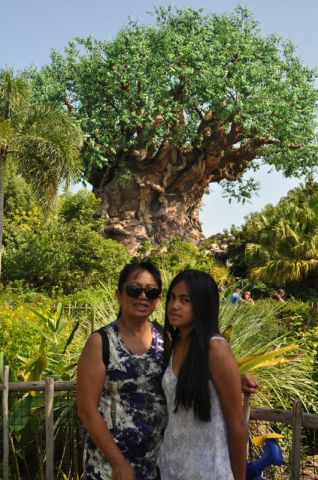 While early open times are nice for the resort guest, it seemed more crowded. My best friend
from high school, Marissa's Godmother, coincidentally booked her timeshare the same time.
We went on her "low attendance" record for each park, and it was pretty accurate.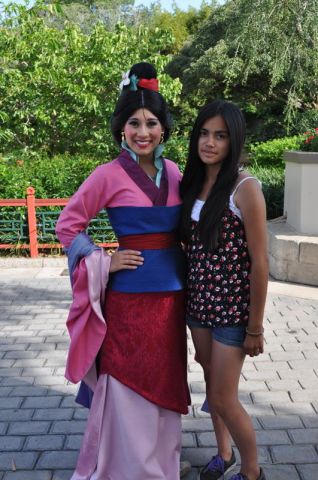 Families who plan full days at the parks should take advantage to the budget resorts to stretch
their funds. Photopass was a good idea. Unfortunately, I had to work on finding photographers to take
our pictures. Disney's Transportation system is the BEST! It was such a relief to not have to rent a car, drive, pay for parking, or have to figure out the resorts layout. One does not realize how much valuable time & money there alone is saved.
HARRY POTTER Wizarding World was awesome for us. We were able to hook up with
Marissa's God-Mother & family and check that place out. Marissa and I read all the books
and saw all the movies. They did a wonderful job with that place. Unfortunately, still
is extremely popular and CROWDED. (But, glad to knock that off my bucket list).
Universal has done an awesome job with their parks – two days are needed to really do justice
to that place. Their 3D approach to doing rides was too fun! I think that that place is
better than Universal Studios Hollywood. Mears Transportation runs a great opportunity for even Disney guests to experience more of Orlando.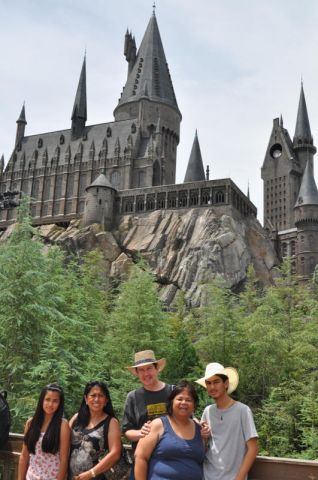 Thank you again for all your help! I've already started bragging to friends what a great time
we had and will surely recommend your services.
-Marissa and Terie T
---
December 26, 2012
I did not have to worry about booking or scheduling all the things we wanted to do. Less stress for me. Our agent was very helpful with the planning of our trip. This was a special trip for my sister and she made sure that everyone knew that it was her birthday. She made helpful suggestions and gave some great tips. This was the second time that I used TMFL and my agent. I will definitely use them again.

-Dara G
I'm so thankful for The Magic For Less! Our agent made planning our first family vacation to Disney a very easy process. She is very knowledgeable and quick to answer any questions or concerns I had. I will definitely be utilizing The Magic For Less in the future to help plan our next Disney Vacation. Our agent helped take the stress out of the planning and made all of our reservations for us. We just told her what we wanted to do and where we wanted to eat and she took care of the rest. The whole process was very easy and enjoyable! We loved every minute of our Disney Vacation and thankful for The Magic For Less and our agent for helping make our trip so magical!

-Melissa M
I had originally booked through Disney directly and then saw an ad about an onboard credit available through Magic for Less Travel. Being interested in free money, I contacted my agent and she was able to switch my reservation and get me the discount. But her help was far more valuable than just getting the initial credit. Having someone available to answer questions, about documents, activities, and anything else I thought of, made getting ready for our trip so much easier! She was always very prompt with her responses, and had a lot of useful information. I've recommended her to anyone I know planning a vacation at all Disney related and I hope that many of them take advantage of her knowledge and assistance.

-Jennifer M
---
December 20, 2012
We have just returned from our Disney Cruise/Park vacation! It was wonderful! We have lost track of how many trips we have booked through our agent at The Magic for Less. It could be 3 or 4 now. Once again this trip didn't disappoint. She has a great knowledge of all things Disney.
She is great at booking our hotel rooms/or cruise staterooms in a great location. We are always centrally located! Your vacation can be customized to meet your preferences on your trip. You can be as busy or as relaxed as you like. Our agent keeps in contact with us and is available to answer any questions related to our trip right up until the moment of departure. We would recommend The Magic for Less and our agent to anyone booking a Disney trip and in fact we already have.
-Karen and Scott K. Pennsylvania
And some family fun at Magic Kingdom from Vicki D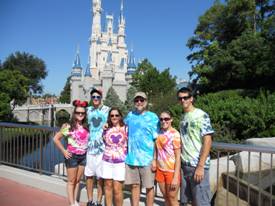 ---
December 17, 2012
we needed to make last minute changes to our reservations and our agent did a great job.  Sure made it easier to just ask him to accommodate the changes.

-Wirgau
I just let our agent know exactly what I wanted, from the room, tickets, ADR's and she made it happen.  

Everything was perfect.  She suggested the room location, and it was perfect.

-Michele
Our agent has helped me organize every trip I've taken to WDW but one. In addition he has assisted in the organization of those who have gone with us, another trip by a friend in December and now he is helping my neighbor plan their first trip in 8 years. Every trip gets better and our agent helps us get there…

-John B
Answered all my questions promptly.  Sent all information I requested.

-Mary Lou B
Our counselor knows about everything.  She was able to answer any questions I had, and she did it promptly.  We have taken several trips using her as our counselor and will take several more.   I am thankful for your group.  I learn so much and it's fun to read about everyone else's experiences.

-Maggie P
Jessica was so knowledgeable about Disney and had lots of helpful tips!

 -Laura C
Similar Posts: