Okay, I'll admit it, when it comes to my Disney vacations I'm what some may refer to as "type A", an "uber planner", the exact opposite of "fly by the seat of your pants."  It's something my friends and family enjoy teasing me about.  But I enjoy my color-coded spreadsheets.  After all, it's what led me to become a travel agent.
But sometimes the unexpected is just what makes a Disney vacation fabulous.  I've learned to enjoy these unplanned moments and I hope you type A planners out there can too.  On my most recent trip, I experienced several that I'd like to share with you.
When we arrived at the Pop Century Resort and went to check in I found out that my room request was only partially filled.  I had requested a room in the 50's section on the ground floor.  They had assigned me a room in the '50s but it was on the fourth floor and it was the only room available in that section.  I joked with the cast member at the front desk that maybe I was supposed to have that room.  Little did I know how right I was!  That night I discovered that I had one of only a handful of rooms with a view of IllumiNations.  And as an extra bonus, Disney was rehearsing the fireworks show for the twenty-fifth anniversary of Hollywood Studios later that night and I was able to catch that too.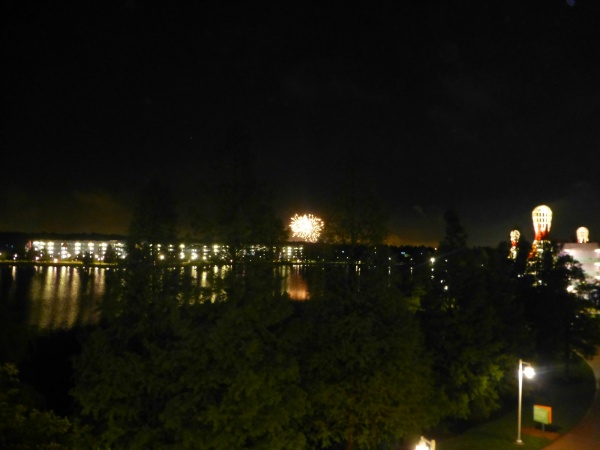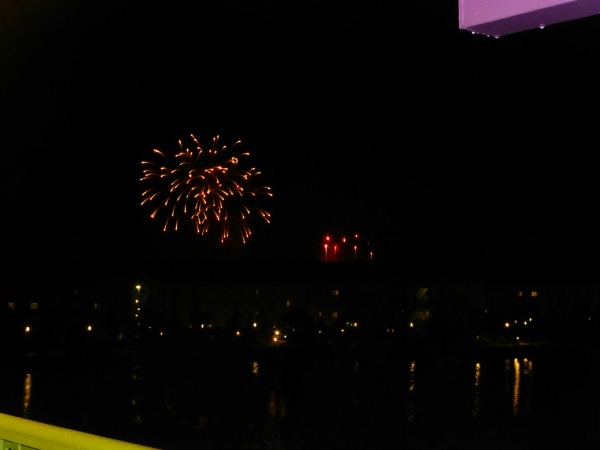 The new Festival of Fantasy parade was on my must-see list for this trip since it was my first chance to see it.  We had just left Splash Mountain and were looking for a viewing location when we noticed a storm rolling in.  We quickly found a spot with about 20 minutes to spare, or so I thought.  The parade started about 15 minutes early!  For someone who plans like I do this is a huge bonus because I now had an extra 15 minutes added to my day.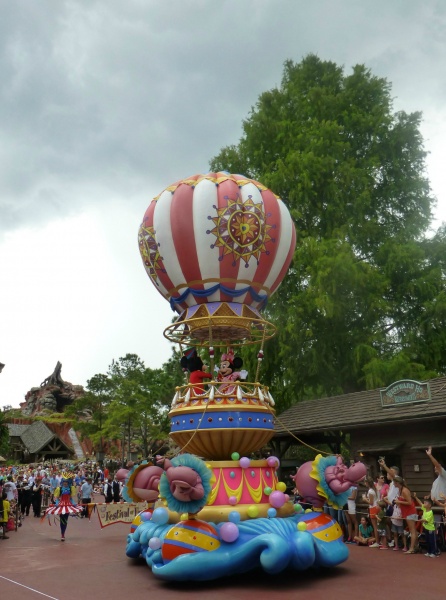 We had spent a very long day in the Magic Kingdom, in fact, so long that my husband and kids decided to call it a day and head back to our resort.   I planned to watch the Main Street Electrical Parade & Wishes, but by the time we finished dinner and the rest of the family left most of the good parade viewing spots had vanished.  I decided to make the best of it and found a spot near the bridge connecting the central hub to Liberty Square.  It is from that location that I was able to snap the photo below.  I know very little about photography but I am so pleased with this photo.  It is now my favorite shot of Cinderella Castle and if I had found an ideal parade viewing location I never would have gotten it.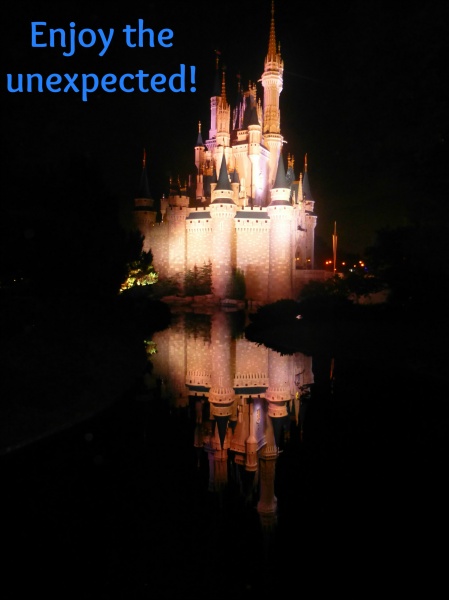 When the parade finally arrived I was once again pleasantly surprised to have a very good and uncrowded view of the parade.  Here's my favorite photo with the castle in the background.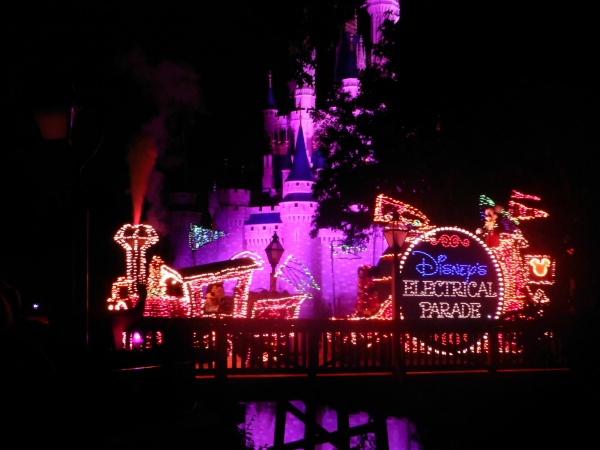 On this vacation, the unexpected things that happened enhanced my enjoyment of the trip.  You never know when something that seems like a negative can turn into a positive so my advice to you….Let it go!
Request a quote: https://www.themagicforless.com/request-free-no-obligation-quote/?ldsrc=TMFL-TMFLTriciaF
Follow me on Facebook: https://www.facebook.com/TriciaFurmanTMFLT
Similar Posts: