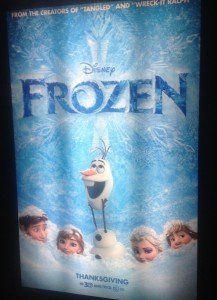 I had never had the opportunity to attend a movie preview before so when my daughter gave me tickets for "Frozen", I was thrilled.  My family and one of my daughter's friends attended the showing at the Rave Cinema in University City Philadelphia.  The movie did not disappoint us.
The movie opened with an old Disney Mickey Mouse cartoon, "Get a Horse!" which has been given a 21st century update.  The credits still give Walt Disney his due for the voice of Mickey Mouse but I think you'll like the update whether you watch it in 3-D or in standard movie format.
Don't read any further though if you've become one of the jaded or cynical Disney movie viewers.  This movie has many of the elements of what we've come to expect from Disney animated films in recent years:  Soon to be beloved princesses with really tiny waists and large emotional eyes, a cute and funny comic relief character, a plot line that involves falling in love as well as internal conflict and music throughout the movie moving the plot line forward.  I'm not one of those people so I was happy to just sit down with my pretzel bites and cheese and enjoy the movie to see where it took me.  Within the first ten minutes, I already had tears running down my cheeks.
I won't spoil the fun of going to the movie and experiencing the plot for the first time.  The story didn't play out exactly as I was predicting throughout the movie as the plot twisted and turned a bit.  I liked the way Disney animation storytellers chose to resolve the conflict.  It was a nice change of pace.  There were a couple of intense moments that can be difficult for some children but I think most children will be fine because the tension is relieved fairly often and the villains aren't nearly as bad as Scar from "The Lion King".
The music will be catchy to a lot of younger movie goers.  It was a good choice to cast Idina Menzel of "Wicked" fame to play the part of Elsa and one of the songs she sings, "Let It Go" reminded me very much of "Defying Gravity" from the Broadway show.  My favorite song is called "Fixer Upper" and is sung by trolls that I'm sure will be making their appearance at the Norway Pavilion in EPCOT soon if they aren't there already and other characters from the movie will be too, I'm sure.
We all enjoyed the comic relief of the snowman Olaf and having a comedian other than Robin Williams play the part was also a nice change.  Josh Gad does a great job.  In fact, we all agreed that having some fresh voices in the movie was a good idea and one we'd like to see repeated. 
Since we saw the movie in 3-D, I can tell you that the snowflakes and creations in snow and ice in 3-D were pretty impressive to me. 
The conversation in the car ride home was where to rank this film among our many favorites.  The general consensus was that it didn't measure up to "Beauty and the Beast" but was very much on par with "Tangled" and "Brave" although we were split as to which of these was better so you'll have to judge for yourself.  Enjoy the show!
Similar Posts: