During our October trip to Disney World my family and I decided to eat at T-Rex at Downtown Disney.  I had never been there before but knew it was my brother-in-law's favorite place to eat, so I was a bit excited to experience it.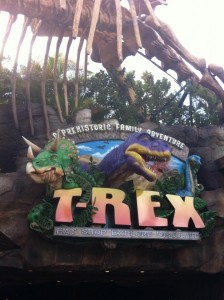 We put our name on the list, waited for a good 20 minutes, then got seated at our table.  Right away I noticed the interior of the restaurant is so cool and would definitely keep the interest of children and adults.  There are different themed rooms and different things happen occasionally in them, like a meteor shower or dinosaurs roaring and moving.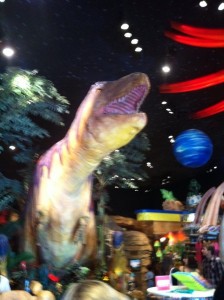 Dinosaur!
Here is a photo of the "underwater" themed bar, complete with giant squid (or is that an octopus?).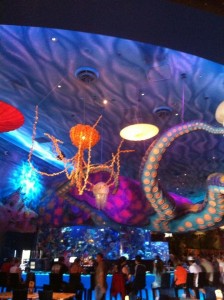 There's so much to see in this restaurant but be warned it can be very loud, so children who are afraid of loud noises might not enjoy eating here.  I ordered Triassic Tortellini – a Tri-colored cheese tortellini with sun-dried tomatoes, peas and mushrooms tossed in an Alfredo cream sauce with grilled chicken for $19.99.  I have to say it was better than I was expecting and I had to stop myself from eating the entire thing!  I'm always a sucker for mushrooms and sun-dried tomatoes though.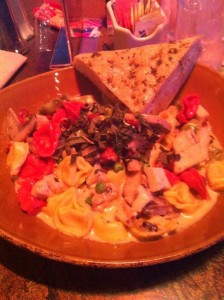 Now, I know what you're asking, "where is the Surprise in the title of this blog Marci?!?", here it comes.  After the meal my mother and sister took care of the check and I told them I'd be waiting outside with my 2-1/2 year old son, B.  We walked outside and what did I discover?!  An AMAZING dinosaur bone dig site!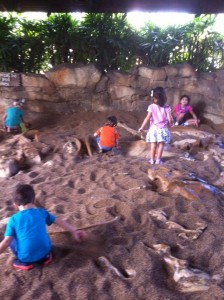 There were a few kids playing in the sand already and I immediately knew my son would love it so I took his shoes off and let him go at it.  He, of course, grabbed a few shovels and started digging and pouring sand everywhere.  I honestly think this was one of his favorite things about Disney World (that and getting a balloon on Main Street).  He probably would have played in that dig site for at least half of the day if I had let him.  What a great thing for Disney to do when they didn't have to.  It's a great way for kids to play while waiting for their table and also just a nice way for mom and dad to get a break and relax but still be able to keep an eye on their kids.  So if you're hanging out at Downtown Disney remember this great little spot.  I'm thinking you could probably even bring your child over to play in the dig site even if you're not eating at the restaurant.  That would be a perfect thing to send daddy and baby over to do while mom gets some shopping time!
Have your children ever played in the bone dig site at T-Rex or do you know of any other hidden children's play areas in Disney World?  Please leave a comment below and let me and other The Magic For Less readers know!
Similar Posts: