Recently I had the good fortune to stay in a 'Future Rock Star Suite' at Universal's Hard Rock Hotel. These Suites are the Hard Rock Hotels version of a Family Suite, and wow are they nice!
Upon entering the Future Rock Star Suite, you are in a quite large foyer; with a large walk in closet off to the side.  In this closet is also where you will find the safe.
In the foyer, there is also a wet bar with a coffee maker, and small refrigerator.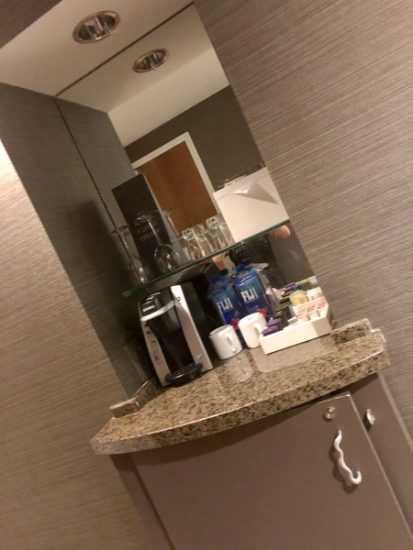 Walking along you enter the 'Master bedroom' area.  This is a large room!  There is a King size bed, a nice size dresser with flat screen TV, and a sitting area.  The sofa is a pull out sofa, where 2 more can sleep, plus 2 chairs and a coffee table.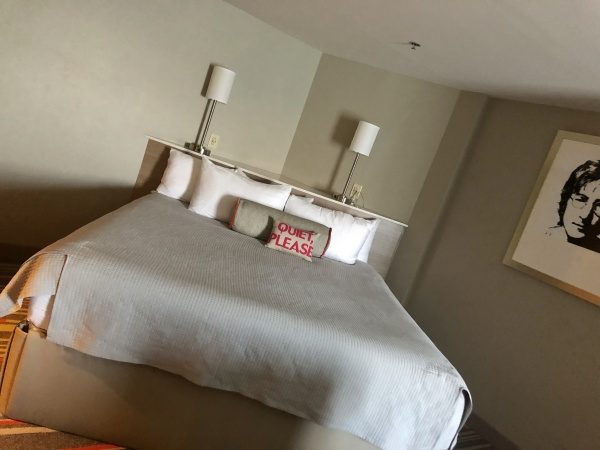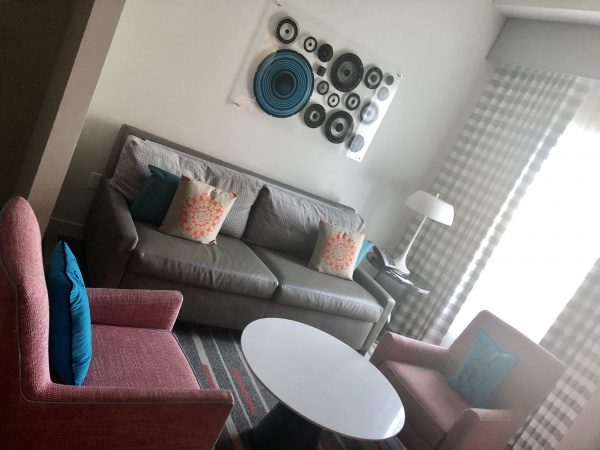 There are then double doors with open into the 'kids room'  There are 2 twin beds, and lots of floor space!  A small dance floor made up of 2 squares.  You can turn the lights on and dance to the music on the light up squares.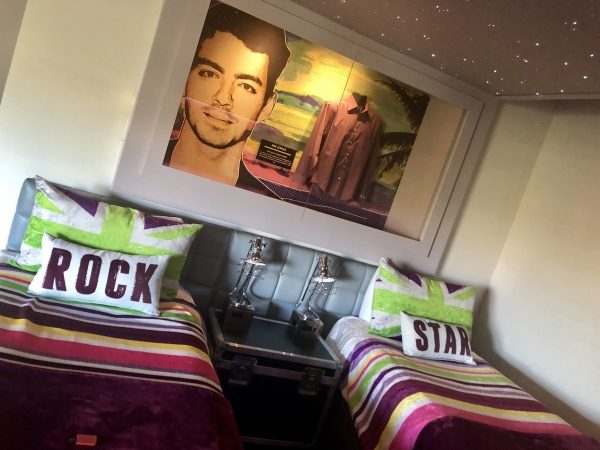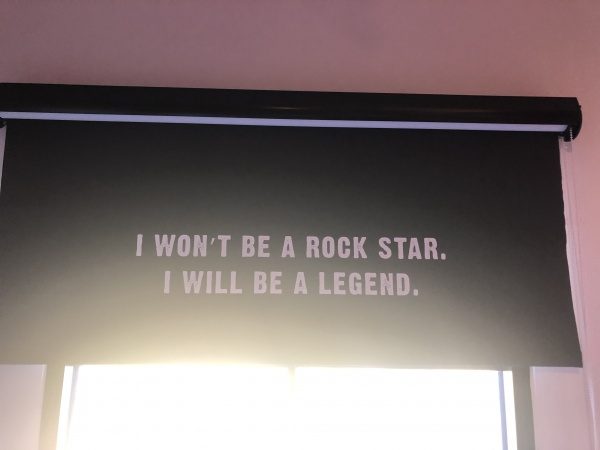 Although the suite is marketed for families with children, it also works well for a group of adults.  I was traveling with friends and the set up worked out perfectly, everyone had their own comfy bed.
The bathroom set up worked very well for us as well.  One side has a toilet, tub/shower combo and a sink.  There is a door splitting the bathroom and the other side has a double vanity and a stand up shower.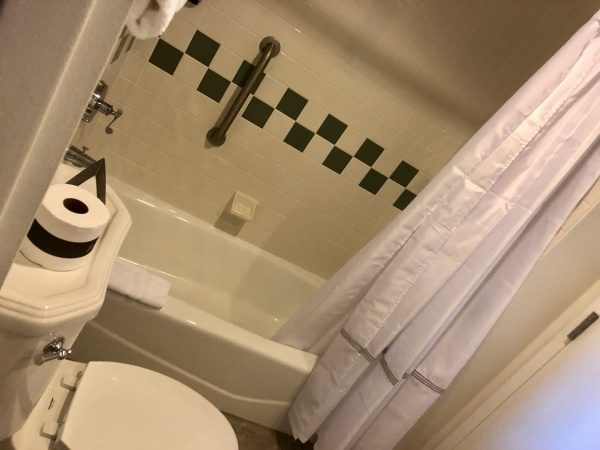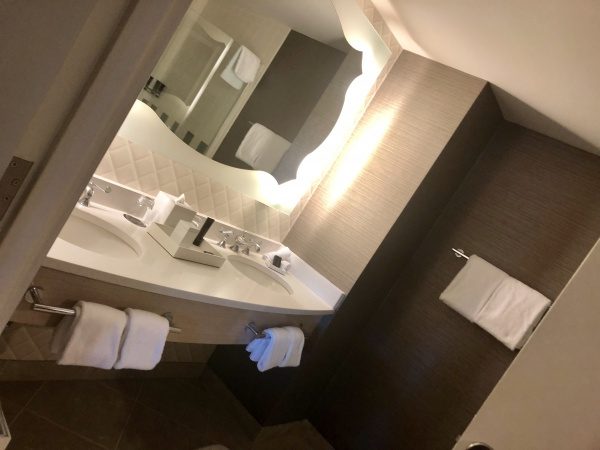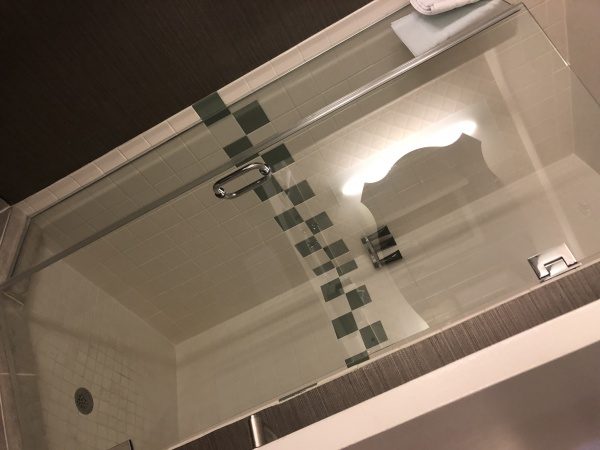 This Future Rock Star Suite is very tastefully decorated.  The color palate is grays, black and neutral colors with pops of color that make it fun, yet not over bearing.
Our view was pretty nice too!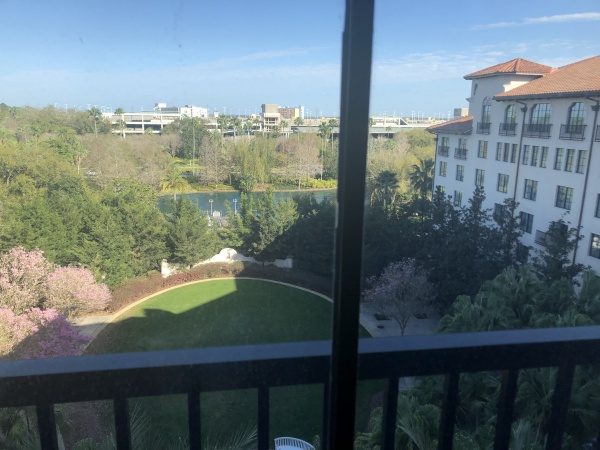 If you want extra space, or have a larger party, whether that includes children or adults, the Future Rock Star Suite is a great choice.
These Future Rock Star Suites are also available to book on the Club Level, which we also had.  Club Level adds an extra level of service and convenience.  With the lounge steps from your suite, enjoy continental breakfast, midday snacks, evening appetizers including wine and beer, as well as nighttime desserts.  The convenience of being able to grab a water bottle during the day or a soda is quite a nice perk.
Enjoy the best benefit of all when staying at the Hard Rock Hotel; Unlimited Express Access!  Your room key doubles as your entry to the Express Access on the rides at Universal Studios and Islands of Adventure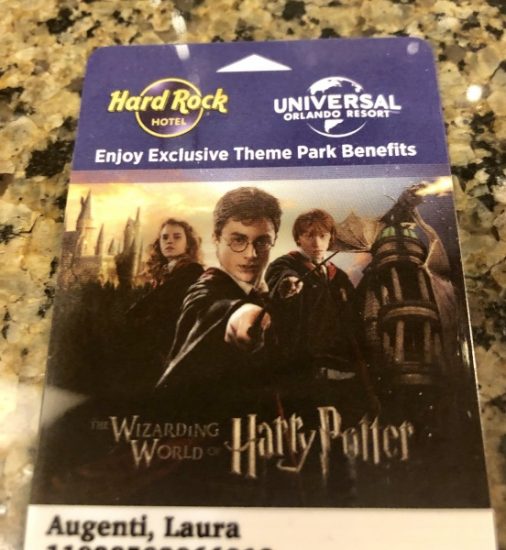 Contact me to plan your stay at Universal Orlando's Hard Rock Hotel and vacation like a Rock Star!  https://www.themagicforless.com/about-us/meet-our-agents/laura-augenti/
Universal Orlando Resort https://www.themagicforless.com/universal-orlando-resort/
Similar Posts: