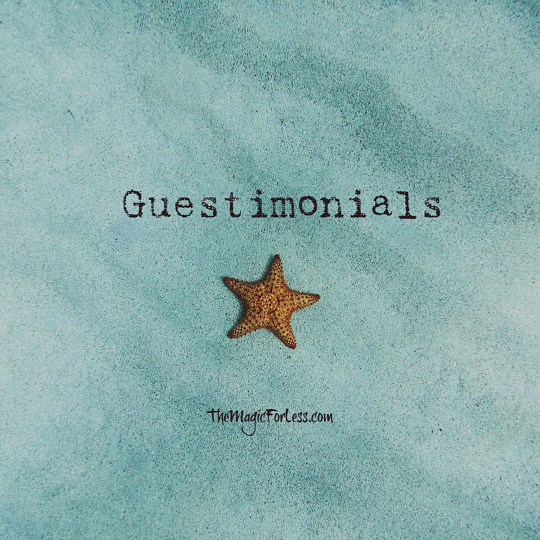 Want to hear what guests are saying about The Magic For Less Travel? Continue reading for guest feedback for our team of travel agents!
Guest Feedback for Travel Agents
Excellent response time and very knowledgeable.   Our counselor has been great to work with.
-Yang M
Our magic for less agent was super helpful with all the planning steps. She recommended some good dining experiences. Helped with fast passes and the magical Express to and from airport.   She left a Mickey cooler filled with treats at our room upon arrival. She went above and beyond. We will definitely use her in two years when we go back!!

-Laura L
Working with our travel counselor took all of the stress and confusion out of the booking process. Instead, we were able to see and do exactly what we hoped to and did not have to worry about whether we forgot to buy tickets for something or if we were in a convenient location.  She listened to what we were looking for and put together a fun filled package that pulled together everything we wanted at a great price!  It was a great experience from start to finish! Thank you for all of your help! We look forward to working with you again!
-Sarah T
We were new to Disney and wanted to plan a great vacation for our family and celebrate our daughter turning 5.  Our travel agent was very knowledgeable and gave us great tips and ideas to use along the way during out vacation. Even after our vacation was over, she checked in to make sure everything went smoothly. She was great to work with.

-Dana B
Our magic for less agent just makes everything easy. I love working with her and have recommended her to numerous friends. I could do things on my own but will happily continue to book with her because of the level of service I receive.
-Stephanie D
Prompt replies to requests, enthusiasm for travel, willingness to learn new venues.

-Joan G
Our Magic for Less counselor was an incredible partner to us as we planned our trip! She helped save money on our total package, gave us specific details on how to board the Rise of Resistance, promptly answered any of our questions and helped us secure amazing dinner reservations and Fastpasses! She is was amazing!!!  This is a great service and I love working with her! Thank you!!!
-Brianna R
Just got back from an awesome trip to Disneyworld!  Our counselor used her many years of travel agent experience with magic for Less to know exactly what our group values in a vacation.  And we were a big group too- 11 adult women disguising a moms only trip as a half marathon race.  She got us ground floor connecting rooms close the hotel front entrance but down a very quiet hallway. I was grateful for that short walk every night we returned from a long day at the parks.  She made some great dining suggestions. We tried a couple new spots that I would have probably skipped without her recommendation. It was tough for me to spend 2 table services for the Yachtsman but the filet and potatoes au gratin were worth it!  She gave tons of tips on how to get the best fast passes. We rode BOTH, yep, I said BOTH Star Wars rides. They were soo cool! She even made sure we knew about the new cool overhead photo pass picture opportunities.  We leave in 5 days for our first family trip at DisneyLand. Can't wait to see how they do it in Cali!!

-Katie J
Our travel agent made sure to book all the experiences and dining requests I had. She was extremely knowledgeable and made amazing suggestions for planning our days.
-Clare H
The easy access to knowledge ensuring we wouldn't have any unpleasant or unplanned surprises while we were on vacation.

-Elyse S
A little over ten years ago I wanted to take my entire family to Disney World to celebrate my 60th birthday. One day while browsing through Disney podcasts I came across the Be Our Guest podcast and listening to it I discovered that the podcast was associated with The Magic for Less Travel. Having never been to Disney World, I decided that a travel agent might make the trip planning less stressful. How right I was, my agent got me the rooms I needed and also the dining reservations.  Since that first trip, he has helped me plan three other Disney World visits and a Disney cruise. The latest trip (a couple weeks ago) was a 70th birthday celebration and included all 16 members of my immediate family. Again he was there to help whenever any of my family had questions. My oldest daughter's family had to make a change to their dates only 2 months before and he was a miracle worker. My daughter and her husband tried to make the reservation change using the WDW website and couldn't get a new reservation at Pop Century. We were crushed that four families would be staying at Pop Century but their family would have to stay somewhere else. But our agent kept trying and was able to get them a room at Pop Century.  I can't imagine planning a Disney trip without his help. Next year if family schedules can be coordinated, I hope to take the entire family on a Disney cruise to celebrate my 50th wedding anniversary and I will be contacting him to help.
-Kris M
Looking to plan your own vacation?  Get your no-obligation quote today!  Or subscribe to one or both of The Mouse For Less' free newsletters- The Mouse For Less Newsletter offers Disney news and great articles. and Magical Notifications alerts you to the latest Disney discounts.

Similar Posts: