December 16, 2008
Hello,
I just wanted to send a quick message to express to your company what a pleasure it is to have Emily as our travel agent. I have used Emily for several years now and she is always so pleasant and very efficient. Even though, I have never met Emily I feel like I know her. She is an asset to your company. Thank you Emily for all your hardwork.
Thanks,
Teresa Link
---
December 14, 2008
We loved Jessica and The Magic For Less! We always got a quick response from any questions that we sent to her and every trip she has planned for us has been perfect! I would recommend her and TMFL to anyone planning any type of Disney trip!
Susan Lundin
Baltimore, Maryland
---
November 21, 2008
One word: FABULOUS!!!!!!! Deb, Mic and the MFLT team absolutely cannot be beat! Will use them for every trip.
Terri A.
Texas
---
October 29, 2008
Thank you so much for helping us have the best time ever on our Disney Vacation. My children loved everything that they got to do, and see. Even though we couldn't eat with the princesses, my daughter 3 1/2, got to meet and get signatures from Snow White, Sleeping Beauty, Cinderella, Belle (her favorite), the first day and Pocahontas, Ariel and Jasmine a few days later. So the only one she didn't meet was Mulan. Although she did see her on the boat in Fantasmic. My daughter saw Buzz Lightyear while we were on Tomorrowland Transit Authority and my son 5, couldn't wait for it to stop.Once it stopped he jumped off and started running down the ramp. We had to yell at him to stop. He loves Toy Story, it has been his favorite movie since he was little. This was the first day, then a few days later he got to meet Buzz again this time with Woody. He was so excited. Just seeing their faces light up was totally worth everything we sacrificed to take them. They were able to get signatures and pictures from 41 different characters.
So, I wanted to thank you again, because without your help I am not sure that we would have had as much success. There were so many other things that were great about the trip too, but way too many to mention. Here are a few pics just to show you the great joy. The picture of them on the wall was the first day as soon as we walked into the Magic Kingdom. I will hopefully be sending you much more business. I have been telling everyone about you. I hope the next time we plan another Disney Vacation you will be there to help us again. Thank you for all your hard work, you were GREAT!!!!!!!!!
Amy, Chad, Levi, and Terasa S
---
September 24, 2008
My wife and I just returned from a terrific adult trip to Walt Disney World, staying at the Beach Club Resort. Our Magic For Less agent gave us terrific service and helped us out once again with great advice and a good deal. It was nice to be so close to two major parks – we were able to walk to Epcot all weekend, and our Sunday morning began with a nice stroll along the waterfront to the Hollywood Studios.
Here are a couple key points and tips that we'd like to share with your clients and friends:
1. Find a way to do the Segway Tour Around the World at Epcot's World Showcase. The Segways are easy to learn, and the tour spends the first hour on training and practice. After that, we were given a round trip tour of the World Showcase before it was open to the general public. It was a great opportunity to see some areas without traffic while learning some cool tips along the way.
2. We ate at the new Wave Restaurant in the Contemporary Resort. The food stacks up against the California Grille (although the menu doesn't seem as extensive). Our server, Jorge, did a great job of informing and serving us. We recommend it highly. We were able to use a single table service credit to eat there on the Disney Dining Plan, but I'll bet it goes to two-credit status some time in the future!
2a. Our strategy was to make our Wave reservations for 8pm, which is when the Magic Kingdom closed for Extra Magic Hours. We dined until 9:30 and then went back to the park to experience Extra Magic Hours until 11. This worked out well, because the crowd had spread out and thinned a bit before we got back in the park. The first hour of Magic Kingdom Extra Magic Hours is always a bit crowded and crazy. We were able to avoid this with a late dinner.
3. We spent a day hanging out at the Beach Club, and it was wonderful and relaxing. Stormalong Bay is a great atmosphere, and we spent plenty of time sunning, swimming, and grabbing tropical drinks from Hurricane Hanna's. We also spent a relaxing hour lounging and reading in the Solarium, which is a quiet sitting parlor with plenty of glass to let in natural light. The Beach Club is a great place to "recharge the batteries."
4. If you do the Orange line of Mission Space, I recommend that you only do it one time in a row. Trust me on that one.
Thanks, again, to our agent and to the Magic For Less Travel! We're always ready to re-book by the time we get back home!
John G.
Madison, Wisconsin
---
September 24, 2008
I had a very enjoyable time at Disney World. The resort, Port Orleans Riverside, was very nicely set up and my room was very comfortable. They were able to accommodate my request for a second floor room.
The meal plan and park hopper were a great help with my budget in that I actually came back with money left over.
The only problem I had was on the trip back. The resort ticketed my bag without my being present and it ended up in Buffalo NY on the wrong airline. I did not get it back until 3 days later. It might be a good idea not to ticket bags unless the person is actually present.
Other than that I had a good time and was sad that I had to go back to work
Mary B.
Sheboygan, WI
---
August 29, 2008
We had a great trip and did not want to come home. It rained all but the first three days because of a tropical storm that had stalled over central Florida, but we got poncho's and kept going. Port Orleans Riverside was a really beautiful place to stay and would not hesitate to re-book there for our next trip.
I did my homework on the meal plan and found that it paid for itself and then some. We did mostly character dinners this time because the kids are little. They especially enjoyed chef Mickey's for dinner. You must absolutely make any meal reservations well in advance. I did this and had no problem, although the Crystal Palace seemed to sit us a bit late.
We were able to check in @ 9am and got to do the Magic Kingdom for the whole first day. Not ever having to be a mass transit rider, I only boarded the wrong bus once! They seemed to run pretty timely. Don't forget they are all labeled as to destination, and be sure to remember your stop during nighttime drop off(north, south etc). In the dark it can get pretty confusing. The end of night rides were a bit crowded, but I knew that the other guests were just as anxious to get home as we were.
An upside of all the rain is that the harder it came down, and the wetter we got, the lines kept getting shorter. No wait at Splash and Big Thunder mountain..
Mouse For Less did right by me and I will most certainly use them for our next trip down. It was one amazing family vacation.
Dom B
New Jersey
---
August 20, 2008
We had a wonderful vacation. We were there from August 2-8, 2008. Thanks to you and the service you provided everything was a breeze.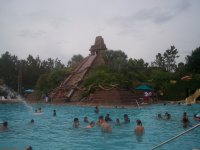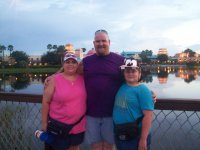 We are already talking about going back in a couple of years. The food was perfect. I would suggest Chef Mickey's for anyone who wants to see classic characters. The dining plan paid for itself within the first 2 days. If you want to eat at other hotels make sure you plan 2-3 hours to get through dinner. There are no buses that go just between resorts. Seeing characters is not as easy as it used to be. If you want to see a character that happens to be out you have to stand in a roped off line and wait for a turn. Coronado Springs Resort was beautiful. It did get crowded as certain conventions came through. I think we will rent a car next time. The buses get crowded by the end of the day and we were tired of standing. The extra magic hours were a blast. My daughter and I were in Magic Kingdom until one in the morning. We also were able to spend 15 hours at Epcot in one day. Once the parks closed and only people who were there were eligible to stay for Extra Magic hours the parks really cleared out. Most rides only had a 20 minute wait during those times. I am beyond tired but it was worth it! I attached a few pictures.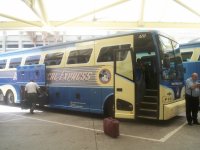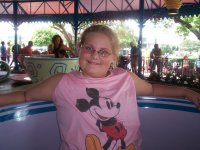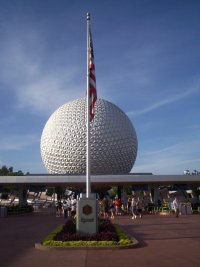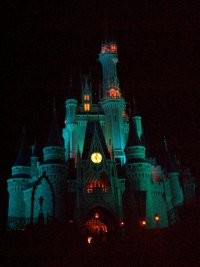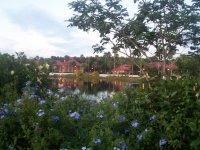 ---
August 16, 2008
I am absolutely thrilled and completely astounded that you managed to pass on a discount to us. I must just tell you that this kind of thing is completely unheard of in South Africa, sadly we are just so used to getting bad service and generally the bad end of a deal. I was telling some friends this morning and they were just as blown away as I was. Be sure that I will recommend your organisation to anyone I know who will be travelling to Disney. Thanks again.
~ Denise B.
Editor's Note: "Something Magical" emails are sent to clients whenever The Magical For Less Travel has located a discount that will reduce their Disney vacation rate. Rates are frequently reduced, even after clients have booked their vacation.
---
August 14, 2008
Hi,
I wanted to take a few minutes and let you know how wonderful one of your employees is. I have been dealing with a Magic for Less agent since early April. We have emailed back and forth more than a dozen times. She has fully and promptly answered all of my questions.
I first found out about your organization while looking around on line. I emailed several places, leery of who is a firm place to deal with. I immediately trusted my agent. She is easy to talk to and to understand. Even though I have asked her question after question she has never skipped a beat, her Knowledge is beyond compare.
This will be my families fourth trip to Disney but our first trip booked through your organization. Only because of our agent, we have already started planning next years trip with a much larger group.
Looking forward to a long relationship with your company.
Thank you,
Jessica S.
Similar Posts: