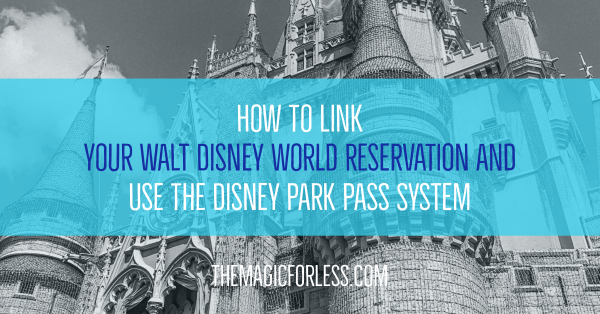 As Walt Disney World prepares to reopen its theme parks, there are new systems in place.  If you are planning to visit the Walt Disney World Resort for either just a relaxing resort stay or play in the theme parks, there are a couple of things you must do in advance!  Lets go over how to link your Walt Disney World reservation and use the new park pass system.
First, you will want to link your resort reservations to your My Disney Experience account.  If you have separately purchased tickets, link those as well.  When your tickets are included in your vacation package, you only have to link that reservation once and both your resort stay and park tickets will be linked.
If you plan to travel through July 31, 2020, you must have your reservation linked by July 1st.  For arrivals August 1-September 30, 2020,  you must have your reservation linked at least 30 days prior to arrival.  This is extremely important.
If you have any trouble linking your reservations to your My Disney Experience account, please contact the Internet Help Desk for Help at 800-848-6413.

Second, you must make theme park reservations.  This is not the same as having theme park tickets.  To manage attendance during this reopening period Disney has introduced the new Disney Park Pass system. All guests with a ticket or Annual Pass will be required to make a reservation in advance for each park entry, using this new online tool on DisneyWorld.com.
Check out this new video, which outlines the Disney Park Pass reservation process!
If you prefer step-by-step instructions, please see this Screenshot Guide to Selecting Theme Park Passes Here to select your theme park passes!
To stay in the know and on top of all the latest updates, visit this Know Before You Go site!

At this time, new reservations and tickets sales for 2020 are on pause and not available.  New vacation packages for 2021 are available at this time.  Reach out to one of the great agents at The Magic for Less Travel for assistance!

Similar Posts: