It's the little things in life for me. We are experienced Disney goers so we aren't very needy when it comes to our plans. I was beyond thrilled when we were sent a laundry bag! It's as though they knew I always do my laundry before we leave, it was just so perfect!!
-Nicole V
I'm extremely busy and was trying to plan Disney trip for 7 family members.  My TMFLT agent made my life so much easier by plannning everything and all I had to do was approve the plans.

-Stephanie S
Our conselor is great! She took care of everything and kept me well informed about our cruise. I had many requests and changes and she was always very helpful. It's a pleasure working with her.
-Flavia O
Thank you Joy W for sharing this fun collage with us from our Disney World Vacation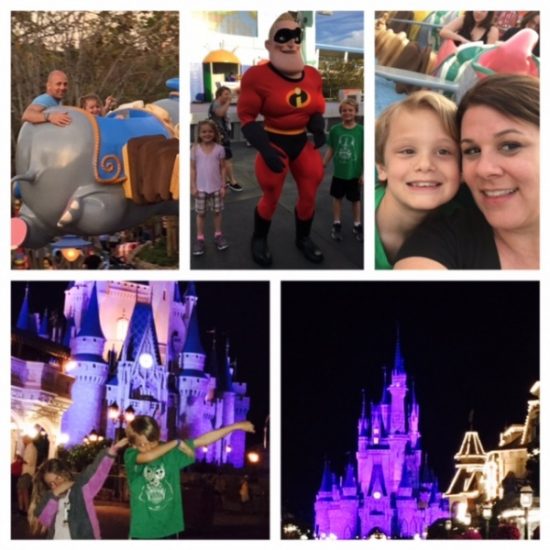 The tips over the dining plan were very very useful, it made all the difference.
-Aldonza
My travel agent is awesome! Very knowledgeable and helpful! I have already booked my next Disney vacation with her!

-Sandra D
I have used our counselor several times and always found her to be excellent.  I have recommended her to friends and they were extremely pleased as well.  Her help with all phases of our trip has been helpful especially our dining reservations.  Planning another trip in 2018 and will certainly be calling her!
-Joan N
They got me a better deal than I would have been able to find myself.  And I know that if I have any questions or issues, my Magic for Less agent is there to help me out.  I have used the Magic for Less Travel for all my Disney trips.  This was a last minute trip and they got me a great deal very quickly.   I look forward to booking another trip soon.

-Sarah P
Our TMFLT counselor is so completely on top of the Disney ball, she made planning very easy.  Her Disney knowledge is amazing and we all felt very confident that we were getting the best possible service for our trip.  It was an AMAZING trip thanks to her!  She is my go-to gal for anything and everything Disney and she has NEVER disappointed.  I HIGHLY recommend her to everyone who even mentions the thought of going on a Disney trip!!
-Sarah B
Having a travel counselor took a lot of the effort out of our trip, without her assistance I feel I would have been lost as there seems to be so many components to visiting Disney from booking our fast passes to scheduling our dinners we are all very grateful.

-Amy & Bret T
Our agent made everything go so smoothly!  All the tips that she had shared with me made things so much easier and she was quick to answer any questions that I had and willing to help in any way possible!
-Megan M
We decided to use a bounce back code to return to Disney World for spring break. We booked the trip after the 180 day mark for ADRs. Our counselor helped book our trip and make reservations for the majority of our preferred table services. She also let us know about discount offers and continued to check for opening at restaurants that we had on our wish list.  We couldn't have planned a return trip so quickly without her and your wonderful service.  Thank-you again for providing such an awesome travel service. We enjoyed our trip so much. We will be spreading the word about your great service.

-Laura W
Our TMFLT counselor was able to answer and/or get answers to all our questions. She also had suggestions that ended up making our trip even better.
-Stacy G
Our travel agent was able to advise us on our park planning and answer our questions we had as this was our first trip to Disney. We were able to take that advice and have a plan that allowed us to navigate the busy parks and get our top experiences in. It was great to have someone guide us through the planning process.   She was great! She was patient with all my questions and was well knowledgeable. She did a wonderful job coordinating our group's plans and helped take the stress off of planning our trip.

-Tory T
Our travel counselor applied a discount that became available without us having to ask about it.  She also reserved a dining reservation for us.  We were two families traveling together and we were surprised with connecting rooms.  She definitely went above and beyond to make the trip special for us.
-Cathy G
We got on  way more rides/experiences this time because we used a planner.  Will definitely use again!

-Megan W
This is my second year using my TMFLT counselor.   She alerted me to all the thing I needed to sign up for so we had our meals and fast passes all planned out.  Less lines, less stress.
-Janet C (16)
She was amazing.  She gave us multiple options, explained all the different options, and provided us with wonderful service.  I don't think we could have planned and taken the trip without her help.  I would recommend her to anyone!!

-Christi C
Having a travel planner to plan our trip was essential because going to Disney now requires pre planning to ensure there are not long waits at the park and to ensure you get all the benefits of the park.
-Anita C
We had no idea what to expect at Disney or how to plan.   Our agent made everything very smooth and easy for us. Her tips on rides and meal reservations were spot on and she was apleasure to deal with. We could never have pulled everything together without her assistance!

-Val
Similar Posts: