Universal Studios Orlando is quickly becoming a vacation destination where guests wish to stay a week rather than visit for a day or two.  It is the second largest entertainment district in the Orlando area, second only to Walt Disney World.  Universal Orlando now has three parks, Universal Studios Florida, Islands of Adventure, and their new water park Volcano Bay.  It is also an easy shuttle or car ride from MCO, Orlando International Airport, making is a convenient location for all travelers.
Universal Orlando has five on-site hotels that total over 5600 rooms.  There is a sixth hotel opening in 2018 that will add an additional 600 rooms.   Universal's resorts are operated by Loews Hotels which is well known for luxury and service.  Each hotel has a distinct theme, but all are consistent in terms of excellent service, complimentary transportation to each of Universal Orlando's parks and City Walk, Universal Orlando's downtown entertainment district. See more detail here https://www.themagicforless.com/universal-orlando-resort/
PREMIER HOTELS
There are two premier hotels that offer the amenities one would expect at a deluxe level resort, but also have the perk of Unlimited Express Pass included for everyone staying in the room for each day surrounding the night of stay. This is a huge benefit as it saves a great deal of time waiting in lines and allows for more time to enjoy the beautiful resort.  Resorts in this category are Loews Portofino Bay and Hard Rock Hotel.
Portofino Bay is themed around the seaside village of Portofino, Italy.  The theme is so well executed that guests feel completely transported from central Florida.
There are three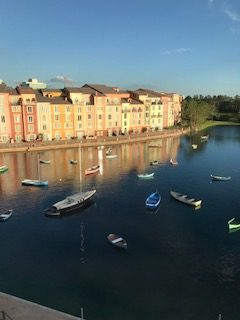 pools, outdoor cafes, tasty pizza, and a beautiful piazza where you can hear the voices of opera singers on select evenings.  The harbor is both lovely and practical as guests can catch a water taxi to City Walk. See more of this lovely resort here https://www.themagicforless.com/universal-orlando-resort/on-site-hotels/loews-royal-pacific-resort/
The Hard Rock Hotel is quiet possibly the most surprising of the resorts as it is cool and gorgeous in design.  The resort has a California mission-style design and features displays of  memorabilia  and clothes worn by famous stars, great rock music, fantastic dining options, and fun recreation.  This resort is a perfect choice for rock music lovers, teens, and young adults.  The pool even has music playing underwater.  There is also a water taxi to City Walk at this hotel. Dive into this resort at https://www.themagicforless.com/universal-orlando-resort/on-site-hotels/hard-rock-hotel/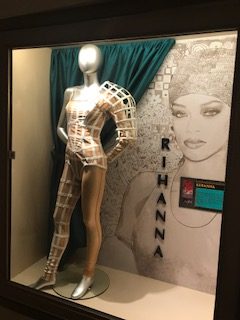 PREFERRED HOTELS
There are also two preferred hotels on Universal Orlando's property.  Lowes Royal Pacific Resort and Loews Sapphire Falls Resort.  These resorts are priced slightly lower than the premier hotels, but still offer an excellent experience in terms of luxury and amenities.  Only Lowes Royal Pacific offers the Unlimited Express Pass with the room reservation and this is reflected in the slightly higher pricing.
Royal Pacific feels like a South Seas adventure that is both modern and tropical.  The pool is quite relaxing with a white sandy beach and palm trees.  The modern hotel rooms have an Asian flair and are quite stunning.  The dining options at this resort are plentiful as well as a classic Luau. Find more at https://www.themagicforless.com/universal-orlando-resort/on-site-hotels/loews-royal-pacific-resort/
Neighboring Royal Pacific is Loews Sapphire Falls Resort which also has a relaxing and beach vibe, but is more Caribbean in feel.  The resort has a very modern and sleek feel, but is not stuffy.  There are waterfalls, ruins, lush foliage, and Caribbean music throughout. For more info https://www.themagicforless.com/universal-orlando-resort/on-site-hotels/loews-sapphire-falls-resort/
PRIME VALUE RESORTS
The prime value resorts feature affordable accommodations and fun for everyone.  The two prime value resorts are Universal's Cabana Bay Beach Resort and Universal's Aventura Hotel which is scheduled to open in August of 2018.
Cabana Bay Beach Resort is a fantastic resort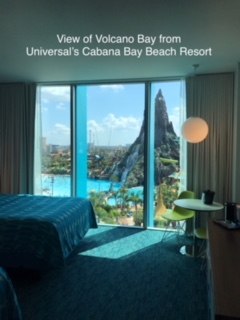 for families and has many flexible room categories.  There are standard rooms and family suites that have multiple bedrooms, bathrooms, and kitchenettes.  This hotel is an entire 1950's -1950's experience that is so immersive guests even use VO5 shampoo and conditioner.  Everything from the food court to the hotel gym and even bowling alley is brilliantly designed.  The pools are massive and there is even a lazy river.  This resort has a walkable path directly to Volcano Bay waterpark . Find more at https://www.themagicforless.com/universal-orlando-resort/on-site-hotels/cabana-bay-beach-resort/
Universal's Aventura Hotel will be very stylish and modern.  It will be a high rise style building and offer views of much of Universal Orlando's property.  It will feel like a boutique hotel, but have 600 rooms which will make it another major hotel in Universal's resort family.
These resorts are arguably some of the most fun, luxurious, and well themed resorts in Orlando and beyond.  If you are interested in staying in the middle of the fun on your next Universal Orlando Resort vacation, contact one of the expert agents at The Magic for Less Travel https://www.themagicforless.com/ or Magically Carefree Vacations https://www.magicallycarefreevacations.com/ to help get your vacation planning started!
Similar Posts: