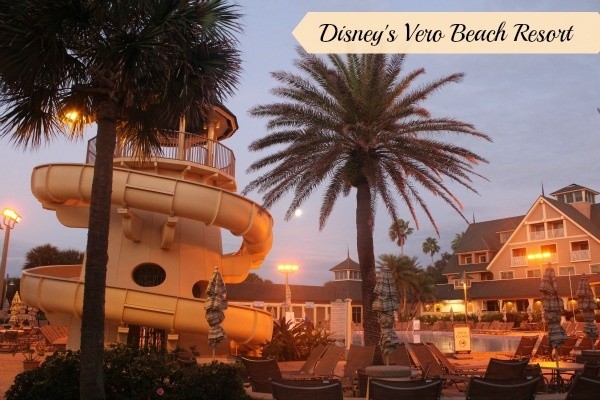 Sometimes it is necessary to spend a little time just recharging your batteries, so to speak. My family was in need of a little of that this past Christmas, so we decided to spend the holiday at the beach. Vero Beach to be exact.
Disney's Very Beach resort is located in Vero Beach, Florida. It is approximately 2 hours away from Walt Disney World on the Atlantic side of the state. We flew in to Orlando International Airport and rented a car to drive to the resort. There is no shuttle service from the airport to the resort, so rental car is the best way to go.
While Disney's Vero Beach Resort is most definitely a Disney resort, it's isn't exactly the same as staying on Walt Disney World property. Upon check-in, we received room key cards (remember those?) and we could add charging privileges to the cards if we wanted. Magic Bands haven't made it out here yet. A lanyard to hold your card key wouldn't be a bad thing to add to the packing list, since a lot of the time you will be headed to the beach or pool when leaving your room.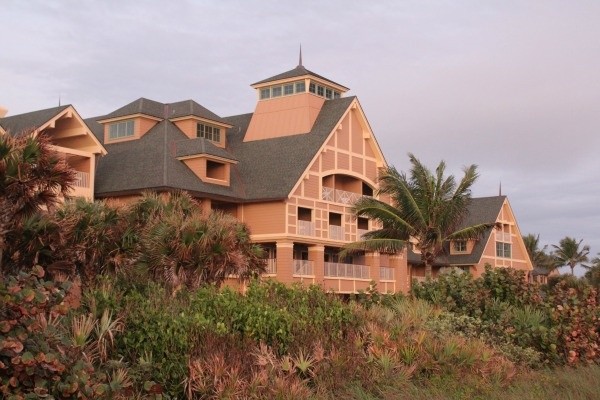 There are two parts to Disney's Vero Beach Resort: the Inn and the villas. The Villas are Disney Vacation Club vacation homes, although they can also be rented for cash. There are studio, one- and two-bedroom vacation homes as well as three-bedroom Beach Cottages. These overlook the Atlantic Ocean. They look absolutely beautiful.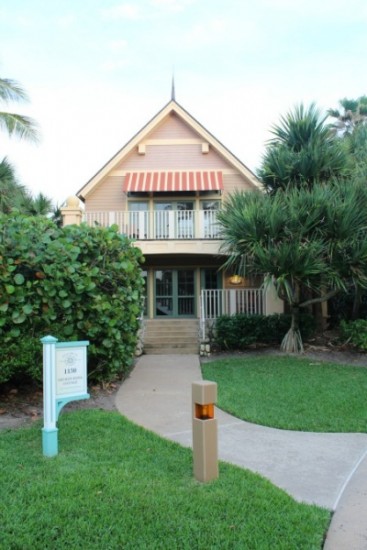 At check-in, we were also given information about special events happening at the resort. Since our stay included Christmas, there was a special meal offered that day. We hadn't heard anything about it before arrival. No making reservations 180 from arrival here. In fact, since our trip was somewhat last minute, we were able to book a Christmas Eve meal at the resort a couple of weeks before arrival. If you wish to make a dining reservation ahead of time, call the 407-WDW-DINE number. As of now, dining cannot be reserved online, but you call the same number as Walt Disney World. In fact, our dining reservations appeared in our My Disney Experience account (the actual resort reservation was not there, though, and we were not able to add it).
One thing to prepare for when planning a trip to Vero Beach is that there isn't a whole lot within walking distance of the resort. If you want to go out to eat at a location other than a resort restaurant, a car is going to be your best option. We stayed in a villa and had a kitchen, so a trip to a local grocery store gave us some supplies for the stay.
There are four dining options on property and they also filled our needs quite well. Sonja's is formal dining location. Shutters is casual table-service dining serving breakfast and dinner. Bleacher's is a counter-service location right by the pool. Bleacher's has lunch and snack items, the refillable mug station, and a selection of frozen drinks. My youngest child has thoroughly tested the smoothie selection and deemed it excellent.
The final dining location is the Green Cabin Room. This location can be found on the second floor above the lobby. There is an indoor section with a bar and lots of comfortable chairs. The outdoor patio area has high top tables and overlooks the ocean. It's a fabulous place to enjoy a cool drink and a sandwich. This location also offers carry-out pizza. My teens also give this their stamp of approval. The price was reasonable and we were able to enjoy a casual meal while playing games in the room.
That leads me to recreation. The resort is located right on the Atlantic Ocean, although it isn't always visible from the first floor locations. A ramp leads from the resort to the beach. Your key card is required to get back in to the resort area from the beach, so don't forget to bring it with you. Beach chairs and umbrellas are available for rent, along with various water sports equipment such as a sail boat, kayaks, boogie boards, and life vests.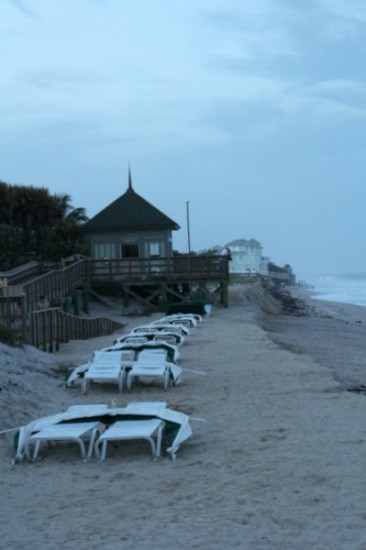 The pool is the center of the resort. All day there is activity in this area. There are pool games for the kids and music. A huge water slide is a focal point. The mini-golf is right next to the pool. There are ample lounge chairs and tables and chairs. Guests can rent board games both here and at the front desk. There is an outdoor pool table, ping pong table and shuffle board courts. The pool is just steps from the beach, so both can be experienced with little effort to move between the two.
For those who need a break from the water, there is an area just off the lobby for gamers. Guests can borrow video games on various systems and play in the video game lounge area. DVD rental is also available and the rooms have DVD players. The selection of DVDs and games is widely Disney, but there are definitely choices outside of that theme as well.
On select evenings, a campfire is held just at the end of the property. Guests can enjoy the fire and s'mores. While walking through the lobby, we were even treated to an impromptu character greeting with virtually no line.
Even though we were not able to experience this, no review of Vero Beach is complete without a mention of the turtles. The beach here is a sea turtle nesting location. From May to October, guests can learn about these amazing creatures at outings offered through the resort. Children ages 7 to 15 can participate in turtle walks along the beach and learn about the sea turtles. They can even "adopt" a turtle that they can track online.  Even when it's not nesting season, sea turtles can be seen everywhere in the resort.
Just off the lobby is a small sundry shop that has souvenirs, beach items, and some food and beverage items. Even the beloved Mickey bars are available here for a quick snack.
While we could definitely spend the whole trip at the resort, there were plenty of other options not that far from home. We were able to catch a movie (the latest Star Wars movie was just released) and grab a replacement pair of flip-flops at the mall.
For a family that is always on the go, Vero Beach resort is a welcome change. It's definitely relaxing. For those looking for a relaxing beach vacation with plenty of sun and sand, it's a great option.
Similar Posts: