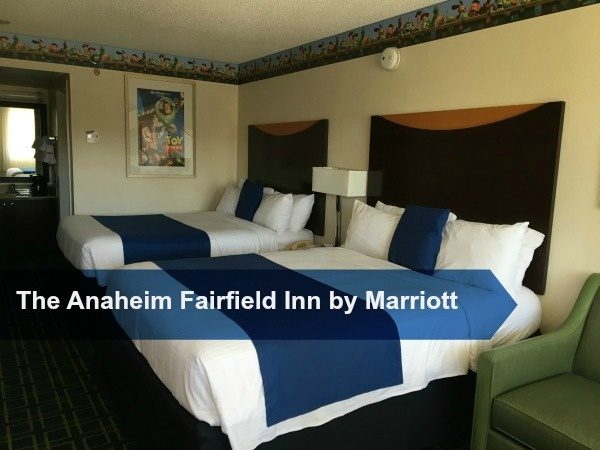 We are recently back from our first trip to the Disneyland Resort in Anaheim California, were we stayed at the Anaheim Fairfield Inn!  As Walt Disney World regulars (Annual Passholders and Disney Vacation Club Members), we were thrilled to get out to the west coast to see the original Disney theme park.  While I knew certain things like Walt's lamp was kept lit, that Disneyland still used Legacy FastPass, and that I couldn't leave without trying a corn dog, deciding where to stay took a little bit of thought and research.
I was traveling west with my husband and three children (8, 7, and 4) and we are accustomed to staying in deluxe villa resorts at Walt Disney World.  This trip was originally supposed to be a solo and budget-conscious one, so when we made the decision to travel as a family, we knew that staying on property was not an option for us. Staying off-property while visiting Disney was a new concept, but luckily, Disneyland has relationships with many of the local hotels and designates them as Good Neighbor Hotels.   This means that you'll find both good quality and be within close proximity to the parks.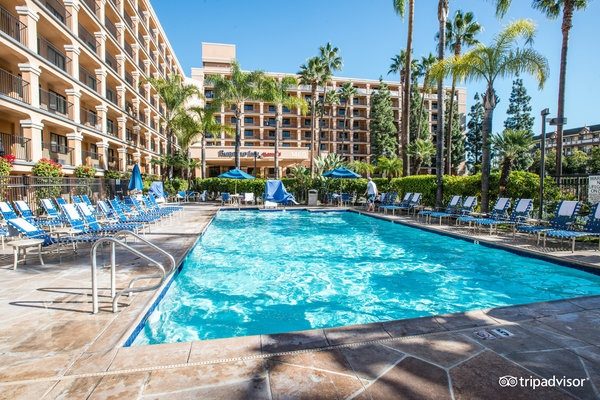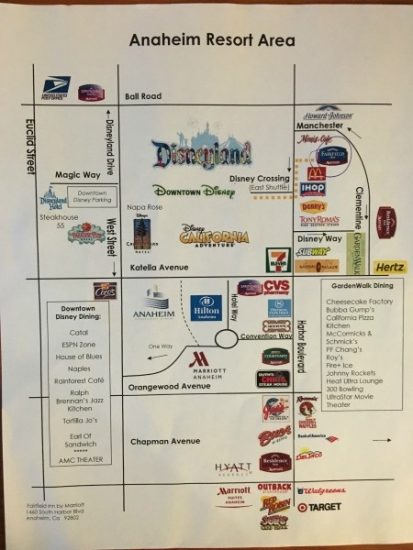 This resort area map shows what's in the immediate area.
To be honest, the hotel we chose was not the first hotel we booked.  Our original reservation was for a suite hotel – I thought that the extra room would be good for our family of five.  Especially because I was going to be running all of the races over the Disneyland Half Marathon weekend, meaning three early mornings for me.  I thought that I would be less disruptive to everyone if we had the extra space and I could get ready and/or sleep in the living area so that I could make a quiet exit in the morning.  After much thought and conversations about how we thought our days would go, we decided to instead book a room at the Fairfield Inn by Marriot on South Harbor Boulevard, and I'm so happy we did!
We were one of the closest hotels to the Disneyland Esplanade entrance.  The Esplanade is where you enter via bag check, and then can go straight toward Downtown Disney, or right and through the Disneyland turnstiles, or left and through the Disney California Adventure turnstiles. We had friends staying at the Disneyland Hotel and we were closer to the entrance of the parks than they were! Hyperspace Mountain was visible from the balcony hallway and I was told you could even see the evening fireworks from outside our rooms.  (We were in the parks or on one occasion, sleeping, so we didn't test this).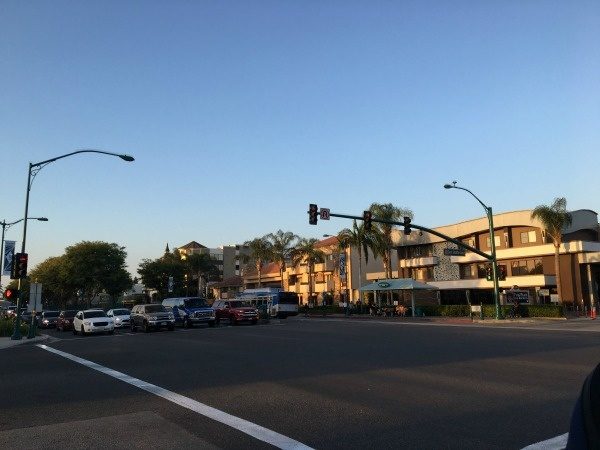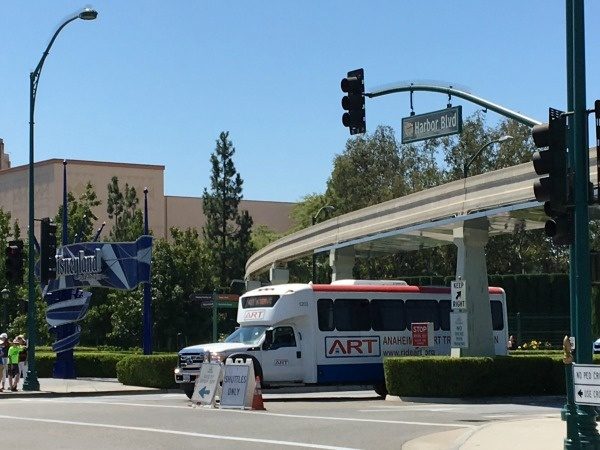 Intersection from opposite side of the street
What made me really happy about our hotel besides its proximity to the parks, was the cleanliness.  I am a stickler for a clean hotel room and can get a little uneasy in hotel bathrooms.  I am here to tell you I was so impressed by how clean our room was.  It was nothing overly fancy – when you walked in the door, there was an oversized seat to your right and two queen beds against the same wall.  On the left handside wall was a TV sitting on a bureau, and a desk after that.  At the end of the room was a vanity and sink, with a built-in clothes hanger along the left side.  To the right handside of the vanity was a door with the bathtub/shower and toilet.  But oh was that bathroom clean! There wasn't a stray hair from a previous occupant and the white grout between the subway tile, was truly scrubbed white!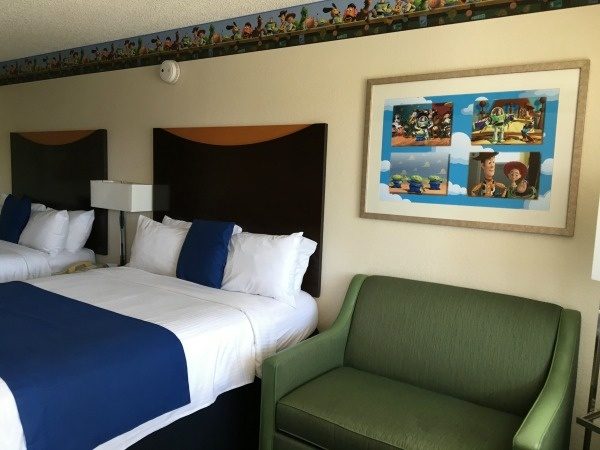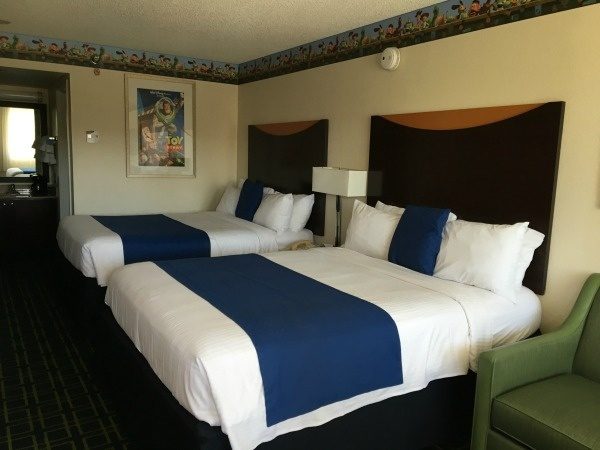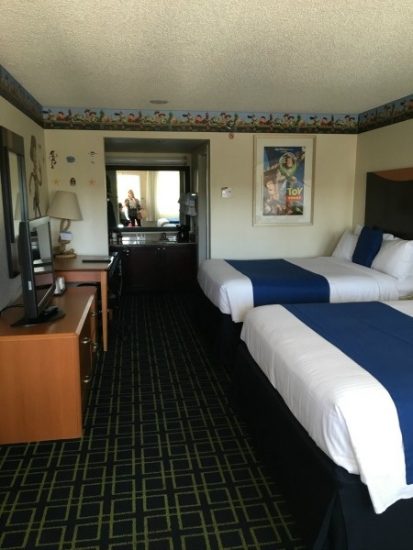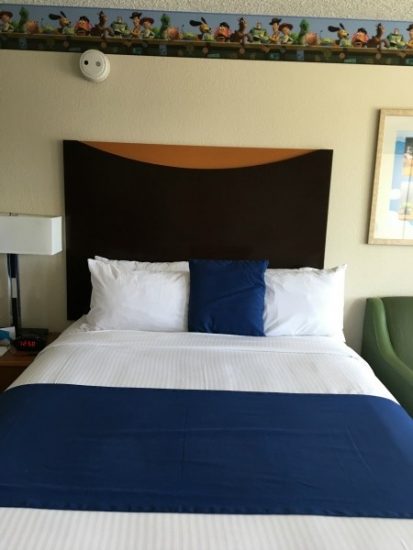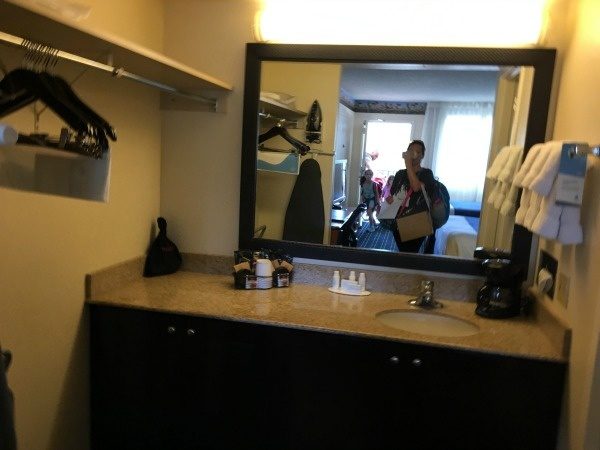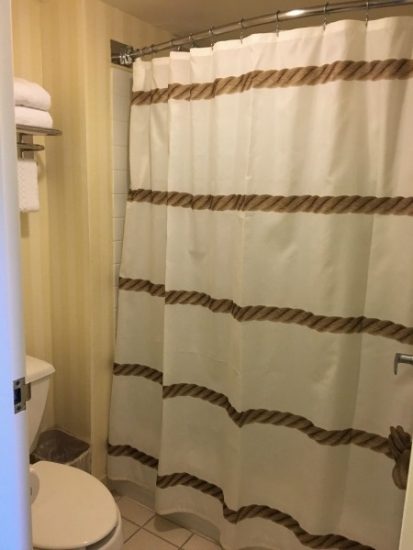 We had booked a standard guest room with 2 queen beds and were given a Disney Themed Guest Room – we got Toy Story!  We were on the fourth floor and coincidentally, had adjoining rooms with our good friends!  We figured this out as soon as we met them in the park for lunch and asked each other's room number!  They were in the mirror room to ours, but theirs was Frozen themed.  In addition to the room being clean, we found it very comfortable!  My husband and I both agreed the bed was super comfy and the oversized chair opened to be a single sleeper on which one of our daughters slept.  I don't think an adult would fit there comfortably, it wasn't as big as a twin and very narrow, but for a child, it was great!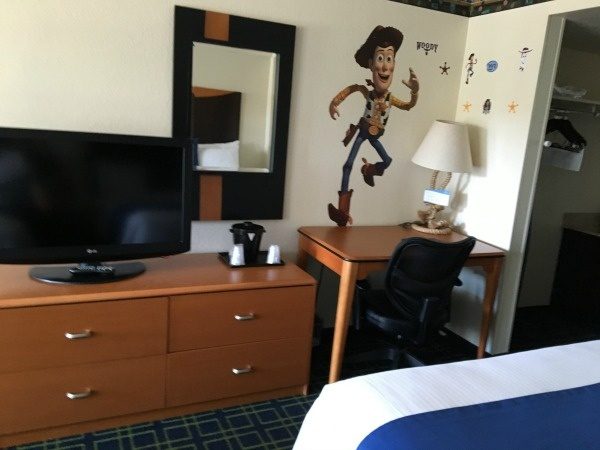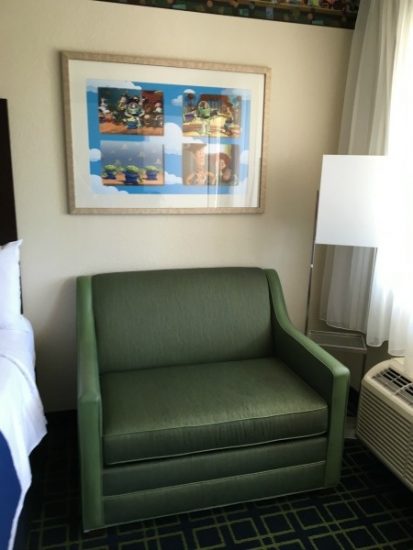 There was some construction going on around the Lobby and there was a temporary one set up in a canopy tent, but that did not adversely affect us at all.  There was also a Pizza Hut Express and Market on-site, but we did not visit either.  Panera Bread was located on the hotel property, in the front of the parking lot which worked out very nicely.  You could grab your coffee there, or a quick snack.  You can also download their app and order ahead of time to avoid the lines that were often forming.  We did have an Amazon Pantry delivery that was received on our behalf by the Front Desk, as well as friends drop off something for us that they held.  Everyone who worked at the hotel was very courteous and friendly.  We would not hesitate to stay at the Fairfield Inn again when we visit Disneyland.  It was a comfortable room for a family of five and you can't beat the proximity to Disneyland!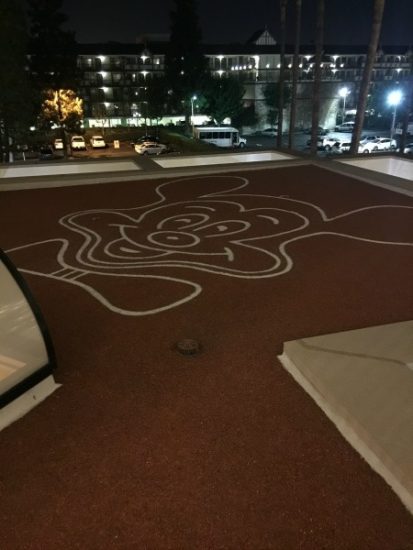 The Fairfield's Inn touch of Disney – view from our hallway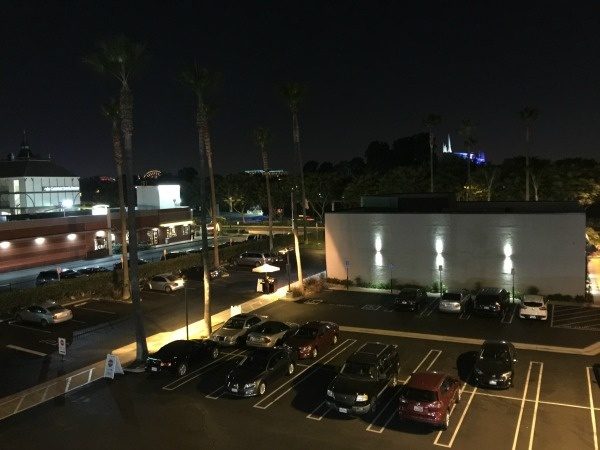 Ready to book your vacation?  Contact me at the Magic for Less for a no-obligation quote and start planning your next Disney vacation!
Similar Posts: