We hadn't been to Disney in 30 years so it was all new. Emily provided great insight, answered questions and kept us updated all the time.
-Melanie H
All information was very straight forward and multiple options were given along the way. Our agent was prompt in returning any communication and is extremely knowledgeable. When a less expensive rate was available, we were contacted right away and we saved a large amount.
She had great dining suggestions and knew the best rides/shows for our group. I'd definitely book through The Magic for Less Travel again!

-Jennifer A
Thanks Jennifer for sharing these great photos with us!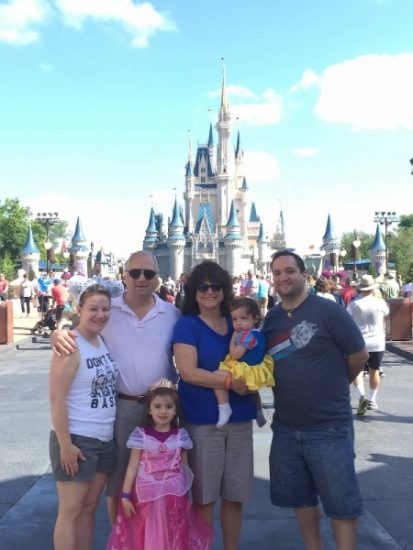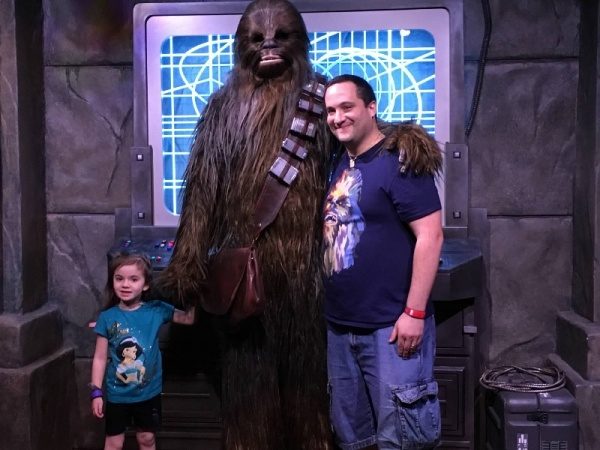 This was our 3rd trip with our agent and she is just as good and helpful now when we did our 1st trip…I always give out her name!!
-Frankie F
Our agent provided tips and suggestions that helped me…a novice Disney goer. Thankfully she sent me a reminder to log on and get my fast pass reservations or I would probably not have remembered to do it. And her list of suggestions for what to use the fast passes on we're very helpful. I was also thankful for her patience while she explained over again the meal plan. Once there, we were like pros. We were even able to help others who needed help understanding. I was very thankful she was recommended to me. While I had never met jer, I felt like I was talking to a long time friend. She was very knowledgeable and patient. Our trip was a success because of her help! My husband complemented my planning…but it really was my TMFLT agent.

-Anne G
This is the 3rd Disney vacation that we have booked with our Magic for Less agent. And each time her direct knowledge of the Disney vacation experience provides valuable insider tips. She also is very good at understanding her clients needs and unique situations and integrates this information into her recommendations for activities, dining, and other magical ideas. We initially booked our Disney trip in late January and traveled in early April. Before booking we went through multiple rounds of potential vacation package dates as well as target resorts. She was diligent in looking for the package and travel date combination that would best meet our needs. And through her efforts we managed to book our top choice resort – The Disney Beach Club.
One thing that I would definitely highlight from this trip is how valuable it is to have a dedicated counselor available to you once you are on your Disney trip. Each time we have turned to her to make some unexpected changes during our trip that required adjusting reservations or having her assist us with follow-ups while we were in the park with our kids. In this recent trip we realize that we would need to make a 2nd return to DHS b/c our kids really enjoyed the expanded Star Wars shows and entertainment.
-Francisco C
It was a completely worry free vacation thanks to all the planning and scheduling. I never could have done it without the help of our travel counselor!

-Courtney H
Working with the Magic For Less made it so I didn't have to worry about certain aspects of my vacation. It's so nice to work with Mike.
-Brock C
Our agent was great. This was the second trip that she helped us plan. She made resort and ticket reservations, as well as meal and special event reservations. She was able to provide recommendations about things to do and was able to give us details about where to be for our special activities.
-JoAnna A
Our agent made all my dinner reservations! She sent incredibly helpful tips especially for traveling with small children. Fantastic experience! Can't recommend her enough!!!
-Kira D
Our counselor has been awesome when needing to plan trips to Disneyland or Disney World. I have not been disappointed by any of my vacation experiences that I have booked through Magic For Less. Response time is amazing and issues are resolved quickly.

-Michelle B
This was our first trip to DisneyWorld in many years, and we felt that we were well-advised on what to book, and how to prepare
-Donna A
Every question answered with a 4-generation age difference.
Rentals easy and convenient. Helpful with understanding magic bands, fast pass, dining reservations, etc. Disney is now the most complicated vacation destination and our agent made it easy!

-Karen J
Our agent's suggestions for timing of meal reservations were perfect. He was available for any question and never made me feel silly about it.
-Elizabeth
Made the trip so easy. We were first time Disney travelers and our counselor answered all of our questions (which were many) and gave great advice.

-Lee H
Doris was available to answer all of my questions. When the Disney website got messed up, Doris straightened everything out and sent me confirmation. She was terrific.
-Eizabeth H
Planning was a bit overwhelming. Our counselor provided us with suggestions for restaurants and how to make the most of our trip.

-Lisa L
Not knowing much about Disney, it really helped in planning. Our Magic for Less agent was very helpful. She answered questions through email and phone calls. She is great!
-Nancy C
Our counselor clarified EVERYTHING for me. Her recommendations were spot-on for our family and because of her we truly had a trip of a lifetime!! She is an incredible asset to your service- don't know what we would have done without her!!

-Catherine J
Our agent went above and beyond in all things. All we really needed was a room reservation, but she really CARED about our trip. That was lovely.
-Marianne B
the knowledge and enthusiasm made the planning easy. Also, there was no pressure to book more expensive plans — she worked with our needs and budget to provide a great trip for our 5 year old grandson. No question is too silly for our agent.

-Cindy
Similar Posts: