Sapphire Falls Room Service
I recently stayed at Sapphire Falls at Universal Orlando and loved this resort.  In this blog, I'm  talking about my favorite part-Sapphire Falls room service!  While only staying 1 night, I was able to order room service twice.  The first time for dinner due to not feeling well enough to eat out and again for breakfast as a great way to get my day started. The employees at this Lowes resort were friendly and well trained with only one exception. I was not disappointed with the room service employees as they were both friendly and knowledgeable.  I started off the evening by taking pictures of the choices offered thru the Sapphire Falls room service menu and have some of those below.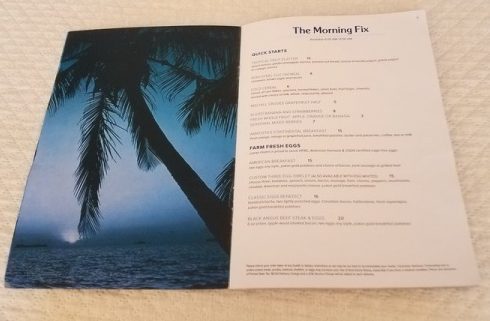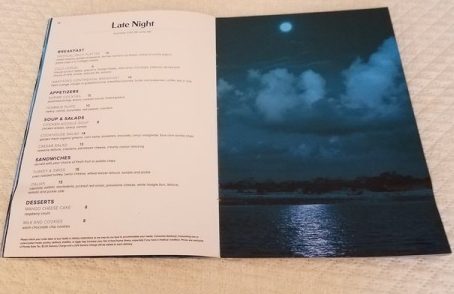 Since I wasn't feeling well, I went with my very favorite comfort food, pizza!  When I called to order, the line was answered promptly by a friendly voice.  She took my order and asked if I needed anything additional such as extra napkins, plates, etc. and told me my food would arrive shortly.  Less than 30 minutes later there was a knock on my door and a server asked if they could enter (I love that they asked first) and where would I like my food placed.  He was very friendly and asked where I was from and told me a little bit about him and how much he enjoyed working at the resort.  He then pulled my hot food from the warmer and placed it on the cart.  With having ordered a pizza, there was the box the pizza was in as well as a plate with cloth napkin and utensils.  They also brought a glass of ice water even though I hadn't ordered anything to drink since I already had a bottled drink in my room.  I found the pizza to be absolute delicious with a great flavor to the cheese and the peperoni!  As you can see below, I enjoyed it so much I forgot to take a picture of it outside of the box!  Trust me, it tasted as good as it looked!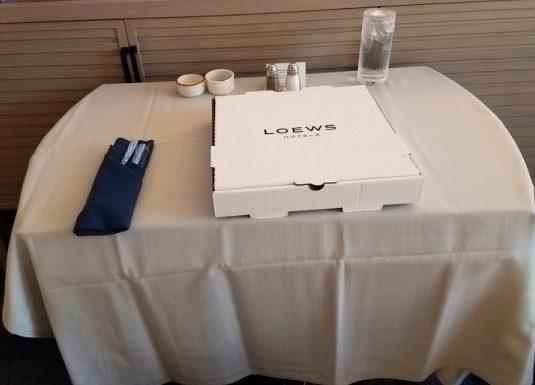 Planning ahead for breakfast
Since I knew that I would be up early the next day and had quite a few things to do before I would need to check out at 11 am, I decided that I would definitely order room service for breakfast. This door hanger was really easy to use.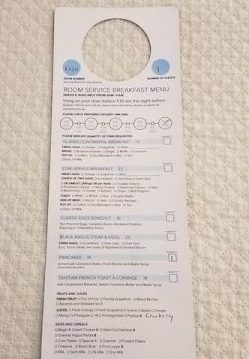 Just mark down what you would like (even add a few things), circle the time range you prefer for delivery and hang it outside of your door before 3 am.  Times listed were all 30 minute intervals.  I was curious exactly when my food would arrive during that interval.  The food actually arrived about 5 minutes before my interval.  I was already hungry so I was happy!  This time I did remember to take a picture of the food before I ate it.  Everything was delicious.  While it was a challenge to eat so much food, I finished every last bite.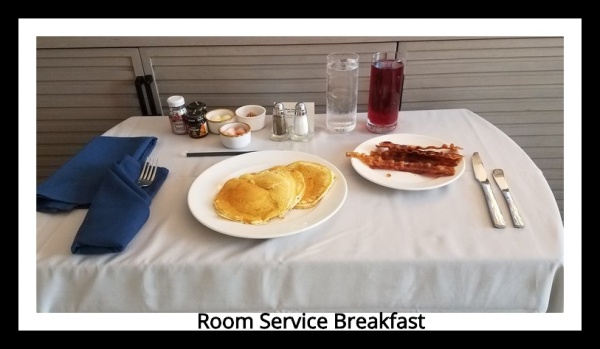 So I hope that if you get a chance to stay at Lowe's Sapphire Falls you will also give room service a try.  Now I think I better go get something to eat—writing this has made me hungry!  Too bad they don't deliver.
Similar Posts: