Most amusement parks and theme parks have locker storage available at the front of the parks for guests to store their belongings.  So we found it odd to see sets of lockers near the rides at Universal Studios Orlando's two amusement parks.  They seemed to be everywhere and we soon learned they were everywhere for a purpose!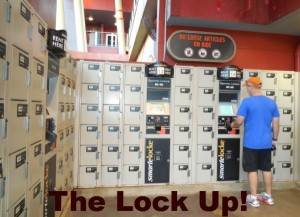 At Universal Studios, you are required to place all backpacks, purses and loose items in a locker prior to boarding the following rides:
The Incredible Hulk Coaster®
Dragon Challenge™
Harry Potter and the Forbidden Journey™
Hollywood Rip Ride Rockit®
Revenge of the Mummy®
MEN IN BLACK™ Alien Attack™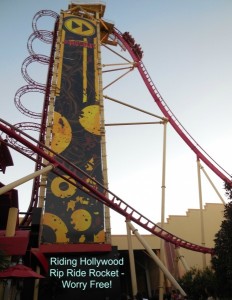 At first, there was reluctance on our part to embrace this system.  I did not like the idea of putting my backpack and all of its contents in a locker.  Would it be secure?  What if someone else figured out a way to get into the locker? Secondly, we thought it would be too time consuming to stop and store the required items! We found both concerns to be unfounded after our initial use of the lockers!
At the rides, you'll be directed to a locker storage area.  You step up to a kiosk at the lockers and follow the prompts on the screen. At the kiosk you will be assigned a locker to store your belongings, head to the locker and store your items.  It's that simple and a Universal Studios employee monitors each set of lockers to answer questions or resolve any problems and we actually had a problem!
After exiting a ride, our locker would not open.  We entered the pin we had used to secure the locker but it failed to open.  We found the attendant; who first asked us, "Are you sure this is your locker?"  He informed us this is the most common mistake guests will make when returning to the lockers after exiting the ride.  Alas, it was the correct locker.  He then asked us to describe what was in the locker, which we did.  He then opened the locker, asked us to retrieve the backpack and produce a photo ID.  Which we did.  He bid us a good day and we went on our way! It was as easy as that.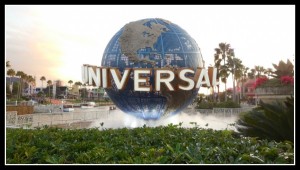 The lockers do have a time limit and if you exceed the time limit, you will be charged a fee.  The fees are posted at the lockers. We found the system to be efficient and so easy to use and bonus – we didn't worry about losing anything while riding the rides!
Similar Posts: