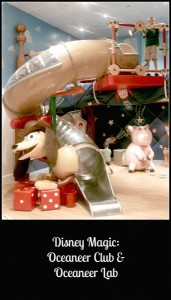 My family enjoyed our first ever cruise aboard the Disney Cruise Line ship, the Disney Magic in January, 2014. While we were all looking forward to the many activities that awaited both on and off the ship, my sons, ages 7 & 6, were most excited to experience the kids spaces for children their age: Oceaneer Club and Oceaneer Lab. For months leading up to our sailing, we watched every video Disney Cruise Line released about the exciting updates coming to the Magic during her "re-imagining". Our young, intrepid cruisers were chomping at the bit to see this particular area for themselves, and I'd be lying if I didn't admit that my husband and I were looking forward to some kid-free time during our sailing. Our family couldn't wait to attend the Open House on the first night of our sailing and see the entire area for ourselves.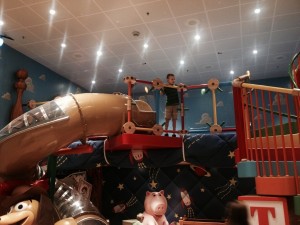 Disney Cruise Line's Oceaneer Club and Oceaneer Lab are designed for potty-trained children between the ages of 3 and 12 years old. Located on Deck 5, Midship, they are typically open from 9am to midnight, but you ought to check your daily Personal Navigator for operating hours, because they may vary.  Parents will need to pre-register their eligible children either online, prior to arrival, or register them upon arrival at the port either at the cruise terminal or  at the front desk of either the Oceaneer Lab or Oceaneer Club once onboard on embarkation day. We opted for the pre-arrival registration. Once we arrived at the cruise terminal in Miami, we went to the Children's Activities desk to confirm our registration. In a really cool twist of fate, we actually met a Children's Activities Crew Member from our hometown! He used to lifeguard at the public pool just a few blocks from our house. Talk about a small world! Meeting a friend from home really helped my boys.  Now, before they ever set foot inside the Oceaneer Club or Oceaneer Lab, they had a Crew Member who knew them and was genuinely happy to greet them whenever they saw one another.
The boys got their security wristbands at this time. These are yellow Magic Bands just like the ones currently in use at Walt Disney World, and they are ingenious! Your children will hold them up to the Mickey stanchion (Mickey to Mickey, just like at WDW!) upon entering and exiting the kids club as part of the check in/check out procedure. As a security measure, adults and children are photo-matched as part of the check-out procedure. My eldest son takes medication daily, and had a red clip fastened onto his Magic Band to denote that fact. One of the most helpful features of the security wristbands is that through RFID technology, the Crew Members in the kids club were able to tell us right where our kids were within the club when it was time to pick them up. Very cool!
 The kids club is divided into two different areas which are accessible to all participating children, regardless of age. Oceaneer Club consists of a central library which serves as a hub, with 4 differently themed areas stemming from it, while Oceaneer Lab is a pirate themed wonderland ripe for adventure and exploration!
 In Oceaneer Club, you will find:
Andy's Room: Based on the Disney-Pixar Toy Story films, Andy's Room gives children a toy's eye view of Andy's bedroom. They can enjoy playing with kid-sized Hamm the piggy bank and Mr. Potato Head. They can also climb the stairs onto Andy's bed for a ride down the Slinky Dog spiral slide!
 Marvel's Avengers Academy: Explore a special training base for the crime-fighting agents of S.H.I.E.L.D.! Iron Man's suit, Captain America's shield, and Thor's hammer are all on display here, and your young super-heroes in training can dress up like their favorite Avenger with the provided costumes and props. My husband and I were treated to our 6 year old dressed up like a different super hero each time we came to pick him up. He LOVED this area! Several Avengers make appearances here throughout your cruise, teaching young cruisers how to be a super hero, too!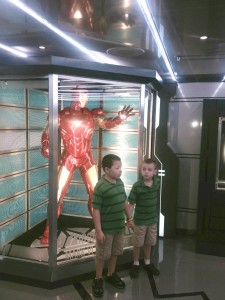 Mickey Mouse Club: There's no question this area is inspired by the Big Cheese, himself! Mickey's signature red, black, yellow and white dominate the décor, creating a cheerful, playful space. Your kids will enjoy arts & crafts activities on Mickey shaped tables, and a wall-mounted Goofy Gears game will have them giggling. Another wall is home to Wii games. My 7 year old had a ball racing other kids in Mario Cart each day.
 Pixie Hollow: Taking it's inspiration from the Disney Fairies movies, Pixie Hollow is the place for your little pixie to dress up like her favorite fairy with costumes and props housed inside a Tinkerbell's teapot house. There are also computer games, arts and crafts, and story times sure to please.
The Oceaneer Lab is connected to the Oceaneer Club by a kids-only hallway. The central area houses a gigantic plasma screen that shows Disney movies periodically, with bean bags scattered on the floor nearby. There is also a stage where small plays are put on by both crew members and young cruisers. You will also find the following themed areas:
 Captain's Workshop: Here there are large tables perfect for crafting and hands-on Super Sloppy Science experiments. There are also several computer terminals around the perimeter where young pirates can play swashbuckling adventure games. Food is also served here. My boys both really loved the mad science presentations, and they worked in a team to design their own erupting volcano- all while wearing lab coats and goggles, of course. Honestly, this programming segment was a dream come true for my 6 year old, and he always made sure to note when the next mad science session was happening so he wouldn't miss it. The Captain's workshop is also the place to be to learn how to cmake cookies. Inspired by the Disney-Pixar film, Ratatouille, your kiddos will be world-class cookie bakers in no time. Taste-testing their edible creation is part of the fun, too!
 Animator's Studio: Similar to the Animation Academy at Disney's Hollywood Studios and Disney's California Adventure, this is the place to practice your drawing skills, and learn how to draw several Disney characters, too! Who knows? This might be the start of a promising career in animation for your child!
 Craft Studio: Your kids will love making arts and crafts in this space, with many different materials to choose from. When it's time to "unplug" from all the techie entertainment, this is a welcome change of pace!
 Navigation Game Station: Home to the Pirates of the Caribbean multi-player computer game centered on a hunt for lost pirate treasure, this room looks like a pirate's treasure chest! Navigation simulators let young sea captains steer a pirate ship through the Caribbean.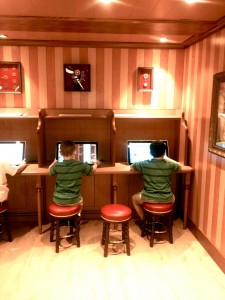 We were thoroughly impressed with these spaces.  As a mom of a somewhat stealthy child (his nickname is Houdini due to his penchant for sneaking away, unnoticed) I was reassured by the tight security measures in place.  I never felt any qualms about leaving our sons in the care of the Crew Members working in these areas.  As for our sons- "When is our next cruise?" is a frequent (VERY frequent) refrain in our home these days.  Spring Break 2015 can't get here soon enough!
We'd love to help you plan a vacation aboard the Disney Magic.  Contact us for your free, no-obligation quote today!
Similar Posts: