We recently cruised on the Disney Wonder to Alaska.  Truly a bucket list trip, one of the ports of call is Juneau, Alaska.  Since there are so many things to see and do in Juneau, we decided the best option for us would be to see it all – which you can (sort of) do on the Best of Juneau Port Adventure.
We met in the Walt Disney Theatre for our tour and once everyone was checked in we headed to shore where we boarded a bus near the dock.  Of all the Port Adventues I've ever done we had the best guide ever whose name was Michael.  Michael was full of enthusiasm and the knowledge about his hometown was not only informatitve, but also hilarious.  He even started the tour with a singing rendition of the safety spiel while playing the ukulele which was fantastic!  I really enjoyed having him as our driver and guide through the city,
We had about a 20 minute bus ride to the dock where we boarded our vessel for the first par of our day's adventure: whale watching.  Once everyone boarded we were off.  Anticipation really built until we finally began seeing whales.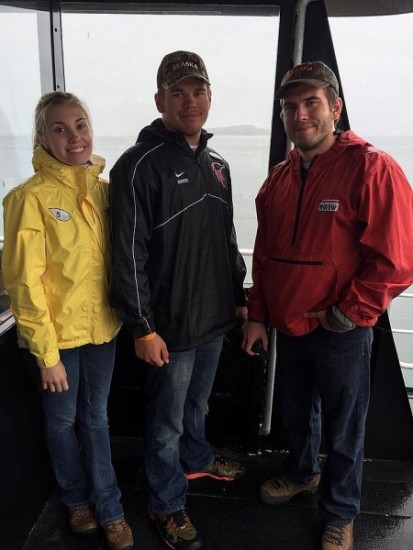 While the whales were not breaching (like we saw from the Disney Wonder), they were bubble feeding and diving which gave us some great photo opportunities (although sometimes it's nice just to watch these amazing sea creatures without worrying about the perfect shot).  There were tons of of oohs and aahs along with high fives from everyone aboard the vessel every time a whale appeared.  It really was exciting!  And we also were treated to seeing porpoises racing the boat and jumping out of the water.  And on the way to our lunch stop we saw harbor seals claiming their territory on buoys.  Our naturalist aboard told us that when the coast guard comes to move the buoys that the seals often will put up a bit of a fight as the consider the buoys their territory.  Now that would have been fun to see!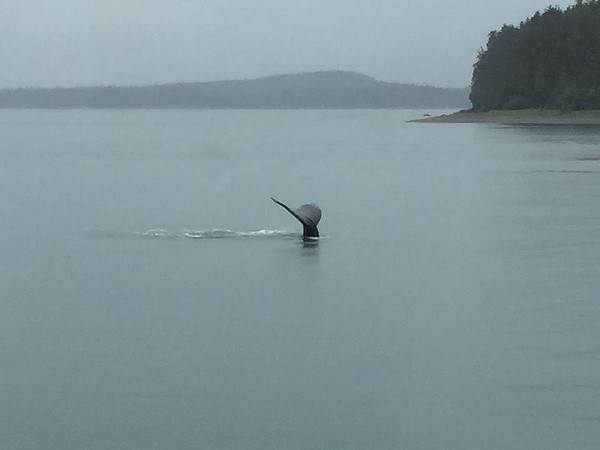 We stopped for lunch at Orca Point Lodge, a rustic, but modern and very beautiful lodge.  A buffet consisting of red sockeye salmon, chicken, rice, macaroni and cheese, rice, rolls along with the best brownies I've ever had awaited us.  It was delicious!  A rain storm passed while we were enjoying the lodge but this is Alaska and the weather was a typical Juneau day (so we were told).  We chose to check out the tidal pool they had onsite and learn a bit more about the sea life.  It was a really neat place to visit!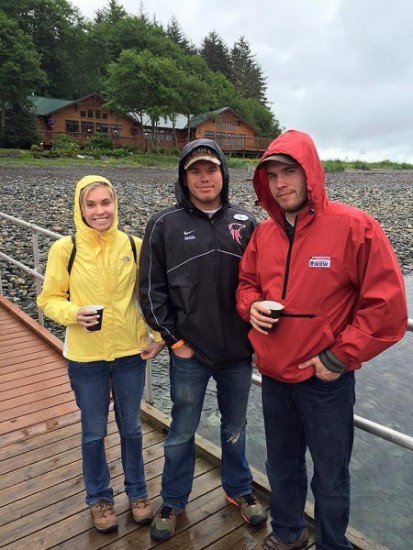 After lunch, it was time to start our journey back to shore where our bus driver, Michael, picked us up and would drive us to our next stop on the best of Juneau adventure, Mendenhall Glacier National Park.  As if the whales weren't exciting enough we were able to hike through this National Park to see the glacier, an amazing waterfall and tons of wildlife, and a beautiful assortment of flora and fauna.  It's hard to break away from viewing the glacier as it is so pretty and amazing to see. It seriously never gets old, but we only had about 1 hour of time to spend at the park.  We could have easily spent twice as much time and still wanted more.  We didn't have time to hike to the waterfall which I wish we had.  This is a stop I'd come back to in order to spend at least 1/2 day!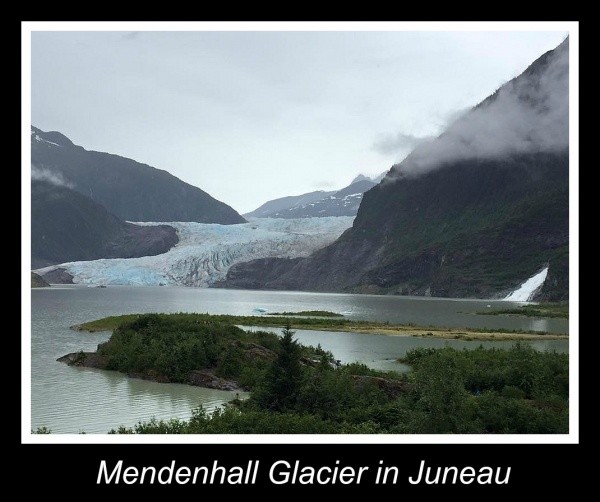 Michael picked us up to drive us back through town to the ship.  He gave us a pop quiz on everything he'd taught us on the drive and told us a few more funny stories.  He even gave us a little Disney quiz (guess who knew all the answers?!).  As we approached town he asked if anyone wanted to be dropped off for shopping or touring the area.  We chose to depart the bus so we cold tour this quaint little town.  There are tons of tourist trap shops in Juneau, but if you search far and wide you can find some amazing treasures.
We were glad to do the Best of Juneau Port Adventure and I'd strongly recommend it for a first time visitor to this city!
Check out the Disney Cruise Line Alaskan itineraries here https://www.themagicforless.com/disney-vacations/disney-cruise-line/itineraries/alaskan-pacific-coast-cruises/ or here https://www.themouseforless.com/disney-cruise-line/cruise-itineraries/#Wonder
Similar Posts: