John and I took our daughter Renee and her family (Steve, Zara and Zane) to Sea World.  We booked the Fireside Dinner with Santa and had a wonderful time!
We arrived at Sea World at 9 AM on December 8 and proceeded to walk around enjoying the Christmas Decorations.  We saw the "Sea of Trees" which was a huge array of lit up trees on the lake.  The trees are all different sizes and the colors change constantly.  They also had a beautiful tree right at the entrance.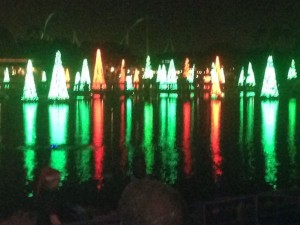 At the dinner we sat very near the stage.  There were 2 elves, Mrs. Claus and Santa on the stage.  Santa recited Twas the Night Before Christmas and then we had dinner.  The dinner was a "Family Style Buffet" which is interesting because they serve you everything on your plate at the line and then you come back for more as you want it.  The price was only $29 an adult and $16.50 a child.  During the meal, Mrs. Claus was "baking cookies" in the kitchen and when it was time for desert the elves came out of the kitchen with wicker baskets filled with homemade cookies and delivered them to everyone at the table.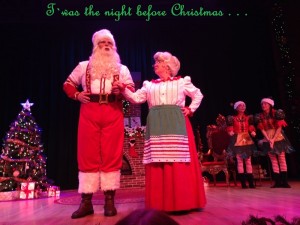 We went up in the "Eye in the Sky" and saw the whole park then got off and started heading towards the rides.  The Antarctica Penguins were fantastic but just so you know make sure you bring a sweatshirt or jacket as the ride goes down to 32 degrees.  The Polar Express was like riding on a real train and then the station where we got dropped off was the North Pole with live Polar Bears and Santa Claus.
One of the highlights of our trip was my grandson with his Grandpa watching the sharks together.  Zane wanted so badly to see the sharks so Grandpa took him over and they watched them together.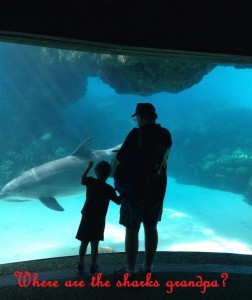 We walked through the Christmas Village where I bought some Godiva Chocolates and my grandson got his Christmas Candy and my granddaughter got Chocolate Covered Strawberries.   We looked at the other shops and then headed over to watch the Ice Skaters on the Lake.  The show was beautiful.
The highlight for Zara was the Polar Express and Antarctica Expedition.   At the end of the Polar Express we met up with Santa and Zane got to tell him what he wanted for Christmas.  The highlight for John and I was seeing our family for Christmas!
Similar Posts: