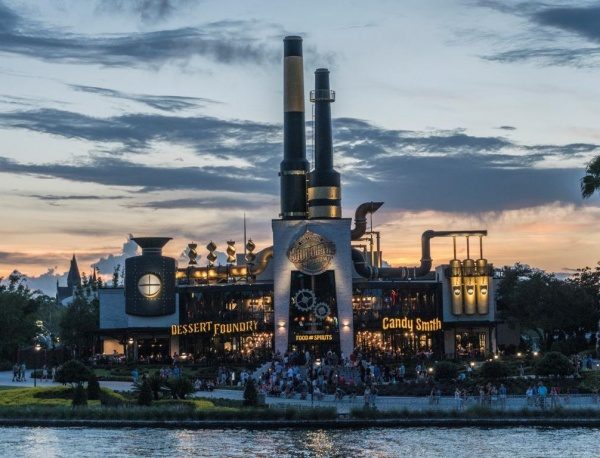 I recently spent a few days at Universal Orlando and Universal Islands of Adventure and was very excited to try the Toothsome Chocolate Emporium for dinner, which is located on Universal City Walk.
The Chocolate Emporium is a steampunk design chocolate "factory" with its own homemade chocolates and candies shop as well as a fantastic restaurant with some unusual items and amazing desserts.
The chocolate shop, which is located in the lobby area next to the host stand,  looks like an old fashioned candy store . There are homemade treats I have not seen anywhere else, such as Cookies and Cream Candy Floss (the British name for cotton candy) and liquid candy in amazing colors. All of the candies come in beautiful apothecary jars, except for the freshly made chocolates you can purchase from the chocolate case.
Along with candies and chocolates, the shop also has Toothsome Chocolate Emporium souvenirs like tee shirts and mugs, and even a few steampunk items like goggles and top hats!
Once you are seated in the dining room, you will definitely feel as though you are in the factory itself.  It has the look and feel of a chocolate factory, and has moving CGI images around the walls, which look like the inner workings of the machinery (think Willy Wonka). Miss Penelope Toothsome, the owner of the establishment, makes the rounds throughout the dining room to greet guests as they dine and have a little chat. She is a very modern 19th century woman with a robot friend called Jacque, who also walks around to chat with diners.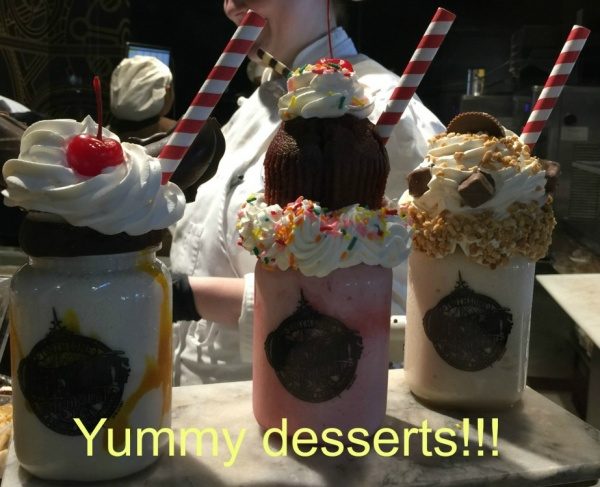 The food was fantastic, but what really stands out in this oasis of sweet treats is the dessert menu. There are pages and pages of desserts listed and every type of sundae you can imagine! Would you like to try a Cream Puff and Eclair Sundae? Or maybe the S'Mores sounds good? Along with pages of sundaes, there are the Chocolate Emporium specialty desserts, which are served in Mason jars. Some of the specialties include The Bacon Brittle (bacon ice cream, bacon brittle, chocolate covered bacon) and the Espresso Buzzzzzz (coffee ice cream, espresso, chocolate espresso beans, fresh whipped cream and a cherry).  You can even watch through the candy kitchen window as these amazing desserts are prepared.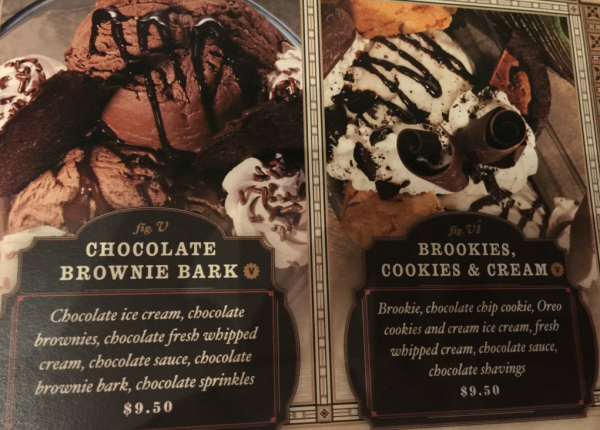 If you are visiting Universal and want a new and fun experience with a touch of Victorian steampunk, the Toothsome Chocolate Emporium is the place to go! You won't be disappointed.
Similar Posts: