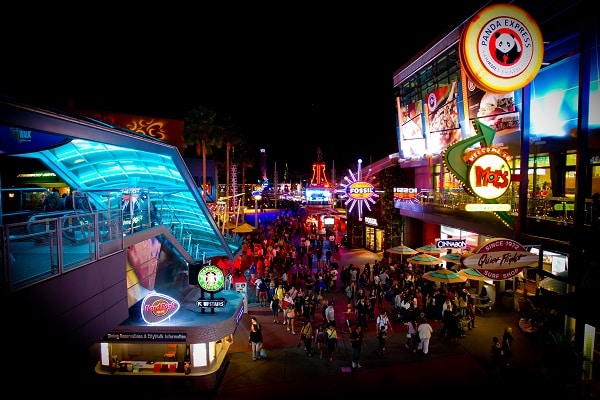 CityWalk™ is Orlando's hottest spot for entertainment with live music, dancing, casual and fine dining, movies and more. Located at the entrance of Islands of Adventure and Universal Studios, CityWalk™offers everything from a night of family fun to a great place to hang out with friends to romantic fun for couples. It's a 30-acre entertainment complex where you can experience the best of the best in live music, casual and fine dining, dancing, shopping, movies, and more.
Explore Universal CityWalk™ Orlando:
CityWalk® has no charge for entrance, but individual venue cover charges may apply. However, you can purchase a CityWalk® Party Pass and get into all the venues without paying single cover charges. CityWalk's normal operating hours are 11:00 a.m. – 2:00 a.m, 7 days a week. However, these times may vary by venue and date.
Dining at Universal CityWalk™ – Restaurants
 
The Toothsome Chocolate Emporium and Savory Feast Kitchen
Extraordinary foodstuffs await you at this new full-service restaurant, bar and confectionary at Universal CityWalk™. Delight your palate with fantastical fare including classic dishes like steak and seafood, and an all-day brunch featuring crepes and quiches, each with their own novel twist. Coffee and Chocolate Stout Chicken Wings, Chocolate Almond Bread and Chocolate Gnocchi are just a sample of the adventurously unique items available.
NBC Sports Grill & Brew
NBC Sports Grill & Brew introduces a unique sports-dining experience unlike anything you've seen before. This place is a Game Changer. Inside, a wall of Foosball tables invite guest to test their skills while nearly 100 HD screens play a constant stream of sports coverage. Offering private dining, areas for groups and an indoor-outdoor beer garden, NBC Sports Grill & Brew is a stylish and sophisticated addition to Universal CityWalk™.
The Bubba Gump Shrimp Co.™ Restaurant & Market
"Run Forrest, Run!" This fun family restaurant features shrimp, shrimp and more shrimp – plus other menu selections, from great seafood and steaks to sandwiches, appetizers, and mouth-watering desserts – and a boatload of memorabilia from the Oscar®-winning film, Forrest Gump. Open 11:30am to 12:00am.
Hard Rock Cafe® Orlando
Adjacent to the Hard Rock Live performance venue is the world's largest Hard Rock Cafe, decorated with the world's largest collection of rock 'n roll memorabilia.
These include a 1959 pink Cadillac revolving over the bar and guitars and clothing from rock superstars such as KISS, Elvis, The Beatles and Bob Dylan.
The restaurant features classic American cuisine — burgers, marinated chicken breasts and barbeque ribs plus a full bar. Hard Rock specialty merchandise is for sale, including leather jackets, pins and t-shirts. Open daily 11am to late night.
The Cowfish
The Cowfish features an exciting menu that offers something for everyone, including innovative sushi rolls, unique craft burgers, and "Burgushi" – a cutting-edge fusion of burger and sushi that offers the best of both worlds. Guests dining at this three-story restaurant can enjoy an innovative menu made from scratch with the freshest ingredients, outdoor seating with incredible views of CityWalk™, colorful décor and custom artwork, vibrant music and more.
Vivo Italian Kitchen
Immerse yourself in the essence of modern Italian cuisine at this new restaurant created by Universal Orlando. Watch as the culinary team handcrafts your pasta from scratch to create fresh takes on classic dishes in a clean, contemporary dining atmosphere
Red Oven Pizza Bakery
Take a quick trip to Italy for authentic, artisan pizza–made fresh, while you wait–at Universal CityWalk's first-ever Neopolitan-style pizza bakery. The combination of the highest quality ingredients and a traditional 900-degree stone-lined oven ensures every slice is pizza perfection.
Antojitos Authentic Mexican Food
Antojitos Authentic Mexican Food Features colorful décor, fresh, authentic cuisine, more than 200 different tequilas, and authentic Mexican folk art, Antojitos takes diners on a journey through the cantinas, street carts and markets of Mexico City for craveable Mexican fare that is unlike any other. Visitors to the vibrant, two-story restaurant can enjoy a delicious menu that combines authentic, traditional Mexican fare with all-new flavors – all made from scratch using the freshest ingredients. Diners can also watch as their fresh guacamole is prepared tableside, enjoy nightly entertainment in the restaurant, and sample a variety of specialty beverages – including authentic Mexican soda, beers, regional wines and an extensive selection of tequila and mezcal.
Jimmy Buffett's® Margaritaville®
Every corner of Margaritaville brings to life a different Jimmy Buffett classic. The main dining room was inspired by one of Jimmy Buffett's favorite South Florida waterfront concerts, and its three bars — The Volcano Bar, Land Shark Bar, and 12 Volt Bar — were themed around Jimmy Buffett songs. The Volcano Bar is a fan favorite, complete with a giant exploding volcano that erupts Margaritas periodically. Live bands take to the restaurant's stage to perform every evening.
There's outdoor seating available on the Porch of Indecision, featuring a live guitarist to sing along with every night. Or you can just relax in colorful Adirondack chairs outside the restaurant and watch the world go by.
Right next to Margaritaville is the Lone Palm Airport, featuring Jimmy Buffett's very own seaplane, the Hemisphere Dancer. This outdoor lounge and tiki bar serves a variety of drinks and quick eats under the wing of the plane, along with the "Parakeet Beach" area for the little ones to play in.
CityWalk Quick Service Dining
Hot Dog Hall of Fame
Strike out your hunger at Hot Dog Hall of Fame with some of the most iconic hot dog creations from our nation's most famous ballparks. Take a seat in the bleachers and enjoy a loaded Chicago dog with all the toppings, a perfectly charred Boston brat, a monster LA dog and more.
Breadbox Handcrafter Sandwiches
With a Bread Box sandwich, you'll be transported back to your childhood kitchen or your favorite street corner deli. Here you'll find that the combination of quality meats and vegetables, fresh bread, and simple preparation can transform a sandwich into something more.
Whopper™ Bar
Visit the world's first, only at Universal CityWalk®, and enjoy the flame broiled burger you love with over a million ways to Have It Your Way™.
Menchie's
One of the world's most popular frozen yogurt shops is now in Universal CityWalk™. The dream was to create a place where people from all walks of life and ages could enjoy themselves—not only with great tasting, quality frozen yogurt and an expansive self-serve toppings bar, but with a unique experience in a fun and happy environment that makes you smile.
Cold Stone Creamery
For more than 25 years, Cold Stone Creamery has served up the finest, freshest ice cream, cakes, smoothies and shakes using only the highest quality ingredients and their signature process of preparing your custom ice cream creation on a frozen granite stone.
Moe's Southwest Grill
Get ready for giant burritos, cheesy quesadillas and flavourful salads prepared right before your eyes. Welcome to Moe's!
Panda Express
Wok on over to the panda express, with original Orange Chicken and zesty Beijing Beef wok-ed up fresh, hot and fast. Experience pandamonium!
Fat Tuesday
Cool off with frozen drinks at a convenient walk-up counter
CinnaBon
Fresh, hot, out of the oven cinnamon rolls, coffee, and soft serve ice cream.
Starbucks
Specialty coffee, tea and blended drinks. Bakery items and gourmet gifts.
Fusion Bistro Sushi & Sake Bar
Sushi and Japanese fusion dishes as well as fruit-infused sakes.
Lone Palm Airport
Outdoor tiki bar featuring wings, nachos, shrimp, conch fritters, hot dogs, beer and specialty drinks.
Voodoo Doughnuts
It started in Portland then spread to Austin and Hollywood. Now the phenomenon known as Voodoo Doughnut has reached Orlando. Universal CityWalk™ welcomes the doughnut shop with a cult following. Loved for its sinfully delicious, lineup of fried creations, Voodoo Doughnut features signature originals and one-of-a-kind delectables like the Dirt Doughnut, the Memphis Mafia, the Bacon Maple Bar, Grape Ape and of course, Voodoo Doll doughnuts. "Good Things Come in Pink Boxes," so order up a Voodoo Dozen. This place is so funky and fun, you can even get hitched or renew your vows. (Yes, they perform ceremonies here.)
Request a Free No Obligation Vacation Quote
Shopping at Universal CityWalk™
Element
At Element you'll find all the skateboarding apparel and equipment you need, whether you're an experienced rider or don't know an ollie from a railslide. You'll find a huge assortment of boards in a variety of shapes, styles, and colorful designs; plus a complete selection of wheels, trucks and accessories. The store features shirts and t-shirts, pants, shorts, hats and footwear; plus fashionable tops, skirts, dresses and pants for the ladies. There's also a wide selection of backpacks, shoulder bags, handbags, watches and sunglasses.
Fossil®
Fossil offers a huge selection of men's and women's watches from functional to funky… elegant dress watches, fun and rugged sport watches, intricate mechanical watches, and the trendy S+ARK line. Fossil also offers finely crafted wallets and billfolds, stylish belts, colorful handbags and shoulder bags in a variety of styles for women; and handsome leather and canvas duffels and messenger bags for men.
Fresh Produce®
Women's apparel in vibrant fruit and vegetable colors. Fresh Produce brand is known for its original prints, vibrant color and stylish, comfortable clothing.
The Island Clothing Company
Sportswear, footwear, and accessories for men and women. Apparel ranges from distinctive polo shirts and colorful Hawaiian shirts to shorts and pants, graphic t-shirts and sandals. For the ladies there are casually sophisticated dresses and skirts, stylish jeans, handbags and more. The store also features a selection of tropical jewelry and designer sunglasses. Escape the modern world and live on "island time" with the laid back clothing of The Island Clothing Store.
P!Q
Features a fun innovative product line of unique gifts, toys, household items and personal accessories guaranteed to bring a smile to your face.
Quiet Flight® Surf Shop
Whether you ride the curls, surf the street, or just soak up the sun, the Quiet Flight® Surf Shop has everything you need to enjoy the outdoors in style. Surf and beach wear, accessories, custom surfboards.
Universal Studios Store®
Universal Studios® branded product, plus theatrical, TV and character merchandise. Take home some souvenirs to remember your vacation.
Hart & Huntington Orlando Tattoo Shop
The world's most famous tattoo company has set up shop at CityWalk™. Browse the incredible collection of flash art, pick up authentic Hart & Huntington clothing and accessories, and even take home a permanent souvenir from your trip.
Request a Free No Obligation Vacation Quote
Universal CityWalk™ Entertainment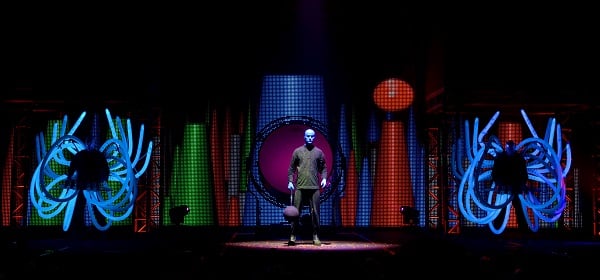 Blue Man Group
Blue Man Group is comedy, theater, rock concert and dance party all rolled into one. This wildly popular phenomenon delivers an unforgettable, multi-sensory experience. It's an outrageous evening of entertainment. See the show that has captivated 35 million people worldwide
Hollywood Drive-in Golf
Two elaborately themed 18-hole courses that capture all the fun of the hilariously silly horror and sci-fi movies of the 1950's
Bob Marley – A Tribute to FreedomSM
Live Reggae performed nightly in the open air gazebo. Full service restaurant featuring authentic Jamaican and Caribbean cuisine. Merchandise available in store and on carts.
Pat O'Brien's
Have Fun!® at this exact replica of the famed New Orleans watering hole where it's Mardi Gras 365 days a year! Featuring the flaming fountains patio bar, piano bar, and neighborhood bar where you can enjoy Cajun fare favorites and specialty drinks including the world famous Hurricane. Merchandise and drink mixes available.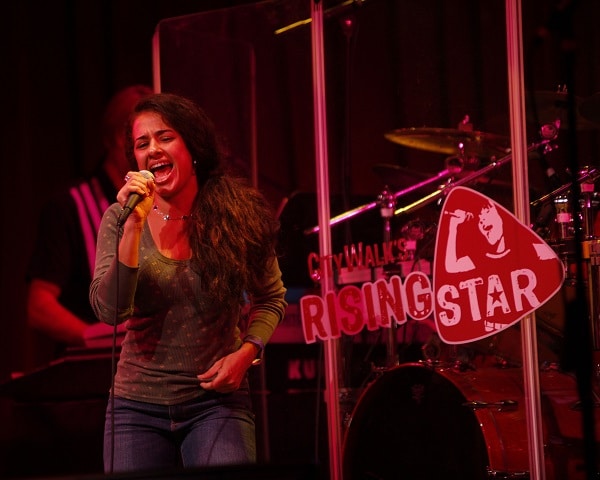 CityWalk's Rising Star
Here's your chance to be in the band! At CityWalk's Rising Star karaoke club, you take center stage as the lead singer of a band. This is real music, played live while you belt out your favorite songs in front of a live audience!
Universal Cineplex – 20 Screen State Of The Art Movie Theater
Take your pick of the first-run movies in one of our 20 theaters featuring wall to wall screens, state of the art projection and digital sound, and stadium-style seating with high backed rocking chairs.
the groove
Come party in the hottest dance club with the latest in sound systems and special effects, plus three themed VIP lounges. Dance to the best in 70's, 80's, dance hits and Alternative Rock. Each night is a different experience!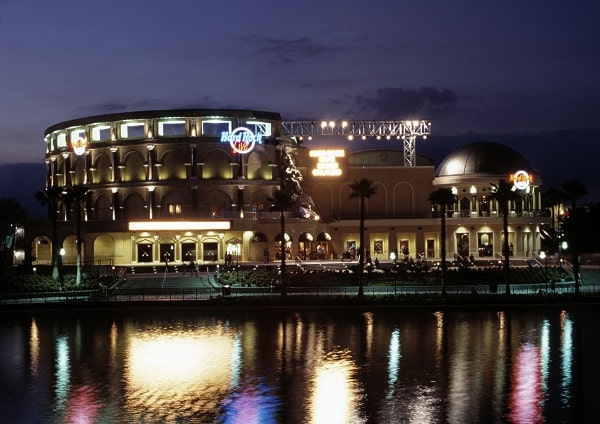 Hard Rock Live
See the biggest names in music take the stage at Orlando's premier performance venue…the Coliseum of Rock 'n' Roll.
Red Coconut Club®
The Red Coconut Club® is Orlando's newest nightclub and ultra-lounge. It sits atop CityWalk™, where you can take in the stars on the balcony, mellow out at intimate tables inside, or mix with lively crowds around the bars. The couldn't-be-hipper décor is a little bit 1950s Vegas, a little bit Cuban, and a little bit Polynesian-tiki retro with vintage couches and bongo-shaped bar stools. You'll find three different bars spread across the club's two levels, featuring signature martinis and specialty drinks, an extensive wine list and VIP bottle service, and an assortment of gourmet appetizers.
Dance to live music featuring The Herb Williams Band every Thursday through Saturday night. On all other evenings a DJ spins popular tunes into the wee hours of the night. Every Thursday is Ladies' night with free admission for ladies. Happy Hour is Sunday through Thursday from 8 pm to 10 pm, and Saturday from 6 pm to 9 pm. Admission is 21 and older and dress code is casual-chic.
* Some venues require 21 and older for admission. Proof of ID required.