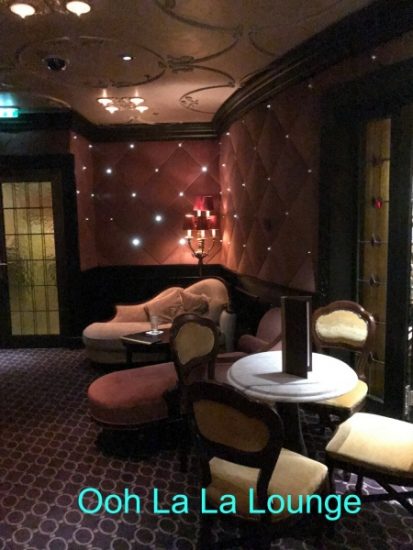 My husband and I love our Disney cruises, and one of our favorite things to do is visit Ooh La La, the champagne lounge located in Europa, which is the adults only nightclub area on the Disney Fantasy. Each night after dinner, we stop by Ooh La La for a drink.
The lounge is beautiful, with a French flare including chaise lounges, velvet upholstery, pearl garlands and beautiful draperies. The light fixtures in the ceilings are actually made out of wine glasses! There are fairy lights in the upholstered walls as well as 'champagne bubble' lights behind the bar.
The atmosphere is very relaxing, and typically this particular lounge is never very busy, so you usually get to enjoy a more intimate experience.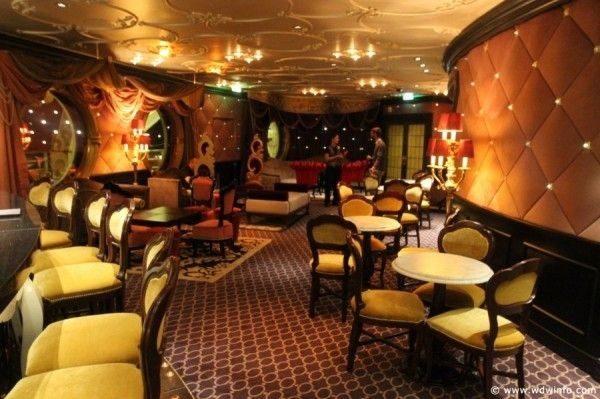 The menu is a mix of wines and sparkling wines from around the world, as well as mixed drinks made with sparkling wines and champagnes. If you are unfamiliar, the word champagne can only be used to describe sparkling wines from the Champagne region of France. Any sparkling wine that is made outside of Champagne is called "sparkling wine"!
One of my favorite menu items is the Trio, which is a flight of 3 amazing Champagnes from Moet et Chandon, one of the most famous Champagnes in the world. The flight includes Moet Vintage 2002, Moet Imperial (the original Moet Champagne and Moet Ice. Moet (pronounced Mo-et, the "t" is not silent) Ice Champagne is made specifically to be served over ice and is delicious! You can add a strawberry or orange peel to give it a little extra sweetness, or even some basil!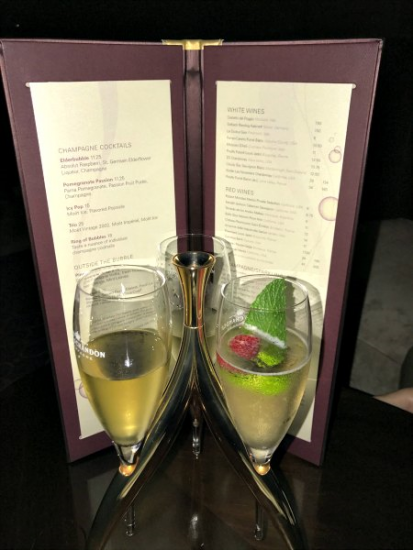 The menu also shows one of my favorite quotes, from Lily Bollinger of the Bollinger Champagne family. She says about Champagne:
"I drink it when I'm happy and when I'm sad. Sometimes I drink it when I'm alone. When I have company I consider it obligatory. I trifle with it if I'm not hungry and I drink it when I am. Otherwise I never touch it, unless I'm thirsty."  – Lily Bollinger
Depending on the night, there may be live music as well. When there is not live music, the lounge plays lovely contemporary French easy listening and classic songs (Edith Piaf, for example).
Over all, if you are a lover of sparkling wines and Champagnes, or if you just want a quiet retreat to end your day on the ship, Ooh La La is a wonderful experience!
If you are ready to try a Disney Cruise, I am happy to help!
Similar Posts: