Universal Orlando has been on a building and refurbishment spree lately and a relative newcomer to the Citywalk area is the Red Oven Pizza Bakery, opening in November 2013.  As a huge fan of Via Napoli in Disney's Epcot theme park, I had to give this place a try to see how the Red Oven pizza compared to Via Napoli.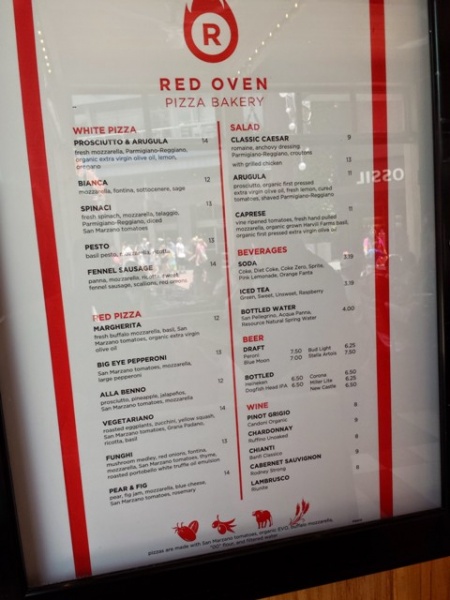 For comparison purposes I ordered a Margherita Pizza as that is what I order all the time at Via Napoli.  At Red Oven this is fresh Buffalo mozzarella cheese, San Marzano tomatoes, fresh basil and olive oil.  These are very quickly prepared and take just 90 seconds to cook (yes, about the same amount of time as a fast food burger). The 900 degree oven is what does the trick at Red Oven, putting a nice char on the  bottom of the crust and making it chewy while melting the cheese.
Red Oven is quick service/fast casual dining where you order your food and pay for it and get your drinks at a counter, and then you find a place to sit.  There is covered and uncovered seating–nothing under air conditioning.  You're given a locator/pager and your food is brought to you when it is completed.  When I ordered I had no idea the size of the pizza and ordered two because at $12 each I didn't think there was going to be enough to share.  Silly me… I should have asked how big it was prior to purchase.  What showed up at the table was a whole lot of food for $12 and could have been shared by two people with average appetites.  (And in fact the next time I go to Red Oven we will order ONE pizza and split it.)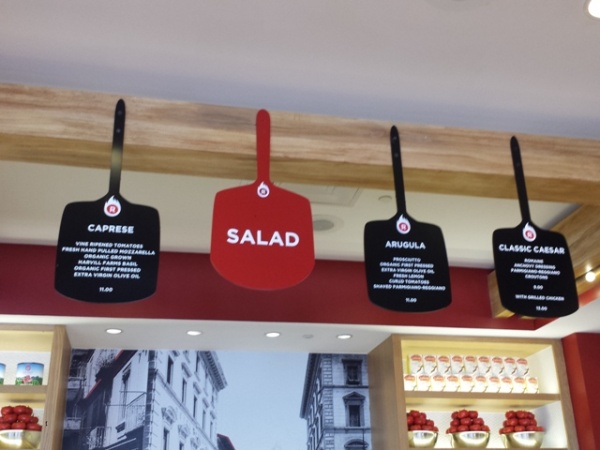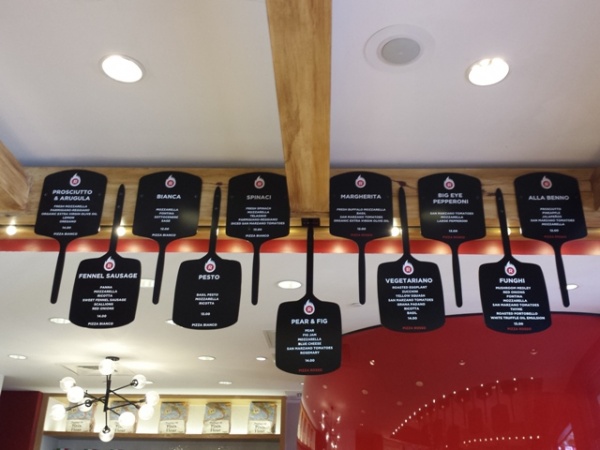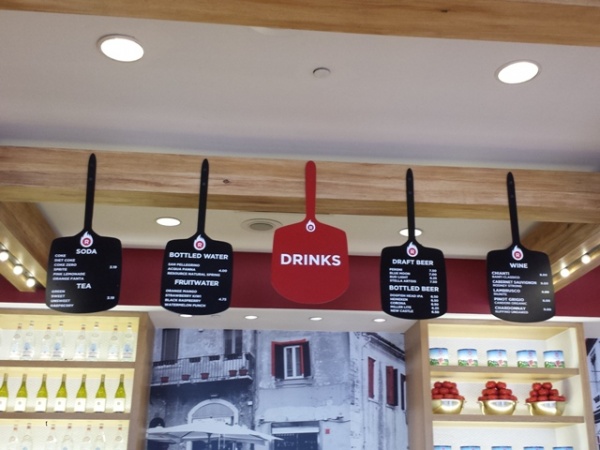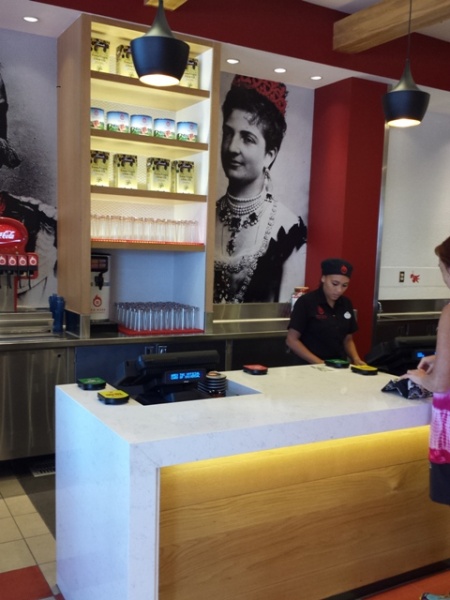 This pizza at Red Oven was really, really good and quite different from what you get at Via Napoli.  The VN version is $17 and on a very thin crust with sauce and some cheese and a small scattering of basil (I always ask for more basil at Via Napoli).  Red Oven serves a thicker and chewier crust with chunks of real tomatoes and much more cheese. Via Napoli is a full service restaurant with appetizers and desserts and we usually share an appetizer when dining there–and the bill is also quite a bit more costly than Red Oven too.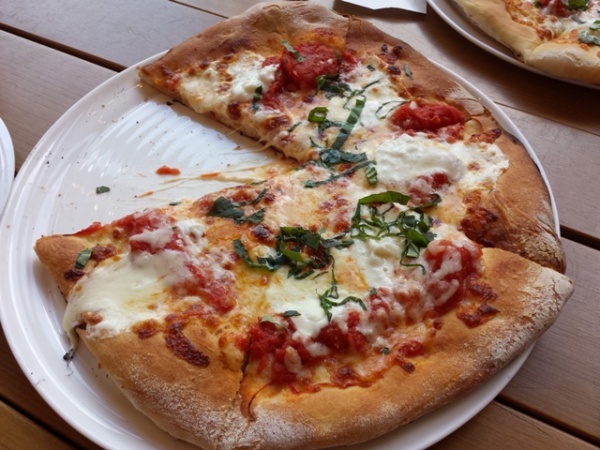 We had a very pleasant person taking care of our table.  Kitchen runners brought us our pizzas pretty quickly while the server we had asked if we wanted drink refills and cleared plates as we finished.  Didn't know if tipping was appropriate but I did tip her because our service was quite good and she did a good job for us on the drinks which is important when its 92 degrees.   Because it was so hot we ate under the covered area.  This area, below, is not exactly my idea of fun during a hot spell in Orlando: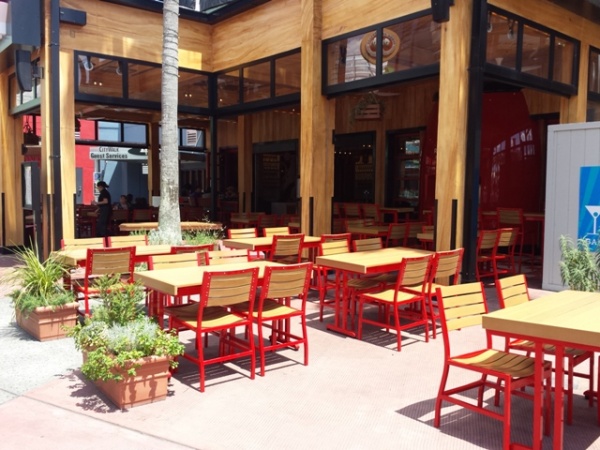 So will I return to Red Oven Pizza Bakery?  YOU BET.  I loved it.  Loved the speed in which the food arrived, loved the menu choices and most of all I loved the price.  Universal has done a lot of things right with their enhancements to the Citywalk, among them is providing reasonably priced food options for families not wanting to schlepp to the International Drive area for food.  I would go to the Citywalk just to eat this pizza.  Visit their page on the Universal site here:  https://www.universalorlando.com/Restaurants/CityWalk/Red-Oven-Pizza-Bakery.aspx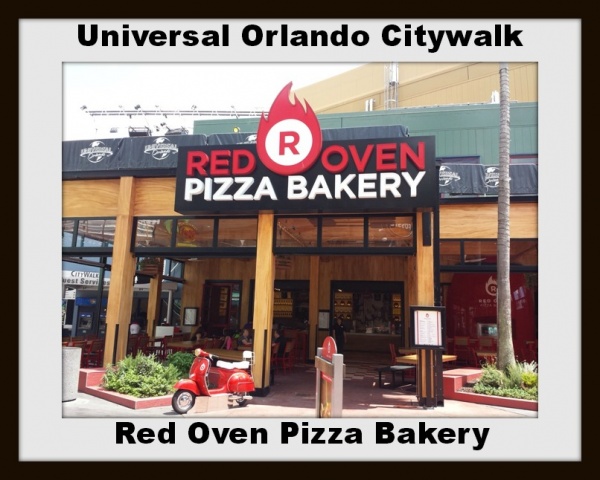 Similar Posts: