Disney Fine Art Photography – Senior Pictures at Disney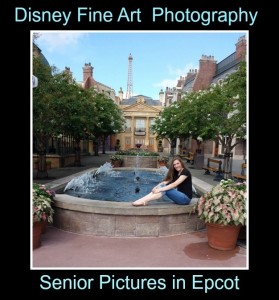 If you have visited or researched Disney, I'm sure you're familiar with Disney's Photopass service. This is where Disney places photographers in the theme parks to take your photo, which you can claim online (or in the parks) later on.  However there is an additional service, for a fee, where you can have professional portraits done at Disney through Fine Art Photography  (http://www.disneyeventphotography.com/) .
My daughter Suzanne, who is a huge Disney fan, wanted to have her senior pictures done at Disney so I began my research to see if this would be feasible in the way of time and budget. After visiting Disney's web site and a phone call for info it turned out that Disney's portrait session was quite reasonably priced compared to what I would pay for a local studio at home, plus Suzanne was able to  get her pictures done in her personal "happy place."  We booked about  three months in advance as our trip was during the week of July 4th, which tends to be pretty busy, and selected Epcot's World Showcase as our option. There are several packages available and we booked an "Enhanced Session" of one hour.  This included the photographer and  an assistant to help setup shots and do lighting as well as retouching and editing on the photos themselves.  I also ordered a CD/DVD of the session.  Photo sessions are done in the World Showcase at Epcot prior to 11am so there are no guests in the photos; we only had to avoid the people cleaning and doing horticulture.
We selected an 8:45am arrival at Epcot's International Gateway for a 9am session and our photography team–Amanda and John–met us promptly after finishing with another family.   We got into a van and were taken backstage in Epcot and drove into the World Showcase (yes, we had a van on the promenade) for our first stop in Italy.  During this time Amanda was asking Suzanne about what she wanted done, and where.  The day prior we had scoped out Italy, Morocco and France and just told Amanda where we wanted to be—and Amanda took it from there.  Originally we had the gardens of Canada as an option but Amanda explained that it was getting bright out and facial expressions "get squinty" as morning progresses and the photos would not turn out as well if we went over there. This made me ask about the weather as it was not a bright blue sky and I learned that for a portrait session, the patchy clouds we had were a good thing because no one would be squinting into the camera.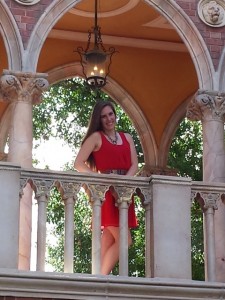 This was a very professional session with Suzanne being put into various poses and test shots, and then adjusting and doing more photos. What I was seeing was really great and I asked Amanda about her background, and learned that she's been a professional photographer for around 15 years.  We were able to view the various shots on her camera and I had no restrictions on using my own device while she worked.   I have to say that Amanda's photos were far better than the ones I took on my Samsung Galaxy S4 and some of what she shot would not even show up on my phone.  You just can't compare my S4 to her fancy Nikon.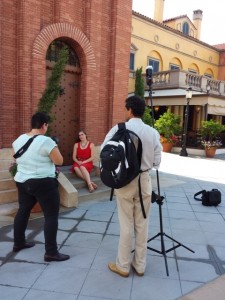 Suzanne was able to do a wardrobe change for some casual shots in France and the only limits on this had to do with how we wanted to manage our one hour time slot. If she wanted to do five changes of clothing–no problem.  Just meant more time changing and less time with the camera.  For us, the photos were more important than the clothing.  Disney does have info on their site about wardrobe suggestions and the dress Suzanne wore worked well with Italy and Morocco; it would have clashed with France which is why she changed for that location.
Towards the end  of our session Amanda explained that we will get a link to the photos on Disney's site in about 30 days and since I ordered the DVD these items will be mailed around that time frame too.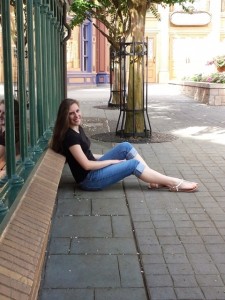 As a parent and consumer, I was very happy with the session and the shots I saw on Amanda's digital screen and my daughter loved the experience in front of the camera as well as backstage while the park was devoid of guests.  We had a great time and I would recommend this for anyone looking for a unique photo experience.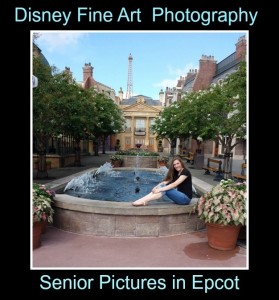 Similar Posts: