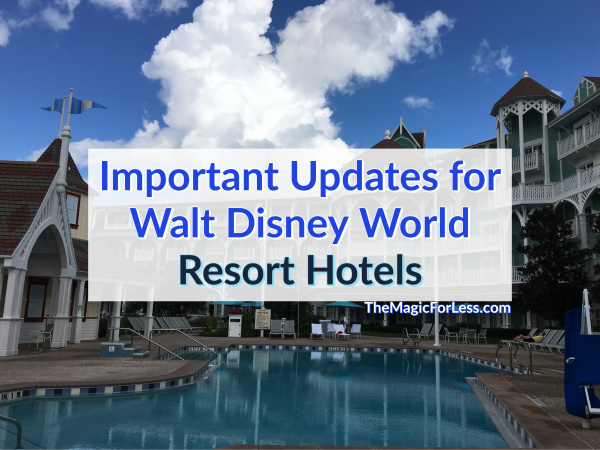 Updated September 8, 2020
Here are the key changes at Walt Disney World hotels you'll want to be aware of before visiting.   You may want to grab a cup of your favorite beverage because there's a bit to go through.  😉
What Resorts Will Be Open?
You can find out more about what resort hotels are open, or scheduled to be this year or in 2021 here.
For more details on what resort services and amenities will be available, check our update What Will Be Open at Each Disney Resort Hotel.
The theme parks will begin a phased reopening on July 11, 2020 – you can find those
details here
including the temporary cancellation of FastPass+ service and Extra Magic Hours.

Top Things to Know
Disney has made some important updates at  their hotels and implemented a number of new health and well-being measures.  Before traveling to Florida, please make sure that you have reviewed any advisories or restrictions that may be in place for travel to Florida. Visit https://floridahealthcovid19.gov/ for information. Guests who are under isolation or quarantine orders must not enter Walt Disney World Resort.
Walt Disney World Resort Guests may be subject to additional screenings.
Please be aware that you'll also need:
A confirmed room reservation for your stay. Be sure to link your reservation to your Disney account to receive important information prior to your arrival—visit My Plans to get started
A confirmed dining reservation if you're a day Guest (not staying overnight)
Face coverings for each Guest age 2 and up—which must be worn in all public areas, except while swimming or seated for dining
Planning to visit a theme park during your stay? To enter a park, both a park reservation and valid admission for the same park on the same date are required (a Disney Resort hotel reservation does not guarantee theme park access)
Also, it's highly recommended to have:
The latest version of the My Disney Experience app on your mobile device, with location services and notifications enabled
Cashless or contactless forms of payment, including MagicBands, which Disney Resort hotel Guests can use to charge purchases to their Disney Resort hotel folio
Updates to Resort Cleaning
Enhanced cleaning measures will be in place at the resorts.
Common Areas
Increased cleaning in high-traffic areas such as public elevators and escalators, handrails, benches, tables, handles, restrooms, and more.
Housekeeping
Prior to your arrival, your room will undergo thorough cleaning—with attention to:
High-touch areas, like TV remotes and door handles
Housekeeping tools will be cleaned between rooms
Floors, which will be steam cleaned and vacuumed between guests
Inside your room, you'll find:
Individually wrapped glassware
Double-cased pillows
Additional items that have been cleaned and wrapped in single-use packaging
And during your stay, your room will receive a light cleaning service every other day, which will include:
Removal of trash and used towels
Replenishment of towels and amenities throughout the room and bathroom
Wiping and cleaning of the vanity and counter surfaces
Vacuuming if needed
You can also decline every-other-day service.  If there is more than one room on your reservation and you choose to decline service, your selection will apply to all rooms on the reservation.

Getting Around
Disney's Magical Express® Service
Complimentary airport transportation via Disney's Magical Express service is available for Guests arriving at and departing from Orlando International Airport. Disney's Magical Express service will no longer provide luggage delivery for those arriving at and departing from the airport.
Guests who choose to use Disney's Magical Express service will be responsible for picking up any of their checked luggage from the airport's baggage claim area, so that it can be loaded onto the motorcoach to their Disney Resort hotel. Please know that your luggage will travel with you to your Disney Resort hotel.
Luggage assistance will be available at the front of your Disney Resort hotel, including luggage storage and/or transport to the room.
Upon your departure, please ensure your luggage is with you and is loaded onto the motorcoach, so you can check it in with your airline once you reach the airport. The resort airline check-in service is no longer available.
Many airlines have modified their flight schedules, so please confirm your flight information. If you plan to use Disney's Magical Express service, contact your room reservation booking agent, or call (407) 939-1936 to make any updates to your flight information on file.
Complimentary Resort Transportation
New measures are in place to promote the health and well-being of Guests and Cast Members, including:
Transportation is operating with physical distancing measures in place, including in the load zones and queues, as well as aboard buses, monorails and watercraft boats.
Face coverings are required at all times while boarding and using Walt Disney World transportation.
The Disney Skyliner will load one party per gondola.
Disney has added physical barriers in select places where it is difficult to maintain strict physical distancing guidelines, such as partitions inside our buses and monorails.
Minnie Van Service
Minnie Van Service will not be available during the initial reopening period.
Parking at Disney Resort Hotels
Self-parking is available. Valet service is temporarily unavailable, with the exception of Guests with disabilities who may require parking assistance. A valid disability parking permit is required. Parking fees apply for Disney Resort hotel Guests.
Complimentary Theme Park Parking for Disney Resort Hotel Guests
Disney Resort hotel Guests receive complimentary parking at the Walt Disney World theme parks. Consider parking at EPCOT, Disney's Hollywood Studios or Disney's Animal Kingdom theme park for another convenient way to access the parks, especially during park opening hours.

Resort Services
Some Disney Resort hotel services will be modified or unavailable during the initial reopening period, based on physical distancing and health guidelines.
Changes include:
Bell Services will deliver luggage to rooms, but will not escort Guests
Club-level service is temporarily unavailable
Deliveries may only be made to occupied rooms
In-room celebrations are not available
In-room dining is not available
Dry-cleaning and valet laundry services is temporarily unavailable; self-service laundry is available
Shipping services are temporarily unavailable
In addition, the resort airline check-in service is no longer available.
Resort Amenities & Recreation
These will be modified based on physical distancing and health guidelines and be a bit different than you're used to.
Dining Experiences
Select dining locations will be available at Disney Resort hotels.  You can find an inclusive list here.
All Guests may now make dining reservations up to 60 days in advance. Here are some important details to help you plan:
Disney Resort Hotel Dining
Planning to dine at a table-service restaurant in a Disney Resort hotel? Please be aware of the following:
Reservations: A confirmed dining reservation is required for day Guests (those not staying overnight) and is highly recommended for Guests staying overnight at a Disney Resort hotel.
Temperature Screenings: Guests dining in table-service restaurants at Disney Resort hotels will undergo a temperature screening prior to entering the location. As with other locations at Walt Disney World Resort that require temperature screenings before entry, anyone displaying a temperature of 100.4 F or above will be directed to an additional rescreening. Those with temperatures 100.4 F or above will not be allowed entry; those in their party will not be allowed entry either.
In-Park Dining
Guests must have valid park admission and a reservation for park entry through the new Disney Park Pass system—as well as a dining reservation—to dine at in-park, table-service restaurants. Dining reservations do not guarantee admission to the park.
Disney Springs Dining
Select dining locations at Disney Springs are currently accepting reservations for all Guests up to 60 days in advance. Check availability and make reservations online now.
Resort Amenities & Recreation
Amenities and recreation have been modified based on physical distancing and health guidelines.
Pools
Feature pools may operate with reduced hours; leisure pools are open 24 hours a day
Pools are operating with reduced capacity to allow for physical distancing
Select poolside activities may be available at select Resort hotels

Fitness Centers & Sports Courts
Fitness centers are open in alignment with state and county regulations, and may have reduced hours
Fitness centers may have reduced hours and capacity
Instructor-led fitness classes are not available
Fitness and sports courts are open, and Guests must maintain physical distancing
Available Recreation
Activities and schedules vary. The schedule of activities for your Disney Resort hotel will be shared during your stay.
Temporarily Unavailable
The following amenities and experiences are not available during the initial reopening period:
Arcades
Campfires
Character experiences
Electrical Water Pageant
Marina rentals
Playgrounds
Spas, salons and Bibbidi Bobbidi Boutique
Additionally, the following special offerings and childcare services are not available during the initial reopening:
Fireworks voyages and tasting cruises, including the Pirates and Pals Fireworks Voyage
Fun runs
Wonderland Tea Party at Park Fare
Hula lessons
In-room childcare services
Mermaid school
Special classes and programs—including culinary, cultural and animal programs
Shopping Updates
Merchandise Locations
In merchandise locations throughout Walt Disney World Resort, Guests may continue to discover favorite Disney items, with some modifications to the shopping experience that will help us manage capacity and foster physical distancing.
Pin Trading: We continue to offer Guests the opportunity to pin trade with Cast Members through the use of pin boards in select locations. Cast pin trading with lanyards is not available at this time to maintain physical distancing.
Delivery Option: Package delivery to the front of our theme parks or to Disney Resort hotels is suspended. However, shipping merchandise to Guests' homes continues to be available.
Dressing Rooms: For the time being, dressing rooms are not available.
Returns: In-person returns will be available upon the reopening of our merchandise locations.
Checking In and Out 
To aid in physical distancing efforts, we strongly recommend that you use Online Check-In Service in advance—online or with the My Disney Experience app.
When your room is ready, you'll get a room-ready notification. Then, you can use either a MagicBand or the My Disney Experience app digital key feature to enter your room!
When it's time for you to checkout, you'll be automatically checked out of your room, so there will be no need to visit the Front Desk (unless you have unresolved charges to your Disney Resort hotel folio).
Virtual Chat With a Resort Cast Member
Beginning June 22, you will be able to chat with a Resort Cast Member via the My Disney Experience app for assistance during your stay. This new feature will offer convenient support nearly anytime—so there's no need to visit the Lobby or stand in line.
What About My Resort? 
If you're looking for a summary of all the specific updates for Walt Disney World Resort Hotels – including what dining, shops, and activities will be available  upon its initial opening, check here for details!
Where to Find More Info
This is a very fluid situation and for more updates for Walt Disney World Resort Hotels, check here  or contact your TMFLT Travel Counselor.
If you would like to request a no-obligation quote to visit Walt Disney World and other destinations, request pricing here.
Similar Posts: