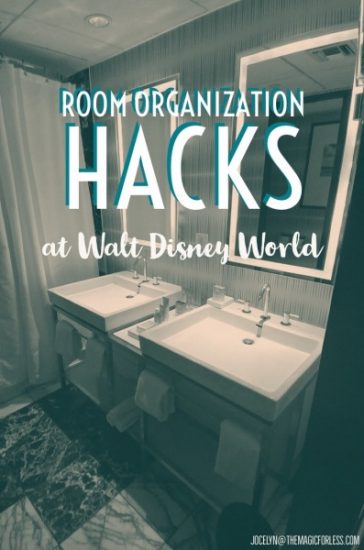 Even though we don't spend much time in it, I love to have my resort room organized while I'm at Disney, use each space as best I can, and also have it work for my family.  It just makes for a less stressful trip when everything (sort of) has its own place when five of us are sharing a room.  There are some things that you can easily do so that your children can use the room easily too.  Here are my resort room organization hacks for Walt World Disney World.  Depending on our trip, we often stay in either a standard room, deluxe villa, or 1 bedroom villa which means our square footage can vary.  It's probably important to note, I'm not a minimalist when it comes to packing for a Disney trip.  I know we are going to Orlando and can easily get most anything we'd need while we are there, but they say time is money right?  So who has time for that?  #PackAllTheStuff ?
Some key items I like to have for our bathroom area are a liquid soap and a toothbrush holder.  Why soap?  Well Disney of course provides you with soap bars.  You know, those little bars that once wet are just slippery little things that the kids drop every single time?  So we bring a liquid soap packed in a Ziploc bag for easier and less messy handwashing (oxymoron I know).   At home, our toothbrushes are all kept in a cabinet so on vacation, I like to have a  toothbrush holder simply to keep them all in one place and not left out all over the sink for when Mousekeeping comes and may move them.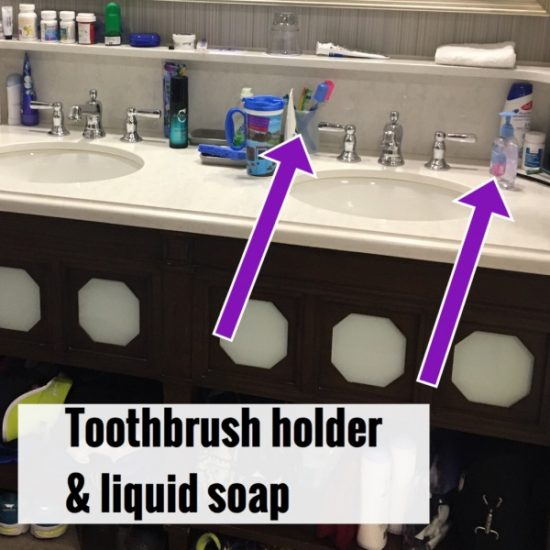 Closet Space.  I'll admit, I don't hang many pieces of clothing so I like to utilize the closet for other items.  I bring along one or two hanging carousels or shelves that simply hang up and then provide you with additional storage space.  They're great for either organizing your kids clothes by day or storing all those random items (baby wipes, sunscreen, sunglasses, glow sticks, extra batteries, etc.).  It keeps everything in one place and not all over the room.  I also like to bring along my Magic for Less Laundry Bag.  I use one of the pants hangers and clip it on so the bag is open and available to easily stash dirty clothes.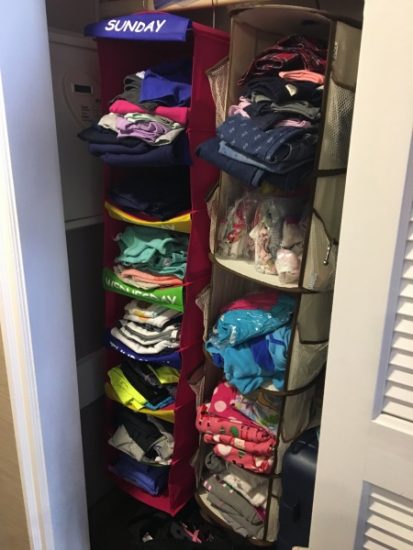 When traveling with children, many parents wonder about their kids sleeping in the resort beds.  In addition to pack-n-plays for little ones, Disney does have bed rails available for you and you simply have to call and ask for them.   They can also bring a stool to your room!  This is again helpful for your kids washing their hands if they're not tall enough to reach the sink!  I also keep a nightlight in my travel bag in case our room doesn't have an option for a "soft glow."  Sometimes leaving that bathroom light on for the kids is just too bright.  On the flip side, I'd like to keep the natural light out in the morning (or at naptime) in the hopes the kids sleep a little so I also bring some clothespins.  Those heavy black out curtains never seem to meet and there's always a small gap of light somewhere peeking in.
We also travel with a white noise machine.  Many guests worry about the noise from other guests if they're a light sleeper but we create a soft white noise that keeps all the external noise at bay.  You can also download an app on your phone if you don't have one, but we never go anywhere without ours!  If you travel solo, you can also pack a simple rubber door stop as an added sense of security that no one can get into your room while you're inside.  Or some parents worry that their children will get out of the room whether sleep walking or totally awake.  You can purchase inexpensive alarms for your doors (works on both balcony or standard doors) that will set an alarm off if they try and get out while you sleep.
If you are traveling with any water bottles, thermoses, sippy cups or anything that needs to be cleaned, pack a Ziploc bag with a sponge and a travel size dish soap!  You can easily wash your items in your sink each night.   Lastly, how many devices does your family have that need charging at last count?  Think watches, smart phones, tablets, iPods, e-readers, laptops, cameras, external chargers.   They easily add up for just two guests!  While Disney has been adding standard outlets as well as many USB outlets in their rooms during recent refurbishments, you may want to still bring a charging hub with you so you can be certain you can charge all of your devices each night!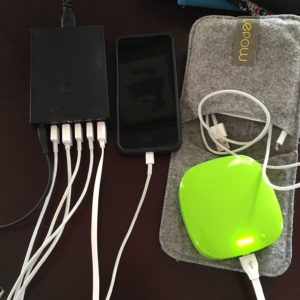 I'd love to help you and your family plan your next vacation whether it be a Disney destination or somewhere else!  We help you plan vacations all over the world so just send me an email at jocelyn@themagicforless.com or fill out a no-obligation quote request to get started! And be sure to follow me on Facebook!
Similar Posts: