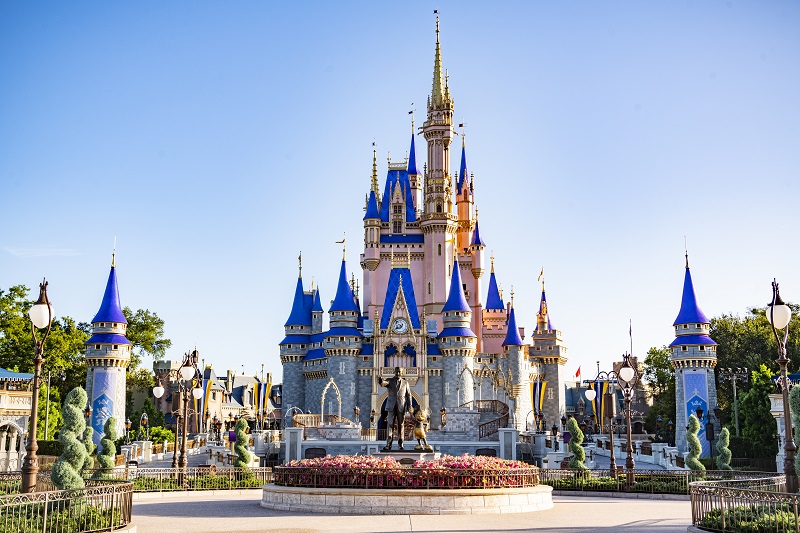 Discover all the magic that awaits you at Walt Disney World® Resort! Smiles and laughter should have no limits, which is why there's a place where Magic is Endless.
It is, without a doubt, the most magical place to spend your vacation. At the Walt Disney World® Resort, stresses will melt away, fun will be king, and dreams come true every day. You will feel as if you have been transported to another world as you explore the four Theme Parks, two Water Parks, over thirty Resort Hotels with unique themes, a shopping, dining, entertainment center, and a state-of-the-art sports complex. These elements combine to create an environment filled with exhilarating excitement, fantastical thrills, and whimsical wonder. Considering the various dining, shopping, and relaxing recreation options available at Walt Disney World, it is simple to see how this particular vacation destination provides enough smiles for everyone.
Specials Resort Hotels Packages Tickets Virtual Tour Resort Map My Disney Experience Date Calculator
Know Before You Go Park Pass System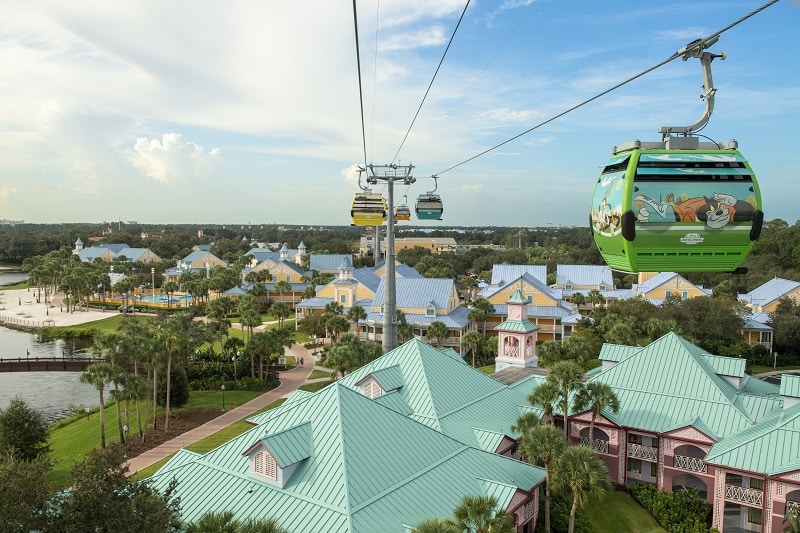 Experience the wonder of make-believe as favorite Disney classics come to life at the Magic Kingdom® Park. Discover high tech excitement, big fun, and cultures from around the globe at Epcot®. Create your adventure and explore the realm of creatures who inhabit our world…and our imagination…at Disney's Animal Kingdom® Theme Park. And share the spotlight with the glitz and glamour of show biz at Disney's Hollywood Studios®. Wherever you go, the only limit to fun is your imagination.
Looking to rejuvenate and refresh? Dive into fun at Disney's Typhoon Lagoon Water Park and Disney's Blizzard Beach Water Park.  Take a swing at golf on one of the challenging championship courses. Or, just relax and cast your line for largemouth bass on beautiful Bay Lake. From bicycling and tennis and more, you'll love the way we play.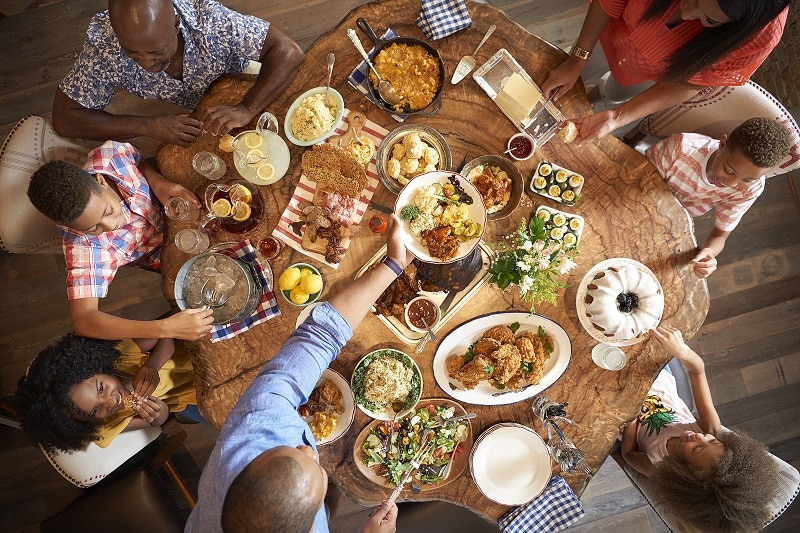 Sizzling steaks…succulent seafood…world-renowned dishes…and delectable delights from around the globe. There's something to please every palate at the Walt Disney World® Resort. Grab a quick bite on the go; relax and savor the ambiance of specially-themed restaurants; enjoy a rousing Dinner Show; or dine with your favorite Disney Characters. Just remember to save room for those yummy desserts!
Is shopping your bag? Here, you'll find everything from the coolest collectibles to the hottest fashions. And what's a shopping spree without a night on the town? With two dazzling entertainment districts – Disney Springs® and Disney's BoardWalk – you'll find hot spots with everything from to the most mesmerizing theatrical experience on earth.
When you want kick back and unwind, the magic stays with you 'round the clock at a Walt Disney World® Resort Hotel. Accommodations range from the luxury of Disney's Grand Floridian Resort & Spa to the value of Disney's Pop Century Resort. Indulge in legendary Disney-quality service while enjoying exclusive Disney Resort amenities available nowhere else. And with so much to see and do, vacation package plans offer the most flexibility to get the most value…and the most fun. Plus, there's a plan – with convenient multi-day tickets and exciting add-ons – to suit every budget.
With over 47 square miles of fun and something for everyone, it's no wonder a Walt Disney World vacation is the vacation of dreams. And come true they do…just like magic.
Walt Disney World Theme Parks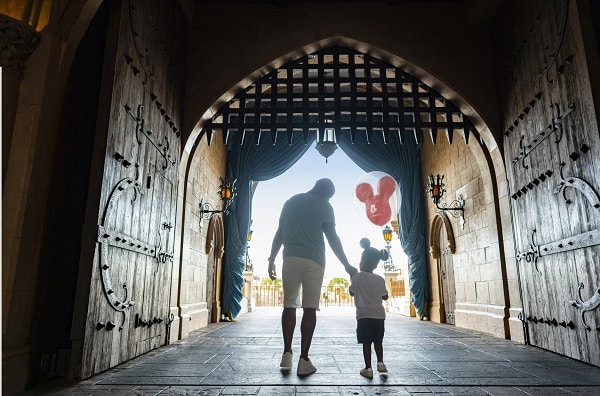 Magic Kingdom Epcot Hollywood Studios Animal Kingdom Water Parks Seasonal Events My Disney Experience Height Requirements
Visiting a Walt Disney World Theme Park and step right into a dream. Only the places seem real! A place of magic…a place of discovery…of adventure…and of spotlights and showbiz. The four Walt Disney World® Theme Parks make the real world seem far away, and make-believe as real as the smile on your face. They are the places where innocence is reborn, memories are made, and fun, imagination and excitement surround the young, and young at heart.
Newsletter
Stay informed of the latest special offers available at Walt Disney World Resort. Subscribe to the Magical Notifications weekly newsletter from our friends at The Mouse For Less.
NOTE: After subscribing, you will receive an e-mail asking you to confirm your subscription as a standard security feature. Follow the instructions in the confirmation e-mail to complete your subscription.
Disney Genie Service at Walt Disney World
At Walt Disney World® Resort, Disney Genie is a complimentary and convenient new digital service designed to create your best Disney day. This cool new technology guides you through our theme parks with tips that can help you reduce time in lines, discover magic around every corner, and take the guesswork out of "what's next."
Built right into the My Disney Experience, Disney Genie service will maximize your park time, so you can have more fun. It includes a personalized itinerary feature that will quickly and seamlessly map out an entire day. From specific attractions, foodie experiences and entertainment, to general interests like Disney princesses, villains, Pixar, Star Wars, thrill rides and more – just tell Disney Genie what you want to do and it will do the planning for you.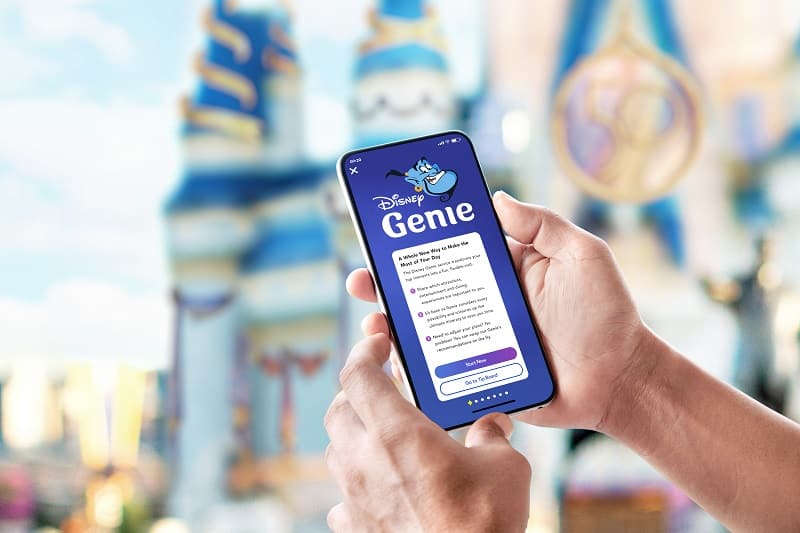 Here are a few more features:
Get Itinerary Updates from Morning to Night: Disney Genie will continue to update your itinerary throughout your day, so you can be more spontaneous and go with the flow.
Find Your Favorites at a Glance: Create your very own personal tip board to instantly see your favorites. It will display current AND forecasted future wait times, helping you predict when you might experience quicker entry to attractions.
Enjoy More Flexibility and Fun: Disney Genie brings existing planning features together in one place. Join a virtual queue at certain attractions, make dining and experience reservations, mobile order food at many locations, get help from a virtual assistant and more.
For even more convenience and flexibility, there are two other options for enjoying our theme parks, through a queue we are introducing called the Lightning Lane entrance that also saves you time in line:
Disney Genie+ service (available for purchase): For the price of $15 per ticket per day at Walt Disney World Resort, choose the next available time to arrive at a variety of attractions and experiences using the Lightning Lane entrance. You can make one selection at a time, throughout the day – from classics like Haunted Mansion to thrill rides like Big Thunder Mountain Railroad® and newer favorites like Millennium Falcon: Smugglers Run (attractions subject to limited availability). Disney Genie+ will also include Disney parks-themed audio experiences and photo features to capture your memories – augmented reality lenses for those visiting Walt Disney World Resort.
Individual attraction selections (available for purchase): Schedule a time to arrive at up to two highly demanded attractions each day using the Lightning Lane entrance – like Seven Dwarfs Mine Train at Magic Kingdom® Park (subject to limited availability; attractions not included with Disney Genie+). Pricing for this option will vary by date, attraction and park and will be announced closer to launch.
Lightning Lane selections will be made on the same day of your visit and can be used across multiple theme parks, great for those who love the Park Hopper® option. Attractions continue to offer a traditional standby queue, or a virtual queue at certain attractions like Star Wars: Rise of the Resistance – to maximize flexibility.
Remember, you can choose from all of the new options, a mix of them or none at all, and have a great Walt Disney World experience no matter how you decide to plan your best Disney day.
Disney Springs
There's more to enjoy at the Walt Disney World® Resort than just the fun and excitement of Theme Parks.  Come savor the day as you enter this eclectic mix of unique boutiques, one-of-a-kind eateries, and jaw-dropping entertainment.
A dessert-first brunch can quickly lead to your new pair of go-to boots. When catching a spontaneous afternoon show, you could wind up at an extravagant restaurant with an atmosphere as rare as the steaks.
It's the perfect place to connect with all the things you love, especially each other.
The four fascinating neighborhoods are filled with so much to discover, they'll pull you from one to the next.
The Landing
Ease into the charming rustic vibe of this welcoming waterside district filled with one-of-a-kind boutique shops. The wharf-side eateries offer everything from artisanal cocktails crafted at the edge of your stage-side table to a sushi bar so fresh, it's a cut above the rest.
Town Center
Stroll the day away shopping up and down the old Mediterranean-inspired Floridian streets. Explore unique boutiques and one-of-a-kind flagship stores. From big-name brands to rare finds, you'll discover this playful promenade is the perfect place to relax, refresh and reconnect.
Marketplace
From amazing crystal glass coaches to sportswear with a Disney flair, the Marketplace is one of the hippest Disney shopping experiences around. From a sophisticated art gallery to a candy store that's just "goofy," here you'll find the country's largest collection of Disney merchandise from totally classic to truly unique.
West Side
Welcome to a neighborhood with a vibe all its own. Here, the air is mixed with the sound of applause for world-renowned shows and the tempting aromas of treats to be discovered. Daytime is filled with fun, but at night, it'll ignite your senses and evoke your wild side.
Disney's BoardWalk Entertainment District
A bustling 1940s-themed waterfront that brings to life all the timeless fun of the shore with shopping, dining, and entertainment! Encounter countless surprises while strolling among the entertainers and game vendors. If you're looking for a party, sing-along amidst the lively crowd at Jellyrolls Dueling Pianos or experience the ultimate sports environment at the only ESPN Club on the planet. It's all part of the Sensation of the Shore –Disney's BoardWalk. Disney's BoardWalk is a short stroll to Epcot® and a breezy boat ride to Disney's Hollywood Studios®.
Atlantic Dance Hall
Get into the groove at this hoppin' nightclub that plays the hottest songs from the '80s, '90s, and today.
When the sun sets, the sounds and lights come to life in the elegant surroundings of a stunning Art Deco ballroom. Stars twinkle from the celestial ceiling over the expansive dance floor inviting you to strut your stuff. Between tunes, take a break on one of the balconies with a romantic view of the rippling waters of Crescent Lake, which stretches from the lip of the Dance Hall to the BoardWalk and beyond.
Atlantic Dance Hall is for Guests who are 21 years of age and older.
ESPN Club
Good times are a slamdunk as part of the total dining, shopping, and entertainment experience at this fantastic facility. This massive entertainment complex includes three action-packed sections: The Sidelines, an interactive multimedia entertainment center; The Yard, a sporting arcade of interactive games; and Sports Central, a full-service restaurant and television and radio broadcast facility. It's a home run!
Jellyrolls
Let the good times roll at this lively piano bar for Guests over 21 with dueling pianos and audience sing-alongs.
Raise a glass as you enjoy the rollicking music of 2 piano maestros. No request is too obscure, no artist beyond mimicry. These guys can play anything. Well, almost anything. Go ahead—try to stump them!
Jellyrolls serves Guests 21 years of age and older. Be there early to grab a table. Jellyrolls is one of the hottest nightspots in the Orlando area and seats fill up fast. A cover charge is applicable.
All information and entertainment is subject to change.
Recreation Options
Looking to rejuvenate and refresh? Take a swing at golf on any of five challenging, tour-caliber courses. Experience the wacky whimsy of Disney's Winter Summerland and Fantasia Gardens for miniature golf fun the whole family will enjoy. Or, just relax and cast your line for largemouth bass on beautiful Bay Lake. Take an old-fashioned wagon ride or an intimate horse-drawn carriage ride through select Disney resorts. Enjoy a spa treatment at one of the world-class spas. And, for an unparalleled sports experience, don't miss the exciting action of Disney's Wide World of Sports® Complex, one of the nation's leading venues for amateur sports events.
From bicycling and fitness trails to horseback riding, and more…whatever your game, you'll love all the ways you can play.
Archery at Fort Wilderness – READY – AIM – ARCHERY – It takes a steady hand to land that bull's-eye at the Fort Wilderness Archery Experience. Archery Guides lead Guests through a short training session on how to hold a compound bow and release an arrow into a range target. They offer tips and tricks to participants ages 6 and up as they try to hit that coveted bull's-eye during target shooting.
Bicycling – Bike paths and bicycle rentals available at Disney's BoardWalk Resort, Disney's Caribbean Beach Resort, Disney's Coronado Springs Resort, Disney's Fort Wilderness Resort & Campground, Disney's Old Key West Resort, Disney's Saratoga Springs Resort & Spa, Disney's Yacht & Beach Club Resorts and Disney's Wilderness Lodge & Villas.
Boat Rentals – Captain your own destiny as you take on the waters of the Walt Disney World® Resort. Zip along lakes, lagoons and bays in any of a whole regatta of choices – from Sea Raycers by Sea Ray and Boston Whaler Montauk boats to kayaks, Sun Tracker pontoon boats, and sailboats. You're the skipper, so the kind of outing is up to you!
Children's Cruises – Little buccaneers sail the high seas to exotic "Ports of Call" along Disney Waterways in search of treasure. Pirates must be ages 4-12 years old and potty trained (no pull-ups). These are child-only cruises (only registered children can participate, no adults) and are supervised by two Disney guides.
Bass Fishing Excursions – Cast out your line and reel in the fun on a two-hour fishing excursion in the lakes of the Walt Disney World® Resort. You and up to four other Guests set out on a private catch-and-release fishing trip full of sun, fun, and fish. Whichever excursion you choose, you're sure to get hooked!
Miniature Golf at Walt Disney World
Disney's Winter Summerland – This interactive miniature golf experience is fun for the whole family. The whimsical courses feature two wacky 18-hole adventures. The Winter Course features an ice castle and a trip to the North Hole. In the Summer Course, experience fun in the sun with a visit to Santa on the Winternet. Both courses provide exhilarating family entertainment.
Location: directly in front of Disney's Blizzard Beach Water Park
Fantasia Gardens – Hippos dance, fountains leap and broomsticks march at this miniature golf adventure. Choose the 18-hole Fantasia Gardens for a fantastic escapade complete with music and interactive obstacles from Disney's classic film Fantasia. Experienced golfers can challenge the 18-hole Fantasia Fairways, complete with par-three and par-four holes ranging in length from 40 to 75 feet long.
Location: in the Epcot® Resort area
Disney's Wide World of Sports™ Complex
For the ultimate sports experience, it's right here at the Walt Disney World® Resort!
Disney's Wide World of Sports™ Complex is one of the world's leading sports destinations, hosting some of the most popular professional and amateur sporting events and competitions around. It is the ultimate sports experience for the fans who just want to sit back and enjoy a game as well as the athletes who compete here.
Weddings and Honeymoons
THE MAGIC BEGINS EVEN BEFORE THE WORDS, "I DO."
What could be more romantic than a fairy tale wedding? And who could make it more magical than Disney? From intimate weddings to lavish ceremonies surrounded by family and friends, Disney's Fairy Tale Weddings & Honeymoons can make your dream of the perfect wedding come true. Everything from the officiant services and ceremony to the cake-cutting reception, music, and more – features Disney's impeccable quality, hospitality, and attention to detail.
Walt Disney World® Intimate Weddings, for the bride, groom, and up to eight guests, provide a magical selection of wedding options. For couples wanting to share their wedding with an unlimited number of family and friends, Walt Disney World® Custom Weddings are the perfect option.
Couples looking to exchange vows in the ultimate fairy tale setting will find just that at Disney's Wedding Pavilion. And for guests looking to celebrate lasting love, Vow Renewals are a popular tradition at the Walt Disney World® Resort.
A Disney vacation provides a perfect backdrop for couples to renew their vows 5…10…25… even 50 years later. Recognized by wedding industry experts as the most popular honeymoon destination in the United States, the Walt Disney World® Resort offers couples unlimited opportunities for romantic fun. Create magical memories for years to come with Disney's Fairy Tale Weddings & Honeymoons. You'll see the magic begin even before the words, "I do."
Contact us today To book Disney's Fairy Tale Weddings or vow renewal packages.
Transportation within the Walt Disney World Resort
Once you're at Walt Disney World® Resort, you can zip around on complimentary and convenient transportation that runs continuously throughout the day. There are many modes of transportation within the Walt Disney World Resort, including Bus, Boat, and Monorail.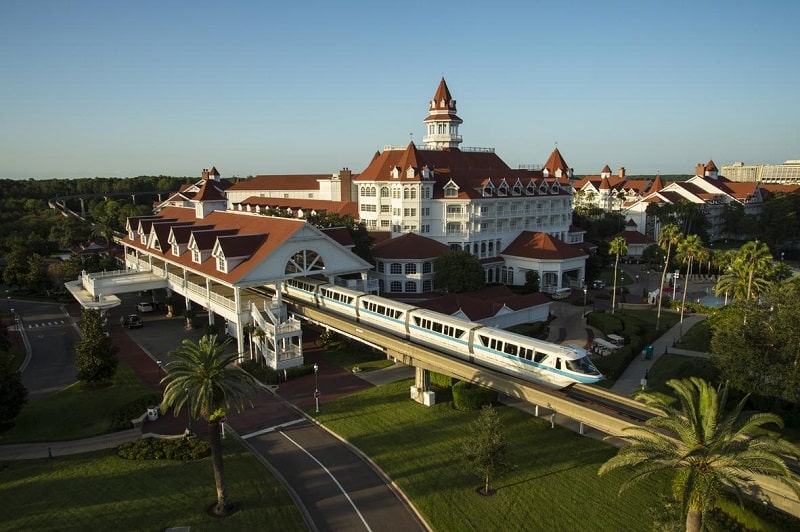 Bus
Most areas of the Walt Disney World Resort are accessible by bus from other areas within the Resort, including Theme Parks*, Water Parks, the Disney Resorts and the Disney Springs area. Buses travel on routes throughout the Resort and do not provide direct service between all destinations.
*Magic Kingdom Park is not accessible by bus from Disney's Contemporary Resort, Disney's Grand Floridian Resort & Spa and Disney's Polynesian Village Resort. These Resorts provide monorail transportation to the park.
Boat:
The Magic Kingdom Park is accessible by water launch from Disney's Contemporary Resort, Disney's Grand Floridian Resort & Spa, Disney's Polynesian Village Resort, Disney's Fort Wilderness Resort & Campground and Disney's Wilderness Lodge. The Disney ferryboats connect the Magic Kingdom Park to the Transportation and Ticket Center (adjacent to Magic Kingdom parking).
Epcot and Disney's Hollywood Studios are accessible by boat from Disney's BoardWalk Inn and Villas Resort, Disney's Yacht Club and Disney's Beach Club Resorts and the Walt Disney World Swan and Walt Disney World Dolphin Hotels.
Disney Springs is accessible by ferryboat from Disney's Port Orleans Resort and Disney's Old Key West Resort.
Skyliner:
Disney Skyliner offers a new way to move guests across Walt Disney World® Resort with a bird's-eye view. This new gondola system conveniently connects Disney's Hollywood Studios® and Epcot® to four resort hotels – Disney's Art of Animation Resort, Disney's Pop Century Resort, and Disney's Caribbean Beach Resort as well as Disney's Riviera Resort.
Monorail:
Disney's monorail runs between the Magic Kingdom Park, Disney's Contemporary Resort, Disney's Grand Floridian Resort & Spa, Disney's Polynesian Village Resort and the Transportation and Ticket Centre (adjacent to the Magic Kingdom parking lot). A connecting monorail takes Guests from the Transportation and Ticket Center to Epcot.