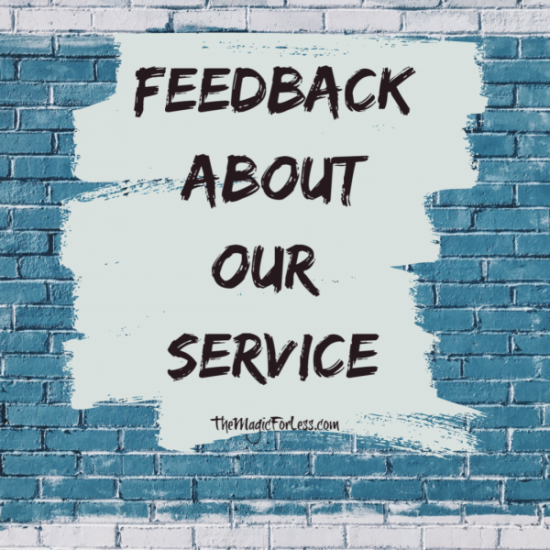 She (our counselor) was wonderful and on top of everything!  I was especially happy she caught that our shuttle service would be going out of business and unable to provide services on the last leg of the trip. She acted quickly and secured our refund.  I didn't hear of their closing from any other  source, including the company themselves!  That could have turned out so differently had we not used her services!  I will definitely recommend her to my friends!
-Karen C
Our Magic for Less agent was very thoughtful.   He kept checking in on us throughout our month of travel.   He even called us Christmas morning to let us know that our driver was waiting for us in the hotel lobby.  He then followed up on us at the end of the trip also.   If we travel to the USA again I will use him.    Travelling from Australia he was very good at making sure we were prepared for our trip.
-Kylie M
Our TMFLT counselor is a wealth of WDW knowledge and the type of traveling we like to do. I appreciate her attention to detail and her interest in meeting our needs/wants and providing helpful information for things we haven't always anticipated needing/wanting. She also does a great job of accommodating our last minute plans.
-Kerin M
It is a pleasure to work with our agent.  He is always so friendly and personable!  There are no worries because I know he has given me all of the information I need and has helped me make decisions along the way, and I know I can get a hold of him easily if any last minute questions or problems come up.  I like booking a vacation through someone who has done it all before me and who can give me advice based on his experiences.  I never feel he is trying to sell me something I don't need or want. 
-Debbie C
I didn't have to worry about anything, hotel, tickets for Disneyland all ready and waiting for us. Great hotel; I didn't know anything about the hotel, I was very pleasantly surprised!! Thank you so much !
-Debbie T
Our Magic for Less agent was incredible! I hadn't gone to Disney World in over 10 years, so I had a lot of questions with the "new ways" of things. She was helpful, personable and patient every step of the way with everything from luggage, park plans, dining plans and our resort!
-Breana D
Our counselor is always friendly knowledgeable and responsive. He never rushes through anything and always takes the time to explain things and truly listens to what it is we would like do.
-Tina A
If I could give our agent 10 stars, I would! He was exemplary from the very start when we said we wanted to go. He took the reigns from there! He answered every possible question we had quickly and offered realistic, helpful advice. I cannot recommend him enough!  We love The Magic For Less!!!!! Thank you for everything. We had a truly magical, wonderful, amazing trip!
-Sara C
The service and professionalism has continued over the years and has continued to  meet our needs.
-William T
Similar Posts: