Many guests have questions about the Disney dining plans and if you can save money with a Disney dining plan.  There are dining plan calculators, blog articles, videos, and websites with advice galore. While there is no "one size fits all" answer, the Disney dining plan offers many guests the chance to save on their vacation dining costs.  There are four types of Disney dining plans, a Quick Service, the Standard Disney dining plan, Disney Dining Plan Plus and the Deluxe dining plan. Today we will discuss how you can save money using the standard Disney dining plan. This plan includes one quick service meal, one table service meal, and 2 snacks for each night of your vacation package.  It also includes a resort refillable mug for each guest over age three in your party.
To help you decide if a dining plan is for you, we identify some guests who will benefit from using a Disney dining plan below.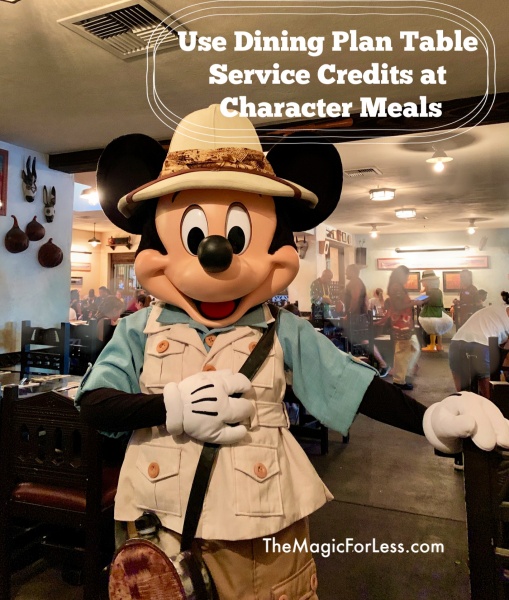 You Enjoy Character Dining
If you are dining at a few character meals, you can save money with a Disney dining plan. Character meals are a great use of your table service credits, and they are fun!  In addition, there are opportunities for photos and autographs. Plus, you don't have to stand in line to meet the characters!  For instance, Akershus cost approximately $62 for adults and $37 for children.  Once you add in a nonalcoholic or alcoholic (for those over 21) specialty drink and taxes you have spent what you would have spent for the entire day's dining plan and only used one table service credit. Check out Walt Disney World menus and pricing. In addition, remember that there are certain times of the year that character meals have a seasonal dining up-charge price but the dining plan pricing remains consistent throughout the year.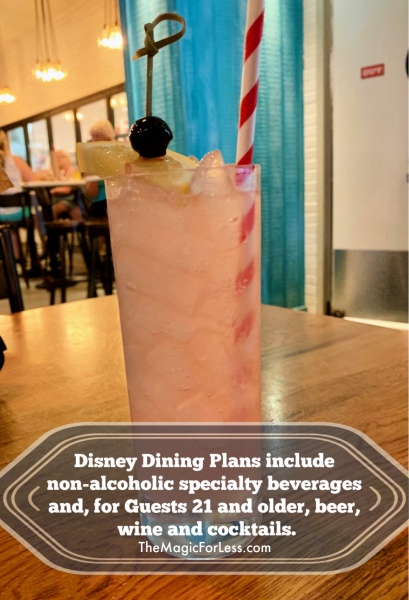 You Like Alcoholic or Nonalcoholic Specialty Drinks
Disney dining plans now include a non-alcoholic and alcoholic (for guests over 21) specialty drink with both quick service and table service meals.  Cocktails, wine and beer in the $10-$14 range are available to order as the drink with your meal.  In addition there are non-alcoholic smoothies, mocktails, milkshakes, juices and more. Having the plan makes it easy to let the kids order a smoothies or a milkshake!  If you are using one of your quick service credits for breakfast at your resort, go ahead and grab that beer or wine and put it in your refrigerator for later that day.  We give you permission!  It's included and it's a great way to save!
You Have Children Under 10
The dining plan is only $26 per night for children ages 3-9 for 2020 packages. This is a great deal. A single character  meal can cost more than the charge of the entire plan for one day.  Check out the cost of some of the character dining experiences, you'll see that it is close or over the price of the dining plan.  After you use the table service credit for your character meal, you still have the quick service and snacks available.  It is essentially like you are getting those free since you would have spent close to or the entire amount of the dining plan on that one meal.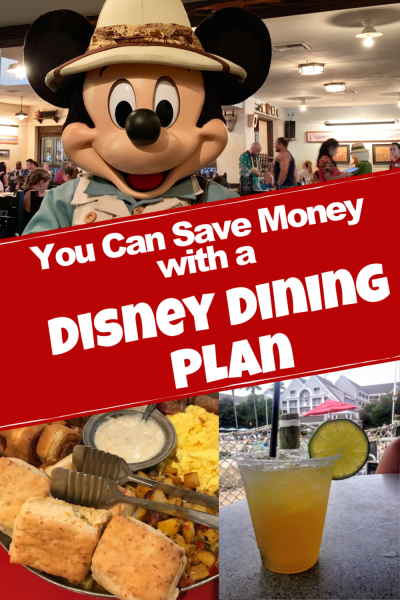 You are Taking Advantage of Certain Dining Packages that Include Show Seating
Certain dining packages that include reserved seating for shows also accept a table service credit on the dining plan?  You can take advantage of the Fantasmic dinner packages at Mama Melrose and Hollywood and Vine.  In addition, the Rivers of Light dining package is a table service credit at Tusker House.  These are great opportunities to use your dining plan, see a show and you won't have to use one of your Fastpass+ reservations to reserve seating for that show.
You Like to Pay for Your Vacation in Advance
Many people enjoy arriving for their vacation having most of it paid in advance. I have to admit that I fall into this category.  I think many of us enjoy knowing that we won't be coming home from vacation to a large bill.  The dining plan lets you do this because many of your meals are now included in your vacation package price.  It gives you the option to enjoy a more "all inclusive" vacation experience. Relax and order the steak.  It's included in your dining plan and already paid for!
You Enjoy Buffet & All You Care to Eat Locations
Like character meals, all you care to enjoy buffet family style meals are also a great use of your dining plan table service credits.As an example Boma is approximately $49 per adult and Cape May is $55 per adult and $31 per child. Add the cost of a specialty drink and taxes and you are again saving money with the dining plan!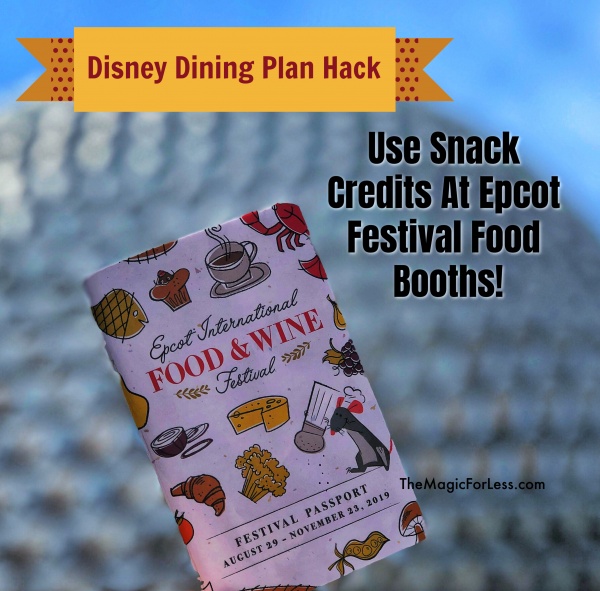 You Are Vacationing During One of Epcot's Festivals
If you are traveling during one of Epcot's many, many festivals, you are in luck. You can use a Disney dining plan snack credit for most of the food options available at the booths.  Most of these items range from $4 – $9 in price. A couple of these items could easily be a light meal.  Epcot has a number of great festivals including Festival of the Arts, Flower and Garden, Food and Wine and Festival of the Holidays. Take advantage of this dining plan hack and save some money!
You Like Convenience
The dining plan is convenient and easy.  Just tap your MagicBand and the credits are deducted.  It's also easy to keep travel of your credits on the My Disney Experience app.  It's easy to let kids "pay" for dinner. You can use mobile ordering via the My Disney Experience app with the dining plans too.
You Want to Pay for Your Vacation with Disney Gift Cards
If you want to use Disney gift cards to pay for your Disney Dining plan you can!  Some guests are able to purchase discounted Disney gift cards through their local grocery, discount, or warehouse stores.  The good news is that if you book with a travel agency that books directly with Disney, like The Magic for Less Travel you can use those Disney gift cards to pay for your vacation package.
There are many great ways to save money with a Disney dining plan.  Let one of the travel consultants with The Magic for Less Travel help you decide if a Disney dining plan can work for you. Request a no-obligation quote from a destination expert who can help you save time, money and stress while planning your magical vacation!

Similar Posts: