It took a huge load off by helping identify the best resort for our needs, and by handling all the logistics of the reservations. That freed me up to focus on the the actual details  of the trip such as fast passes, dining reservations, character stuff, etc.  He dealt with several instances of having to cancel and rebook our packages to be able to apply military discounts, and then to apply dining plans. Every time, he was super responsive and on top of things.
-Kristin S
It relieves a lot of the pressure of planning, and I know I'm getting the best price available for what I want.  I always book our resort/package through TMFLT, as it saves me a lot of time comparing resorts and costs.  And I know if a discount becomes available for our packages it will automatically be applied.  Our agent has been great in helping with room requests as well, and his advice in choosing rooms/buildings has been very helpful.

-Lonnie H
I took my 81 year old Mom to WDW for her birthday. She was given the royal treatment by everyone in Disney. We were given so many magical memories. Thank-you!
-Sheila G
Thank you Sheila for sharing this awesome photo of your mom celebrating her birthday!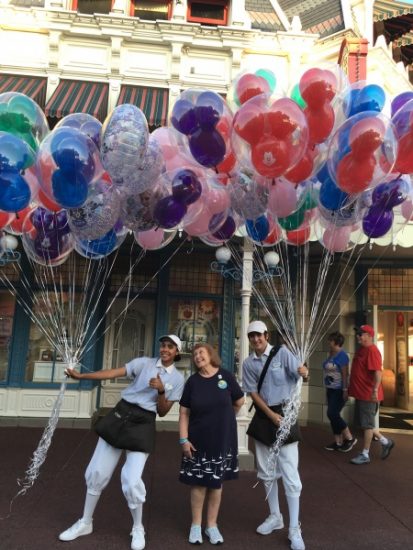 Really like being able to call or email & get a response quickly. Also to have someone looking out for price changes or new discounts even if youâ ve already booked.
-Jim M
She spent lots of extra time making sure we had the package we needed/wanted for the best price available.  She dealt with our questions and concerns and provided detailed, useful information.  We have used your company and our agent for  the past 4 or 5 trips to WDW and find it an excellent value and you provide superb service.  Your ancillary information you now provide is excellent,  safety info, be careful about the grocery delivery service etc.   You have formalized a lot of that information and it is so useful and in a great format.

-Judy G
I appreciated the assistance with booking our dining.  It was great to be able to ask questions, such as the best place to view fireworks, and get answers from someone knowledgeable.
-Heather C
Our counselor was very accommodating and responsive.  I felt comfortable asking questions as she was always positive.  I used another Disney authorized travel agency in the past and i was not impressed.  Deciding to try Magic For Less proved to be a great decision.

-John G
We went for my daughter's sweet 16 Birthday.  Our agent thought of ways to make that special for her that I never would have know about otherwise!  Even though we have been to Disney several times I still have a ton of questions. I was worried I was being a pain, she assured me she was more than happy to anwer them all. She made our trip magical and it was all we hoped it would be and more! 
-Colleen K
Magic For Less and my agent are absolutely the best!  An 11 out of 10! Great communication, excellent service, willing to go the extra mile (or two!) combined with a friendly, pleasant personality is a combination that can' t be beat. Can' t wait for the next adventure!

-William A
Our Magic for Less counselor is always a wealth of info! She not only assists in booking & taking care of all the little things, but she has learned our family & gives suggestions accordingly! She is perfect for my Type A organized spirit. This was our first Adventure By Disney trip & I used so many suggestions & helpful hints that she gave me!
-Dennise N
Our agent shared tips from the company, as well as personal experiences. When she would call for card payment, she spent time talking with me, answering any questions I had. She is so very personable and awesome to work with!

-Susan B
It was a great experience shared by my family.  We will use the magic for less travel and the same counselor if at all possible next time we plan our trip.
-Deanna S
This trip was a dream since my first granddaughter was born.  Our agent was amazing!  I could not of gotten it all worked out without her!  I will definitely use her again when we go back in a few years!  The only way to do a trip is with this service!  Thank you Thank you Thank you

-Freda M
I was a first time traveler to Disney and thanks to all the advice my trip was a success! My advisor is very patient, professional and kind.
-Isabel G
Our agent provided us with help along the way, having never traveled to Universal she help us navigate their processes. Our dining reservations were handled and we got everything we asked for. I cannot say enough about your agents.

-Bob T
Our travel agent was absolutely fantastic!  I consider myself a planner, but there is NO WAY that I would have navigated this Disney Trip without the expertise and patience she exhibited.  Her guidance made my family's experience one that was seamless and undoubtedly, unforgettable.
-Samantha C
Made our trip and our first time cruise experience just so smooth, amazing, easy and fun.  I learned so much and felt so well-informed for what could have and previously felt so overwhelming.  Thank you to our agent for her diligence, attention and knowledge.  She was always so gracious and patient and helpful and timely in her responses.

-Sharmila T
The restaurant reservations our agent made for us were extremely helpful, and the FastPasses she arranged were great.  I would not have been able to plan everything out in such an organized fashion, as she did.  Having her personal tips and hints were invaluable for the little details that I didn't think to ask about, but needed to know!
-Susan E
Similar Posts: