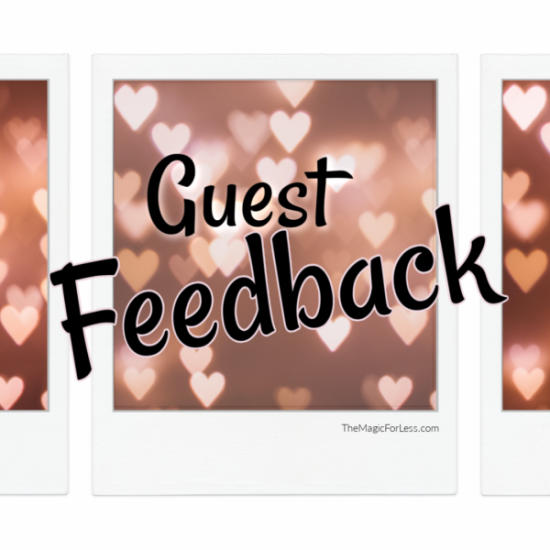 Our agent is amazing (as always).  She's so ahead of the curve, sometimes I think she knows things before Disney does.  So many "heads up" emails and texts, so much care and concern for our vacation going smoothly – I just can't say enough about her and the energy she puts into her clients.
-Sonia C
Always available to answer questions and help understanding booking and deals.
-Deborah M
Our agent is always quick to solve my problems and help me with any dilemmas I have with various Disney World products and choices.    More than ever it's necessary to have an experienced Disney travel counselor help you with the quirks of the various Disney options.  
-Judy G
Our agent has been wonderful to work with! She is great with communicating with me and answers all my questions!   She's not only helping with my upcoming trip but also my wedding, honeymoon, and all our guests trips too! She tries her hardest to get the best deals and I don't ever have to worry about our trips!   Thank you all for doing such a great job and helping everyone, no matter the budget, go to the most magical place on Earth!!
-Ashly H
I really did enjoy the planning emails/reminders for the trip. While I've been to Disney many times before, the tips were quite helpful in navigating some of the new options around the parks.   Our counselor is PHENOMENAL! While I am a very savvy trip planner and I could probably make most of the arrangements myself, it's always nice to have that extra person who can help if anything goes wrong.  We have been using him for over a decade and he just keeps getting better and better! He is a wealth of knowledge and I appreciate him so much.
-Angie M
Our travel counselor was absolutely amazing.  Her reminder emails were super helpful with the planning process since my husband and I have a lot on our plate with a one year old! Any question I had she emailed back quickly and her emails were always super warm and friendly which made it feel like I was talking to a friend! Bouncing ideas off of her was great too! It was nice to have a sounding board for someone who really knew the ins and outs of the parks at the given time. My husband and I decided to try Magic for Less Travel because we have done the vacation by ourselves and wanted to try this since we plan to do a HUGE trip coming up in the next 5 years with our extended family.  I couldn't have been happier with her and I look forward to continue working with her!!    This was such an awesome experience and I would recommend anyone to use this service.  It really is a no brainer!  Thank you SO much!
-Allison H
We had a chance to get away with short term notice.    We really wanted a Disney Cruise.    We gave our agent the dates and options.  She worked her magic and within an hour we had a reservation on the Dream at a great price.  Worked out the details over the next few days and we left two weeks later.   We look forward to many years of travel under her guidance!
-Bruce A
I did not have to search internet and call Royal Caribbean because Mike provided all information needed.
-Roman K
Our agent listened to what we wanted from our Orlando holiday and presented us with suggestions that were on budget and accessed a special for us.   She is amazing.  I can't imagine organizing a Disney trip without her.
-Joanna L
Our agent's first-hand knowledge of the city we were traveling to, Prague, and offering numbers suggestions of things do while there.
-Tim L
Our agent was very helpful in answering my many questions. He also had some great suggestions so we tried a few new dining choices ( all were excellent). I love not having to worry or stress over any part of the planning when we have him help us.
-Heidi P
Similar Posts: