Let your dreams set sail on a Disney Cruise Line ® vacation for everyone…and every age! Adults find excitement and indulgence, children have the time of their lives, and families unite. With so many unique adventures and magical moments, everyone will think this vacation was designed just for them!
Aboard the Disney Cruise Line ®, specially designed areas and activities let families play together and separately, creating magical memories that last a lifetime.
Disney Cruise Line® has selected the most stunning destinations – in the most exciting regions around the world – for cruises you and your family will not soon forget. Enjoy the service and expertise of our dedicated crew as we guide you in your exploration of ports of call, from the Caribbean to Alaska to Europe and beyond. Discover, in detail, the world of delights waiting for you.
Disney Cruise Line Itineraries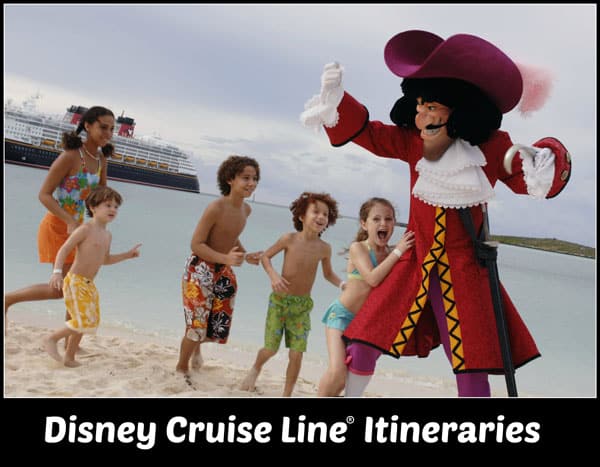 Disney Cruise Line® has selected the most stunning destinations in the most exciting regions around the world for cruises you and your family will not soon forget. Enjoy the service and expertise of Disney Cruise Line's® dedicated crew as they guide you in your exploration of amazing ports of call, from the Caribbean to Alaska and Europe. Discover, in detail, the world of delights waiting for you.
Alaska Cruises
Bahamian Cruises
Bermuda Cruises
Canadian Coast Cruises
Caribbean Cruises
European Cruises
Mexico Cruises
Pacific Coast Cruises
Panama Canal & Transatlantic
Ports of call in the Bahamas offered by Disney Cruise Line® make for a vacation of consummate leisure and delight. Tropical weather blankets this sun-drenched region, where the recreation is renowned and the landscapes are breathtaking. From the beaches of Nassau to the idyllic resort of Castaway Cay, each port offers a warm island welcome you won't soon forget.
Glittering waters, invigorating recreation and shopping at deep discounts await you in the cities of the Caribbean – from Mexico's Cozumel to the island of St. Thomas… and everywhere in between. Soak up the sun on Grand Cayman's Seven Mile Beach, find bargains on luxury goods in the Virgin Islands or immerse yourself in the rich blend of cultures of Barbados or Jamaica. The possibilities for real Caribbean bliss are endless.
Voyage to a region that conjures up a romantic past, home to some of the world's oldest civilizations, trade routes and cultures. The Mediterranean region shares mild climes, wide-open skies and the brilliant blue Mediterranean Sea. It also boasts a rich diversity of cities, cultures and people.
From the comfort of a Disney cruise, experience a relaxing voyage in and across the world's two largest oceans. Aboard your classically designed Disney ship, take a journey that echoes the grandeur of ocean crossings in the golden age of sea travel. Navigate through the Panama Canal, take a sweeping journey across the majestic Atlantic or experience the breathtaking beauty of the Pacific Coast while visiting unique ports of call along the way. Add exclusive Disney entertainment, signature service, fantastic dining and world-class recreation and you're bound to discover a vacation that holds incredible fun for the whole family.
The Disney Difference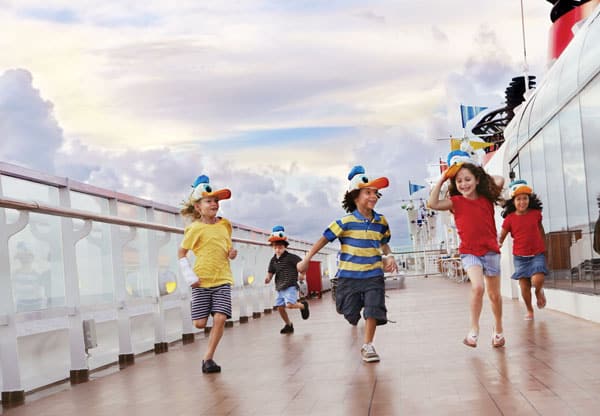 It begins the instant you step aboard. You and your entire family are greeted as honored friends by a host of Disney Cruise Line® Cast Members. A magical moment that sets a magical tone for all that's to come.
Prepare to be wowed by Disney magic. And get ready to be pleasantly surprised by all that's included—on each and every departure aboard all four Disney Cruise Line ships.
Let's start with the kids. From toddlers to teens, each has wondrous spaces dedicated to them, with oceans of activities, amazing entertainment and immersive Disney experiences. And here's what Mom and Dad will especially love—Disney Cruise Line kids' programs feature some of the longest hours at sea—all complimentary—so you can enjoy some "we" time or some "me" time, knowing the kids are having a blast.
And that time could include art tours, cooking seminars, a workout in the fitness center, lounging at the adult-exclusive pool area and delightful evenings out at the adult-only entertainment district. Why not try them all?
When the family comes together, it's world-class Disney entertainment at every turn. And the magical details you'd expect from the cruise line that knows families best. Broadway-caliber shows, fireworks at sea, first-run films up on deck and in the theater and a dazzling variety of unique dining experiences, where you're always tended to by the same amazing waitstaff. No, these aren't extras. They're what you should expect.
Plus, Guests aboard most Bahamian and Caribbean Disney Cruise Line voyages are really in for a treat—an all-day stop at Disney's private island paradise—Castaway Cay. Just imagine, an entire island wrapped in turquoise waters and white-sand beaches—and filled with watery wonders like Pelican Plunge, a huge floating deck with adventures for everyone. Savor an all-you-care-to-enjoy barbecue. Let the kids explore an expansive children's area supervised by Disney Youth Counselors, while you bask on the shores of an adult-only beach. Best of all, the ship docks right at Castaway Cay so you can come and go as you please throughout the day.
And while you should expect big things from Disney magic, you'll also find that same kind of magic in every detail great and small. From Disney Character appearances throughout the ship to spacious staterooms designed with families in mind. From 24-hour room service to soda, coffee and tea service at meals and up on deck, all complimentary. Disney Cruise Line even provides onboard phones during your voyage, so everyone can stay in touch. Just a few of the small details sure to leave a big impression.
Disney Cruise Line. The magic is in the details.
New to Cruising with Disney Cruise Line
Disney Cruise Line – The Perfect Choice for New Cruisers
Are you looking for a unique vacation experience that blends entertainment and adventure with comfort and convenience?
On a Disney Cruise, you and your loved ones will:
Explore a variety of desirable destinations in a short period of time.
Enjoy onboard activities, entertainment and dining options – most of which are included in the price of the cruise.
Save time by unpacking just once, as opposed to unpacking at several different hotels during a land-based vacation.
Discover these benefits, and many more, by embarking on a hassle-free vacation with Disney Cruise Line.
Why Choose a Disney Cruise?
There is truly something for everyone on a Disney Cruise – from relaxing "me" time for the adults to imaginative fun for the kids and exciting family time for all. Every voyage includes the attention to detail and world-class hospitality that only Disney can provide.
Activities: You will find a variety of activities at themed onboard venues designed to inspire and delight every member of the family.
Dining: Guests will experience diverse menus, "rotating" through three uniquely-themed, elegant restaurants with the same wait staff to anticipate their needs and personal tastes. Enjoy expertly prepared dishes from filet mignon and lobster to other culinary delights from around the world. Options range from upscale table service and casual buffets to poolside dining, snacks and 24-hour room service.
Entertainment: Enjoy Broadway-quality, original Disney musicals that can't be seen anywhere else.  Cherish special moments with Disney Characters. Watch first-run Disney movies.  View uniquely themed celebrations on deck, including a fireworks spectacular at sea and more!
Disney Castaway Cay: Most Bahamian and Caribbean cruises include a stop at Castaway Cay.  Enjoy this private island paradise, reserved exclusively for Disney cruisers.
Service and Amenities: On a Disney Cruise Line vacation there's so much included in the cruise fare! Plus, you will enjoy Disney's renowned service and amenities throughout the ship, including:
World-class staterooms
All meals daily, including 24-hour complimentary room service, as well as complimentary soda, coffee and tea on deck
First run-films at sea, including some in digital 3D
Most voyages include fireworks at sea, weather permitting
Kid's clubs filled with oceans of activities and amazing entertainment, including private clubs for tweens and teens
Exclusive areas for adults, including nightclubs, an exclusive pool and fitness center and more.
Castaway Cay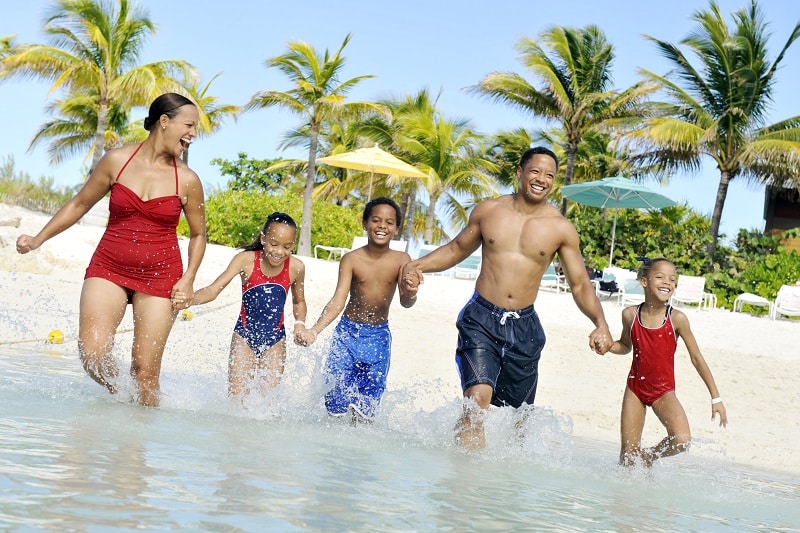 Consistently rated by Disney Guests as their favorite port of call, Castaway Cay is Disney's private island paradise reserved exclusively for Disney cruisers. This oasis invites you to enjoy balmy tropical weather and world-class recreation with renowned Disney hospitality. Plus, your signature Disney ship will dock right at the island to allow everyone to come and go as they please while enjoying such tropical leisure as snorkeling, boating, swimming and old-fashioned sunbathing.
Formerly known as Gorda Cay, the island is located amid the Abaco Islands in the northern Bahamas. Of the island's 1,000 acres, only 55 have been developed for Guest use, leaving the remaining land unspoiled and untamed.
Covered outdoor restaurants dish up delectable burgers, BBQ chicken and ribs, grilled island style and included in the price of your cruise package. Alcoholic beverages are available for purchase by Guests 21 years of age or older.
Disney Imagineers designed Castaway Cay with one-of-a-kind areas and activities for every member of the family.
Kids (ages 3-12) have their paradise planned by Disney counselors at Scuttle's Cove with bountiful beach activities.
Teens can kick back, listen to music and participate in activities at Hideout, their own secluded area close to the beach.
Serenity Bay is a secluded beach exclusively for adults.
Have fun together at the Castaway Family Beach.
Relax in a premium 325-square-foot private, furnished cabana found in 2 locations: Castaway Family Beach (for families) and Serenity Bay Beach (for adults).
And of course, there are port adventures for everyone to enjoy.
Visitor Information
Money and Purchases
U.S. currency is accepted at the post office and at Bahamian-operated stores. Please note that effective January 1, 2015 a 7.5% Bahamian Value Added Tax (VAT) will be added to the price of most goods and services purchased on Disney Castaway Cay, including Beach Cabanas and Spa services. Costs incurred on certain components of Port Adventures are also subject to this VAT.Unique to the island, you can use your stateroom key at Disney-run stores. Island dining is included as part of your cruise package.
How to Get Around
While all areas of the island can be reached by walking, an island tram offers four stops to help you more quickly and easily get where you want to go. Bike rentals can also be purchased for those who wish to explore the island's nature trails.
Language
English is the universal language spoken on Disney Castaway Cay.