Are you visiting Walt Disney World  with kids?  Here are 5 tips for you!
Taking the littles on a Walt Disney World vacation is a dream come true for many families.  That dream can turn into a bit of a nightmare without the proper preparation and mindset.  Here are five things you simply MUST do to keep your Happily Ever After.
1. Seriously Consider a Stroller
Having a stroller can be a lifesaver. Even when your littles are not-so-little anymore.
Walt Disney World is big. You will walk a lot. We're talking an average of 8-12 miles per day! At that rate, little legs can wear out faster than a Dole Whip melts in July! Even kids who haven't taken a spin in a stroller for a few years will benefit from one. Here's what you do: First, ask yourself, "Self, would I be happy carrying said child a good portion of each day?" After that, if Self replies with a hearty, "HECK NO!", there you go…you need a stroller. In other words, tired kids are grumpy kids and grumpy kids are NOT magical.  Did you know that when you work with me to plan your vacation, I can set up your stroller rental for you?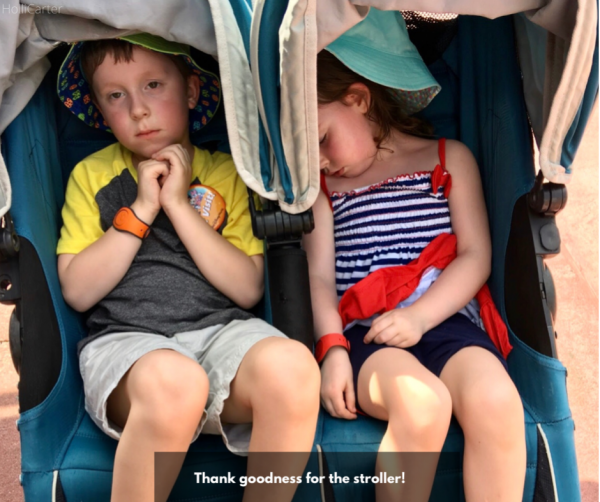 2. Have a Park Touring Bag
You have kids. Therefore, you need stuff. Everywhere you go. LOTS of stuff.
You're need to choose a simple, dedicated bag for toting all that stuff around.  Choose a simple bag so you can find things quickly (*Pro-Tip: bring resealable, clear plastic bags in various sizes. They are amazing for keeping your stuff organized – and dry!). Stock it the night before and set it aside. Believe me when I tell you, you will have enough relative chaos to manage in the mornings. You do not need to be worrying about whether you remembered to pack the only snack Junior will eat or if you forgot the right cord to charge your phone. Again.
3. Take a Break
Come closer…I have a secret to share with you. Did you know that a WDW vacation is exhausting? GASP!
Ok, it's not really a secret. But it is something we can easily be pushed to the wayside in all of our excitement and making plans to do #AllTheThings. Plan breaks along the way so little ones can recharge. For instance, head back to your resort for a nap or some pool time. Or plan a sit-down lunch. This will get them off their feet, out of the stroller, and into the air conditioning. You will be surprised how this can be a magical, little reset button for their day. And maybe even yours, too.
4. Plan for The Weather
Like…ALL the weather.
Unless you are somewhat of a local, your family is not going to be acclimated to the humid, sub-tropical environment where WDW is located. That goes double for the smaller humans. You need a little 'tool kit' of sorts to keep them cool and dry. Put one together pre-trip (helloooo, Amazon!). This inexpensive move goes a long way in keeping them from getting all kinds of grumpy-pants and non-magical.
Consider small, rechargeable (or battery operated) personal fans and A/C units. They can be worn or attached to the stroller. Reusable cooling towels that you wet, snap  and 'wear' to cool down. Brilliant! Small umbrellas can be used to block the sun and keep dry in the event of an afternoon shower. In addition, your bag could have some rain ponchos, too.  Pro-Tip: Have an extra poncho on hand to keep the stroller from getting soaked. Tiny bums will thank you.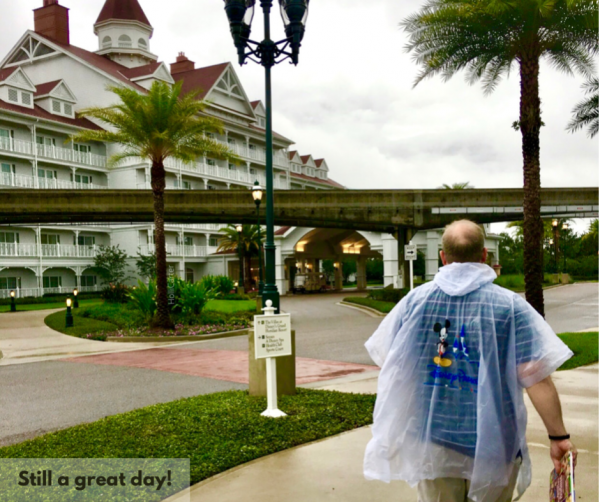 5. Let Kids Have a Say
I know what you're thinking…"Good gravy, Woman! Are you Nuts?!"
Hear me out. I'm not suggesting you turn over the reigns entirely. However, sharing the reigns a little from time to time may be in order. Give the kids an ability to make some choices.  Even seemingly small ones will matter. Kids feel so much pride when they feel that they are playing a part in this wonderful adventure. It doesn't take much to make a big impact. They can choose between riding Dumbo or Winnie the Pooh next. Perhaps they can take turns choosing the 'snack of the day'.  Take one more go-around on the Monorail Loop! Moreover, you are giving your littles the most valuable gift you possess. Your time on their terms. Most importantly, it can make taking the littles on a WDW vacation a dream come true you will remember forever.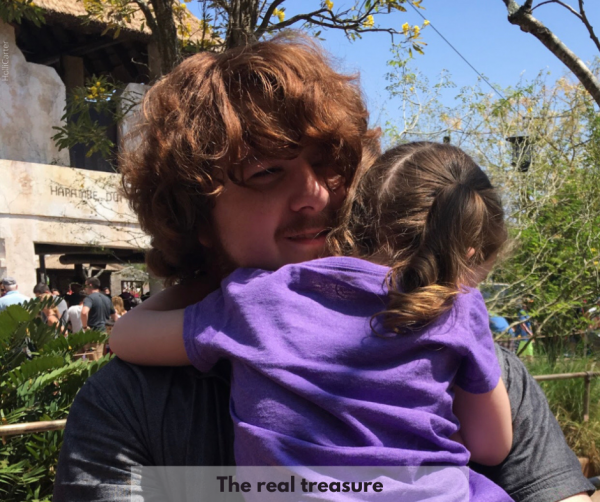 How much more magical can it get?
When you're ready for your family vacation, let me help you navigate the crazy!  Get a no-obligation quote and I'll help you start planning your magical getaway.
Similar Posts: