The Most Accessible Place On Earth
Our son has Spinal Muscular Atrophy and is in a wheelchair as he cannot walk or stand.  We now see the whole world differently through the lens of accessibility.  Walt Disney World is unparalleled when it comes to accessibility and a strength of the resort is accommodating guests with special needs whenever possible.  Keep reading for some tips we have learned that may benefit someone else visiting Walt Disney World with a wheelchair.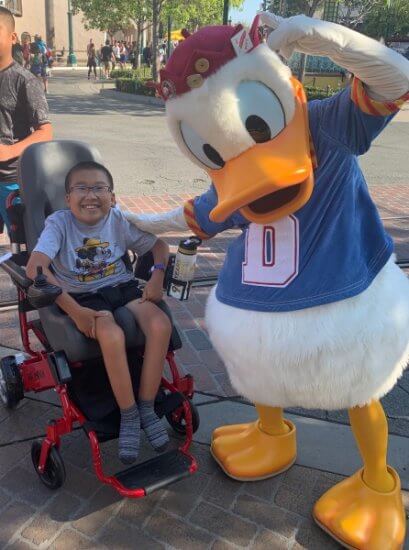 Researching and Planning
Equipment 
What equipment will you need when visiting Walt Disney World with a wheelchair?
If you have essential equipment, consider how you will get these devices to your resort.
If renting  or using a different wheelchair than you are used to, see if you can try it out a bit before spending hours using it.
This could avoid a great deal of discomfort.
Resort 
Research your resort and ask for an accessible room if you need a roll in shower or grab bars.
There are a couple of resorts that do not have elevators, so make sure to request a first floor room if stairs are a challenge.
All pools and spas have lifts to easily get in and out of pools.
Your travel agent can request the specific type of room that will best suit your needs.
Look at resort maps so you know how to best get around and to transportation, pools, and dining.
Check out this blog for more information on which resort might fit your needs best.
Weather
Keep an eye on the weather.
People confined to wheelchairs and scooters can often become hot, particularly on their back if they are not getting air flow.
Consider spending time indoors during the hottest part of the day and using cooling towels, misters, and plenty of breaks and water.
Also watch for rain as a foam seat or battery can quickly become waterlogged.
Transportation
Flying
If you are flying with a  power wheelchair, be aware that damage frequently occurs.
It is good to find a mobility specialist in the Orlando area that will work within your insurance and chair model before flying.
Be sure to call the airline in advance so they know you will be bringing your chair and ask for priority boarding.
Magical Express 
If you are using Magical Express, call ahead and let them know you have a wheelchair and they can get a coach with a lift reserved for your party.
Driving 
If you are driving, consider how long your loved one can ride if long road trips are not typical for your family.  Our family used to be able to power through 12-hour car trips, but now we need frequent stops so that Noah can have a break, stretch, and reposition.
When driving or renting a car, make sure to bring your handicap placard.  This makes transportation and parking so much easier.  It also helps avoid the extra step of having to board a tram as most handicap parking spaces are in easy walking distance to park entrances. In the case of the Magic Kingdom, the handicap parking is close to the ferry boat and monorail loading area.  Be sure to stop at the front desk and mention you have a placard so that your parking fees are waived.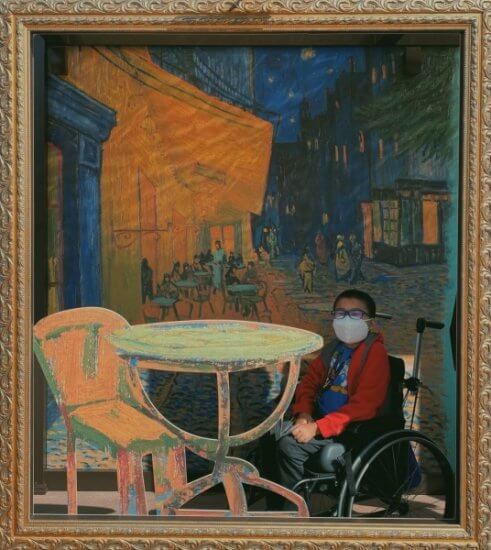 Buses 
Disney buses are fantastic in terms of accessibility.  There is a special place for wheelchairs and scooters to wait in beside the bus lines.  The driver always loads wheelchairs and scooters first and then everyone else.  The passenger can either sit in their chair if it has tie downs, or transfer to a seat.
Boats 
Some Disney boats are accessible and others are not. The rule of thumb is generally the bigger the boat, the more likely it can accommodate chairs and scooters.  This is important to remember if you are staying at a resort where smaller boats are a main means of transportation like Disney's Wilderness Lodge.  Taking a bus may be a better option in these situations.
Disney Skyliner
The Skyliner can accommodate wheelchairs and scooters, but your party may be split due to space limitations.
Monorail
The monorail is perhaps the easiest option of all to get on and off as Cast Members simply pull a ramp up when you board.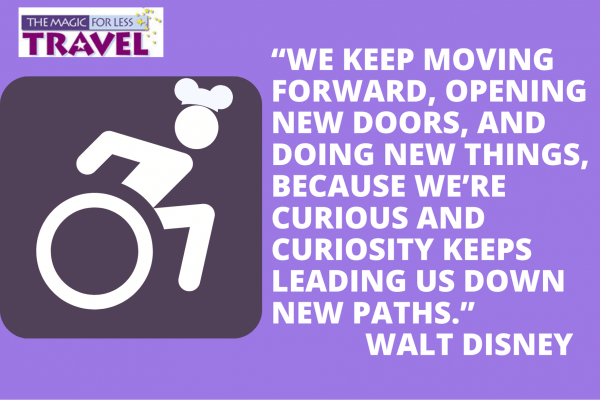 Parks
Disability Access Service (DAS) System 
At any park's Guest Services, Cast Members may add DAS pass on your Magic Band or ticket.
Each person with a DAS pass can have up to six guests use the system with them.
The DAS system can be used in conjunction with Fast Passes when available.
The DAS system allows you to check in at an attraction and return with the standby line wait time would be up.  Note: DAS is not generally given to guests with strictly mobility needs, Guest Services will talk to you to discuss what your accommodation needs are.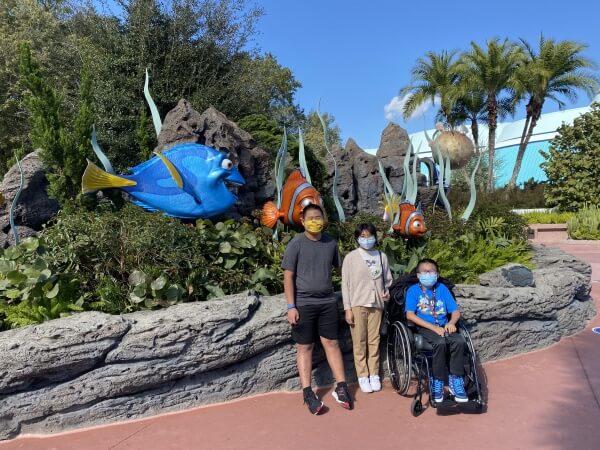 General Accessibility
Be aware of your surroundings.
Look for elevators and lowered curbs.
Places like the railroad tracks on main street, bumpy brick pavement, and bottleneck traffic spots can make getting around difficult.
Viewing 
Find the special accessible viewing areas for fireworks, parades, and shows to help ensure everyone in your group can see.
Think about exiting before or after a show lets out to avoid navigating through a large crowd.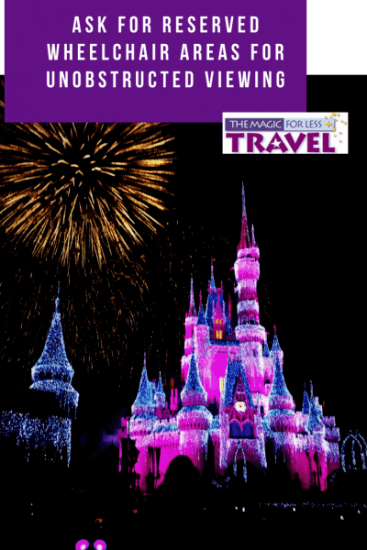 Restrooms
Attractions
Some attractions are just not wheelchair accessible (like the People Mover), however, others are super disability friendly (like most slow boat/dark  rides) and they can even load your chair onto a special boat if you cannot transfer.
Some attractions have alternate entrances like Spaceship Earth.
In every situation, Cast Members are happy to assist you.
Stamina 
If you are visiting Walt Disney World with a wheelchair and pushing the chair, lifting someone, or helping someone transfer all day it can be exhausting.
Make sure caregivers are prepared and do not injure themselves.
Do not hesitate to ask for help when needed.
Most parties with mobility issues have a hard time touring 8-12 hours a day.  It may make the trip much more fun to take a slower pace and frequent breaks.
Touring
The best rule is to know the limitations of your loved one.
Every situation and person is different.
You can research online  or look here to see park maps that will help you plan.
Dining 
When you make an advanced dining reservation, have your travel agent mention or check the online box that you will have someone in a wheelchair.  This allows the staff to save a table that is wheelchair friendly.
Many quick service locations are also great at saving reserved areas for parties with wheelchairs.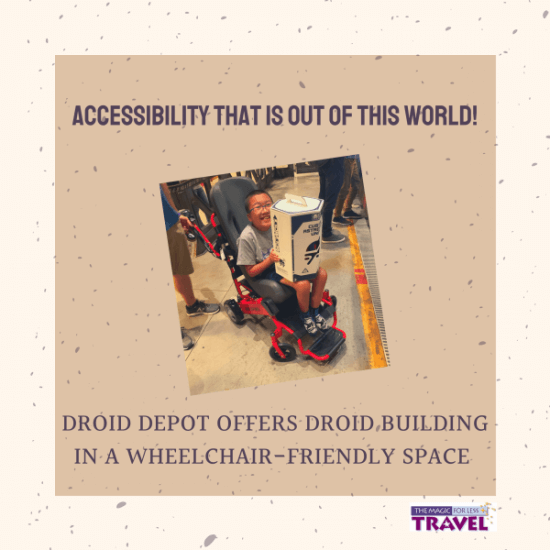 Have fun! 
My biggest piece of advice is to pack your patience.  It can be exhausting traveling, let alone with mobility issues or other special needs.  Remember that the biggest goal of a vacation is to enjoy each other.  Taking the time to relax and recoup is essential. We vacation differently now than we used to, but it is just as wonderful and sometimes even better because when we slow down, we notice things we might never have seen before.
Contact one of the agents at The Magic for Less Travel to help you plan your next vacation.
Similar Posts: