Our Magic for Less counselor had great suggestions on planning the trip and our activities.  She loves Disney and it shows!
-Joan O
Our agent was awesome! We decided to vacation during hurricane Matthew when our Fort Wilderness cabin reservations were cancelled for two nights (for safety reasons). She found us a Disney resort room in no time. She was so helpful and always seemed happy to help. I have told everyone I know about her.

-Kimberly G
We knew we could ask our Magic for Less agent anything and she always had an answer.  If we requested something she was able to help us out and get us everything we needed/wanted to make our trip magical.
-Janelle L
Thank you to Yolanda and family for sharing these great photos from your trip !   
It was our first trip, and I was clueless. Our counselor was great, and I felt super prepared!!
-Jennifer J
I felt prepared for everything from check-in to check- out so we could relax and really enjoy the vacation.   I have really enjoyed using your service. Our agent has been very helpful and answered all of my questions.

-John B
Our agent was really helpful easy to reach out and very communicative. All tips helped and made my Family trip positively different them in the past Thank you
-Idan K
It allowed me to plan for my trip without the worries of handling some of the more complex details.   My agent kept me constantly updated on my payment status and informed about any changes at the park that could affect my stay; be they positive or negative.  She was always available for any questions I had and would respond in a timely manner.

-David G
Our Magic for Less counselor was very helpful and willing to answer any questions.   She gave me great tips and advice. I have been to Disney every year for the past 5 years and I still picked up useful info.  Also, it was awesome having someone check for discounts when the promotions are released. I don't always have time to stay on the phone with Disney. They can be very busy.
-Susan M
Thank you to Jaime R for sharing all the fantastic photos of your family trip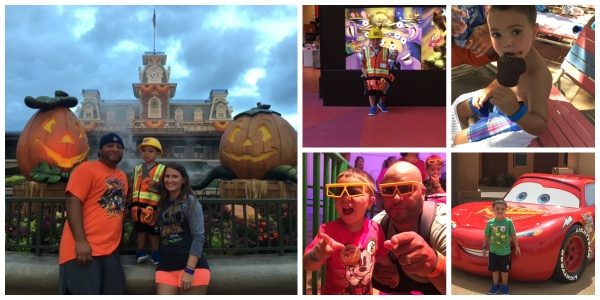 Our Magic for Less agent made everything SO easy. She is professional, kind, and brilliant! She knows what to do and when to do it. I will never use anyone else. She is THE BEST!
-Beth G
Having a Magic for Less agent made it hassle free and less worrisome! She is fabulous and so very quick to answer!

-Heather S
I am a bit of a worrier but our agent always answered my questions about booking dining reservations as well as the Halloween party in a timely manner. It took a a lot of the stress off to know a pro was advising me.   She was so sweet and patient. 
-Natalie K
Our agent was GREAT! We missed our original flight to Orlando and she was instrumental in helping us ask the right questions to make sure our luggage arrived and that we would have transportation to Disney when we arrived.

-Kelly McC
Made it really easy! Instead of taking hours and hours on research online, .all of the information was there at our fingertips. Our agent was available anytime for a call as well even though we live outside the US. I was quite stressed in the beginning as we had 9 in our party but she helped and answered all of our questions.
-Shannon P
it was helpful and comforting to know that we had someone to turn to and ask any questions that may arise.

-Marci
Our counselor is amazing! Her top priority is making your vacation exactly how you want it.  She goes out of her way and offers top notch customer service, A++++ rating!  Our trip was affected by hurricane Matthew, she handled all our changes and spent countless hours on hold with Disney to make sure we were taking care of!  This was our 2nd trip we booked through The Magic For Less Travel and I will happily refer anybody I know thinking about taking a Disney trip, thank you!
-Brenda B 
Our counselor takes the stress out of the planning for my Disney- related vacations. This was the 4th time he has helped me. If I have any questions or concerns he takes care of them right away in a friendly, efficient way. If he doesn't know the answer, he works at finding it out as soon as possible. It is evident that he loves all things Disney and wants to make my vacations the best they can be.  Keep up the great work you do for your clients. I don't know when my next Disney vacation will be but I will definitely have him help me again. Until then I will keep up with all things Disney by listening to the Be Our Guest podcast and following them on Facebook.

-Kris M
My magic for less agent is great.  She answers all my questions.  She will update me whenever something new has been added to my reservation. We have become good friends.  
-Cynthia D
Similar Posts: