Sharing is caring!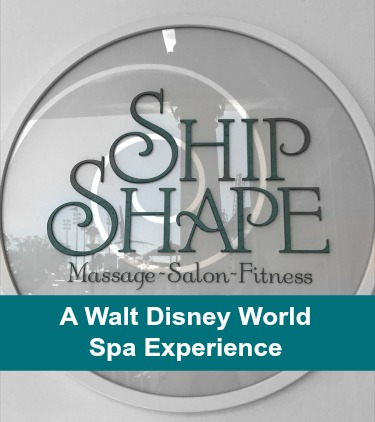 I recently had my first Walt Disney World spa experience.  That goes to show you that having visited the resort dozens of times over 38 years, you can still find something new to do!  I decided to take make a spa appointment for a massage because I was going to run the Dopey Challenge during Walt Disney World Marathon Weekend.  That consists of four races (5K, 10K, half marathon, and full marathon) over four days for a total of 48.6 miles.  Not only would it be a nice treat, it would actually really help my sore muscles recover better.
While Senses Spa at the Grand Floridian Resort & Spa is probably the better known spa on property, most of the deluxe resorts also offer some spa services.  We were staying at the Beach Club during this visit so it only made sense to book my massage at Ship Shape Spa, shared  by the Yacht & Beach Club Resorts.  Since I knew very early I wanted to do this for both two friends and I, I booked close to the 180 days in advance to be sure we could get what we wanted, when we wanted.  You can make appointments at the Walt Disney World Spas by calling 407-WDW-SPAS (407-939-7727).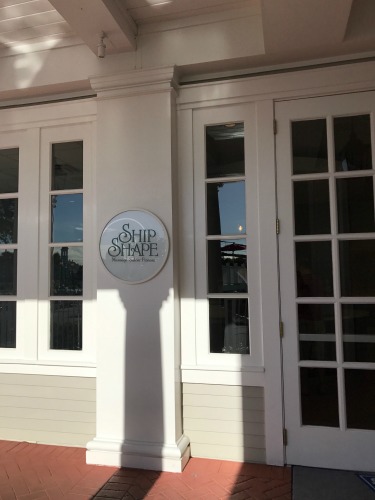 You can see the spa's offerings by going to the waltdisneyworld.com and selecting Spas and Fitness Centers under 'Things to Do.'  When I'm at home and I book a massage, more often than not it's sports massage targeting particular areas or it's just a timed massage – 30 or 60 minutes – and the masseuse asks about problem areas and customizes from there.  When calling to make our appointments, I could choose the type of massage so I asked the Cast Member what other runners usually book after their runs.   She recommended the Swedish Massage that runs either 50 or 80 minutes and we knew we definitely wanted the lengthier of the two.  While a spa treatment does not appear as a reservation in your My Disney Experience account, you do receive an email confirmation and can add it as a note.  Modifications to our appointment could be made up until 4 hours prior to our appointment time.
The day of our massages, we arrived at Ship Shape Spa and were quickly checked-in.  We were then brought to the back to a changing area.  The changing area was inside the bathroom for the spa and fitness center and had two large, and really nice, shower areas as well as several bathroom stalls.  The changing and locker area itself though was very small and made for three of us getting undressed and into robes and locking our belongings away, a little difficult all at the same time.  Once we were changed, we went to a lounge area where there was citrus water, some snacks, and chairs.  We did not wait more than a minute before our masseuses came to get us and bring us to our private rooms.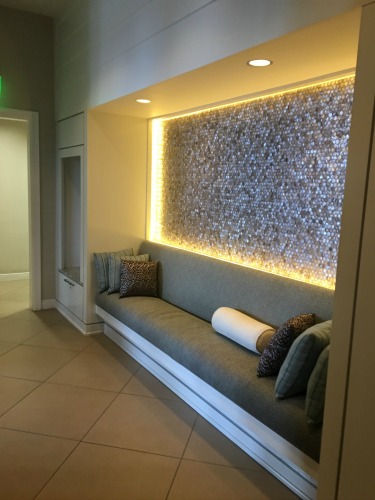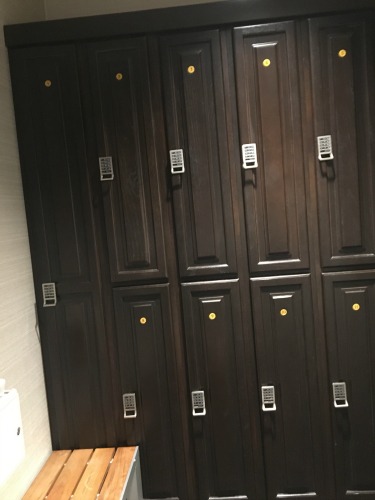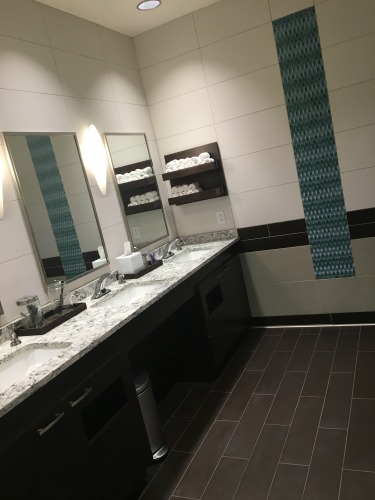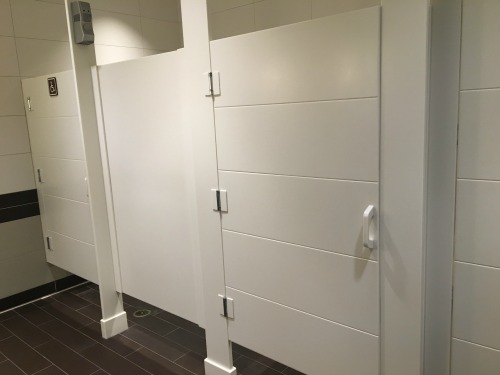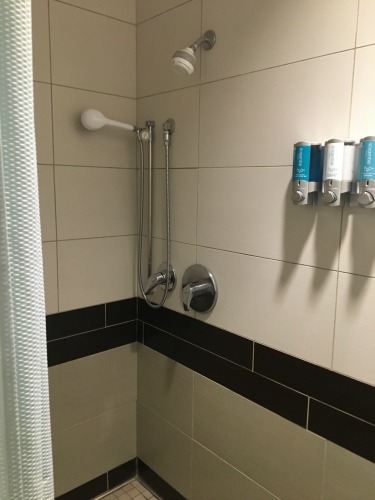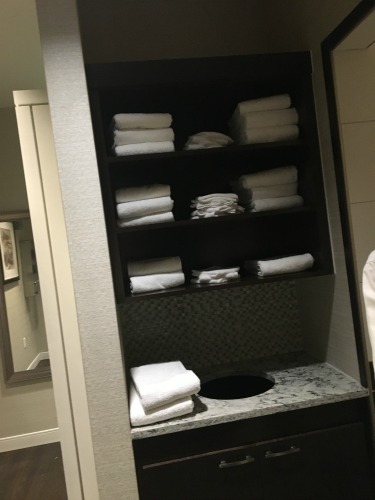 I had really been looking forward to the massage and her working on my legs which had put lots of miles on them between being at Disney for 8 days and running the races, but they actually felt a lot better than I had expected and my masseuse said she had time to work on my whole body.  And let me tell you, she worked.  We exchanged a few pleasantries early on like any problem areas, where I was from, and how my stay was, but then she let me just relax and didn't engage me in conversation, which I truly appreciated.  I don't like having to carry on a conversation during this "me" time where I just want to zone out.  About 10 minutes or so in, she did ask how her pressure was and when I responded that I like a lot of pressure, she spent the next 70 minutes giving me a very deep tissue massage.  I swear she must have been exhausted afterward.  It was the best full body massage.  I actually fell asleep more than once, and when she hit a reflex spot and I not only kicked, but made some crazy snort noise, waking myself up, she didn't even flinch! How gracious of her. 🙂 When the massage was over she said I had some very "interesting" spots and a lot of stress so she hoped she had done well.  Oh yes…. yes you did.
I was given time to slowly get moving and return to the lounge area.  Once there, water was encouraged and I spent a few minutes trying to wake up.  We could have a light snack and take our time getting ready.  I was heading to my room to shower so I didn't take advantage of the showers there.  Upon paying for my massage, I asked if they took any discounts, which they did and quickly applied.  The gratuity was also included in the price which I appreciate.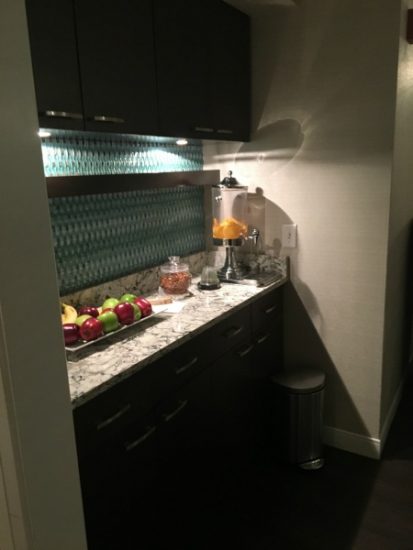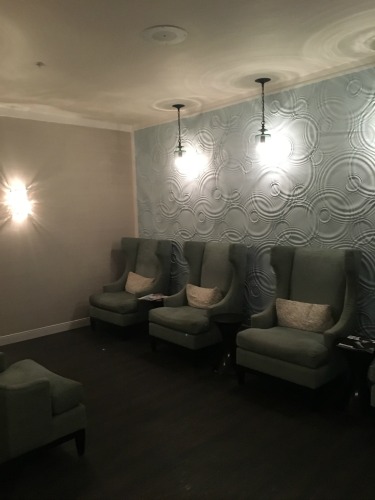 I would go back to Ship Shape Spa in a heartbeat.  While it wasn't a huge spa, they had everything that I needed and the services were magnificent.  It was a very clean facility which is always important and our appointments ran on time.  So if you're looking to be pampered for a little while, look into a massage at one of the resort spas, and indulge in a Walt Disney World spa experience.
Similar Posts:
Sharing is caring!