Why book a Walt Disney World vacation sooner than later?  I'll share with you the benefits of booking your vacation early.
Book Early for the Best Availability
The number one reason to booking your Disney vacation early and not wait, is availability.  With the vast size and offerings that Walt Disney World has to offer, there are options for everyone. But this is the most popular US vacation destination, so room types & resorts do book up!  Want that room close to transportation or that special view you love?  You are likely not the only one so booking early guarantees you get exactly what you want.
Walt Disney World resort is made up of over 25 different resorts to fit every price range, four amazing theme parks, two water parks, four golf courses, too many restaurants to count and limitless ways to experience it all, it is easy to see how overwhelming it can be.    During Walt Disney World's reopening phase, this is a list of the resorts that are currently open.  Since not all resorts are scheduled to reopen quite yet, it's even more important to book early to secure the resort you want!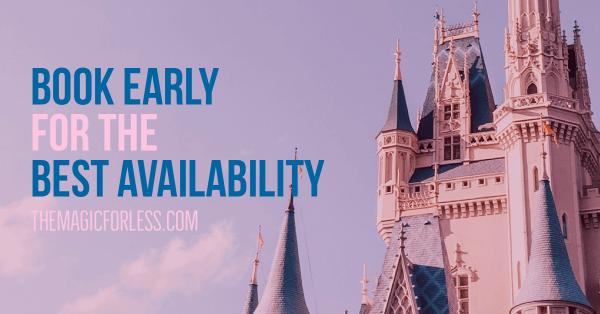 Refundable Deposits Offer Peace of Mind
A Walt Disney World vacation package is simply putting accommodations and one or more components together to create a bundle.  A package in its simplest form is accommodations at a Walt Disney World resort and either theme park admission tickets or a dining plan.
Any Walt Disney World Package is secured with only a $200 fully refundable deposit!  The balance of the package price is then due at 30 days prior to check in.   This is truly a risk-free option to book in advance and secure your spot.
Paying Toward Your Vacation
Your vacation is an investment and not one most people take lightly.   By booking your package early, you can avoid that one lump sum payment and make regular ones toward your trip! Many of our guests make monthly or bi-monthly payments so that they pay off their a little at a time.  You can use Disney Gift Cards as well as credit and debit cards to make payments.  Some of you earn reward points or purchase those gift cards at a discount for extra savings!  But waiting until last minute is risky.  Has your local Target ever been out of gift cards?  Mine has.  ?
Flexibility
Are you worried about "locking in" to your trip too early?  Does planning 12 months out seem too overwhelming?  Or have you ever booked a trip, only to have to change it because other commitments arise?  There's so much flexibility when you book your Disney vacation package early that you don't need to feel like anything is set in stone – unless you want it to be.
You and your travel planner can always work to shift your package to meet your new needs without a huge hassle.  There's no change or modification fee before your final payment date so if you or your family have a conflict with dates, you can change them!  Your best friend stayed at a different resort and now you want to stay there too?  If you plan early enough, you can change that too!  The components like number of ticket days or dining plans when available, are all easily modified.
Discounts Later?
Yes, you can still work with one of our travel planners to apply any discounts that come out after you book!
Plan Your Vacation Today
Thinking about your next trip?  Reach out to one of the travel planners at The Magic For Less Travel or email me at sue@themagicforless.com go get started!  Our quotes carry no-obligation!

Similar Posts: