Disney's Pop Century Resort is one of the value resorts on Walt Disney World property.  Travel back in time with me to discover the top 5 reasons to stay at Disney's Pop Century Resort!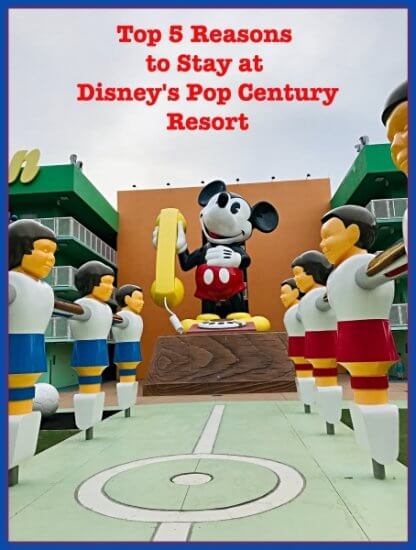 Far Out, Larger than Life Theming
I think one of the best benefits of any Disney resort is the theming.  Pop Century doesn't disappoint! It is themed with late 20th-century pop culture from the 50s, 60s, 70s, 80s, and 90s.  Take a tour down memory lane across from check-in with decades-themed shadow boxes full of popular fads, famous people, and toys.  Take a walk around the decades-themed buildings with larger-than-life statues.  And I mean large!  There are so many great spots for some fab photos, so make sure you take some time to explore.  Some guests like to take a picture in the same spot every visit so they can look back and compare or see how tall their children have grown!  Keep your eyes open, Disney details are everywhere!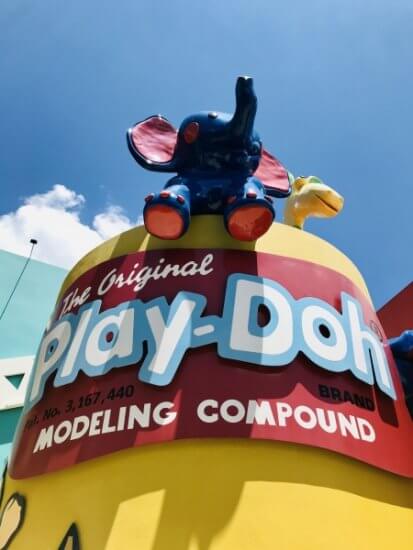 Nifty Updated Rooms
Been a while since your last visit?  Pop Century rooms were completely refurbished in 2018.  The carpeted floors have been replaced with laminate.  They now have two queens or a king bed instead of the former double beds (king beds by request only).  In the two queen rooms, one of the beds is a murphy style table bed, which is a great use of the space and makes the room feel much larger when "closed."  Under the beds, there is plenty of room to slide your luggage.  Bedside tables are located on either side of both beds with outlets and USB ports.  There is a long dresser with more outlets and USB ports, a room safe and drawers.  You also have a transparent-door beverage cooler in each inside a wall unit with some shelves and a coffee pot.
The bathroom is separated with a sliding barn-style door and the sink area has plenty of space for all of your family's toiletries, hanging space, ironing board with iron, lighted mirror, and hair dryer.  Although, you can leave your shampoo, conditioner, and body wash at home because Disney has all of these in large bottles mounted inside the shower.  Some rooms have walk in showers and others have tubs.  Overall, the rooms feel clean, open, and have so much storage compared to before the update.
Rad Disney Skyliner
I think this is my favorite benefit to a stay at Pop Century!  The Disney Skyliner is totally tubular!  It is a gondola system that can take you from several resorts as well as to two of the theme parks – Epcot and Hollywood Studios.  It is so fast and easy.
Gondolas are colorful and some are even decorated with your favorite characters.   The Skyliner Station is located on the bridge over Hourglass Lake between Pop Century and Disney's Art of Animation Resort.  If you want to be close, make sure to book a Preferred Room and request the 60s section.
Each Skyliner trip from Pop begins with a short ride to Disney's Caribbean Beach Resort (about 3 minutes).  You will get off your gondola and board the next gondola to Epcot via the Riviera Resort (about 9-12 minutes) or Hollywood Studios (about 6 minutes).  Pop Century has bus transportation to Magic Kingdom and Animal Kingdom.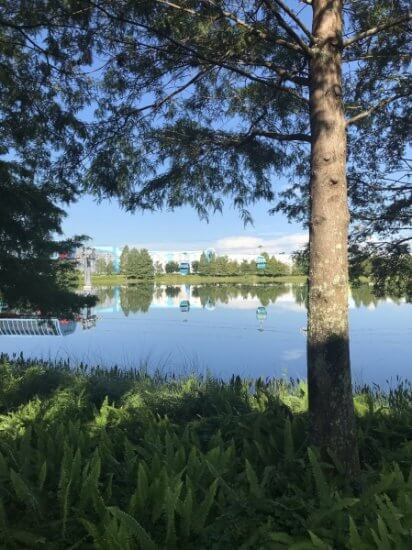 Groovy Recreation
Pop Century has 3 cool pools to check out…the Hippy Dippy Pool in the shape of a flower in the 60s section, the Computer Pool in the 80s-90s section, and the Bowling Pool in the shape of a bowling pin in the 50s section.  The Hippy Dippy pool is where the action is.  Enjoy some poolside activities and Movies Under the Stars at this pool.  The splash pad for littles is near here, too.  There is a playground in the 70s section and an arcade in Classic Hall.  Runners or walkers, make sure to enjoy the trail around Hourglass Lake which is especially beautiful in the evening or early morning.  Fun signs with some of the important dates in each decade can be found around the resort.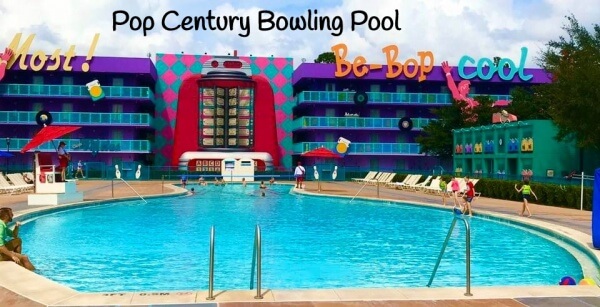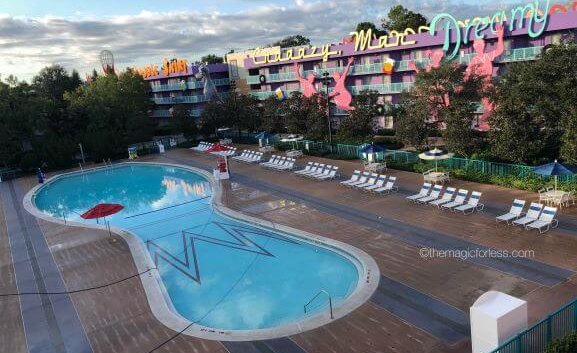 All That and a Bag of Chips!  Pop Century is walking distance to Disney's Art of Animation Resort
Disney's Art of Animation is just a short walk across Hourglass Lake.  Why is this a benefit?  Most times Art of Animation and Pop Century bus stops at the parks are near each other.  If one bus arrives before the other or if one line is shorter than the other, you can hop on that bus and take the short walk across the bridge.  Also, you can try out Art of Animation's Landscape of Flavors food court in addition to the great food at Pop Century's Everything Pop Shopping and Dining.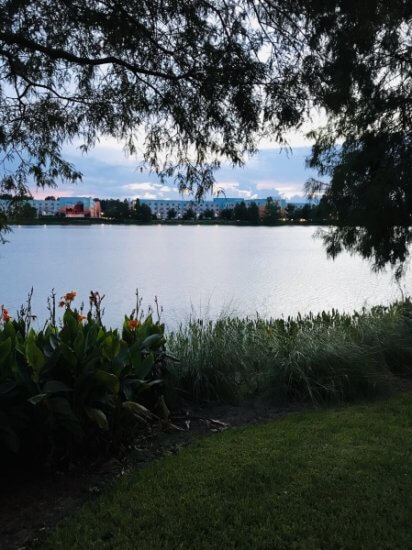 Looking for a great value, convenient transportation, and fun theming?  Disney's Pop Century Resort may be the place for you!  Let me know if I can help!
Similar Posts: