Coronado Springs Resort is one of Disney's Moderate resorts, and one of my favorite places to stay.  This resort has 1,921 rooms including 46 suites which are located in the Casitas area.  Here's a photo tour of a One Bedroom Suite.
Suites at Coronado Springs are located in the Casitas section, buildings 1, 2, or 3.  As such they are in close proximity to the Convention Center and El Centro, which is the main public area of the hotel.  The One Bedroom Suite sleeps 6 on two queen beds and one queen sleeper sofa.  The room is basically two regular guest rooms with a living room and a bedroom.  Its quite spacious and comfortable as it includes two full bathrooms, two televisions, and two refrigerators.
You enter into the living room where you find comfortable seating, a television and table and chairs.  The TV cabinet includes the standard Disney fridge (not shown here):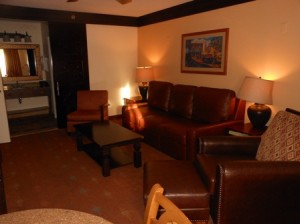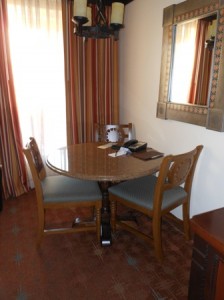 The bedroom includes two queen beds, a television with DVD player, fridge, desk, and another bathroom: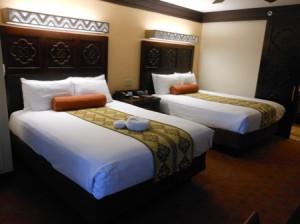 The regular guest rooms have blue accents; I like the earth tones in the suite better: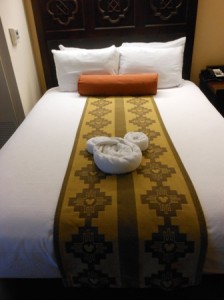 Here's the nightstand that separates the two beds: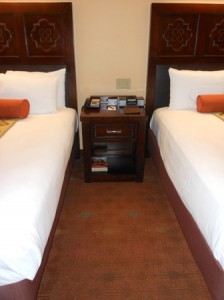 Also in the bedroom is the usual desk area and this room included a chair: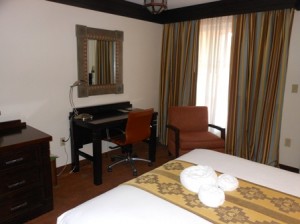 Another television, with DVD player.  The fridge is located in this cabinet.  You can see the bathroom vanity area in the bedroom too: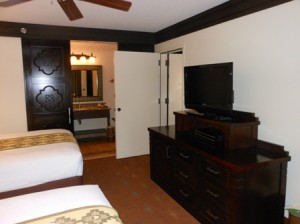 Here's a closeup of the bathroom vanity, which is the same on either side: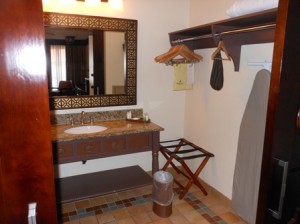 Here's the bathroom area: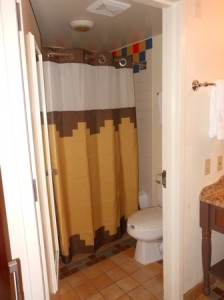 While quite a bit more expensive than the Family Suites a the Value resorts, these rooms are less costly than a suite in a Deluxe resort.  There is no Concierge lounge with a suite at Coronado Springs like you get with a suite at a Disney Deluxe resort.  These suites are great for business travelers and guests attending conventions as the living room space is well suited to host a small group.  Families will like the space and the upgraded amenities when compared to a Family Suite in Disney's Value resorts.  My group was quite comfortable in this space for our stay and we enjoyed how close these rooms were to the food and bus stop.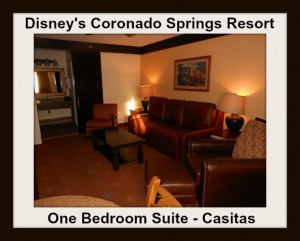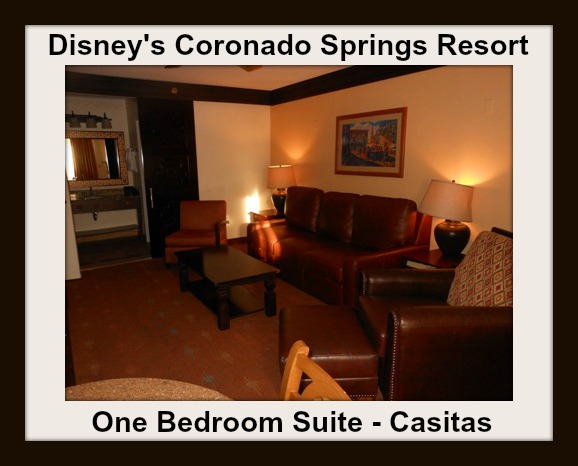 Similar Posts: