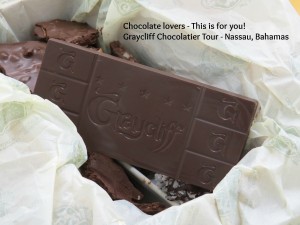 The Graycliff hotel has a long history in Nassau, the Bahamas.  Built in 1740 by a Caribbean pirate, it has even figured in the American War for Independence.  It's no wonder then that with such a colorful past and such a five star present, that Disney offers several port adventures to the Graycliff when the cruise line stops in Nassau.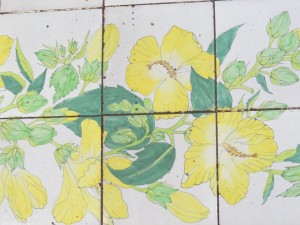 Open for just 14 months at the time of this writing, the Graycliff Chocolatier has begun offering a delightful yet simple tour that is fun for the whole family.  My colleague and I took part just recently when we sailed aboard the Disney Magic to see all of her reimagined beauty.  I love chocolate especially dark chocolate and since the tour was just a couple of hours, I knew I'd still have time to enjoy the ship, walk around the town a bit or even have a relaxing lunch or snack onboard or in the port.
We were transported to the Graycliff factory by air conditioned mini-bus and there were 24 of us on this tour.  I can't imagine any more of us taking part as the factory is not big at all.  This is a lovely shop where everything is handmade not a large scale factory that might come to mind.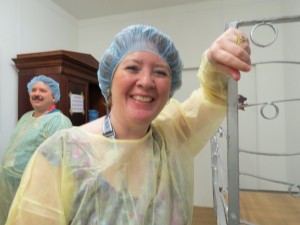 Upon our arrival, we were greeted in the street facing shop and guided to a small reception room where our guide Kevanna, a.k.a. Kiki, greeted us.  She is petite and full of energy and she has obviously studied because she had plenty of information to share with us.  We were given food safe protection for our clothing and hair and our tour started with information about where the beans come from and shown several large photos hanging on the wall to visually reference the beans at various growing phases.
It was also at this point that we learned that Erica Davis, of Top Chef:  Just Desserts fame was creative director for Graycliff Chocolatier and we saw her a few times at work while our tour was in progress.  She was busy but did stop to answer a few questions from a couple of fans that were on the tour with us.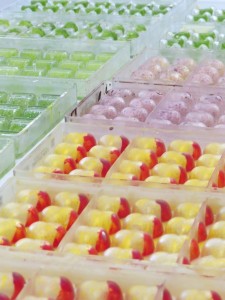 As the tour progressed, we were escorted into a room that in use for production and two of the production team were busy at various machines, pouring, mixing, filling molds, etc. while our tour guide explained a bit about the process of making fine chocolates and also a bit about the history of the building.  The floor tiles throughout are original to the building and preserved by historical preservation mandates.  The original walls are still intact but have been covered for food safety reasons.
Our tour then took us to a third room where the tour guide was able to give a more detailed explanation of how the process goes "from the bean to the bar" and you'd better pay attention because there's a fun quiz at the end!  After listening to the explanation, we were invited to take a seat and in front of us was everything we'd need to have some fun with chocolate…except the chocolate.  That was delivered to us warm and yummy once our guide had explained a bit about what we were going to do.
We had time following the tour and candy making to visit the shop before returning to the shuttle bus.  The bus brought us back to the port but we were free to go exploring or return to the ship since we still had plenty of time left in our day.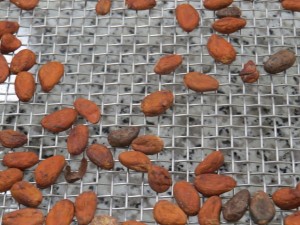 Since many repeat Disney cruisers find themselves in Nassau on multiple occasions, the Graycliff is someplace that I'd enjoy returning to for their other excursions as well and this newest excursion is definitely one that you might want to consider adding to your port adventures "wish list".  For more information about all of the Nassau port adventures, visit http://disneycruise.disney.go.com/cruises-destinations/shore-excursions/search/ and choose the "Bahamas" and "Nassau" filters for a current list.  Your Magic For Less Travel counselor can also help you plan other fun port adventures for any of the Disney Cruise Line ports of call.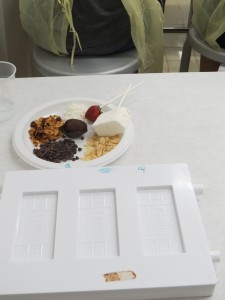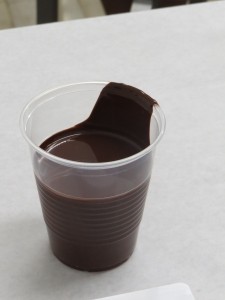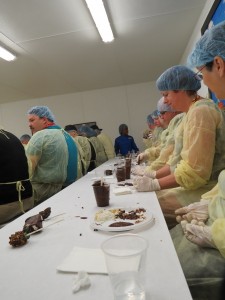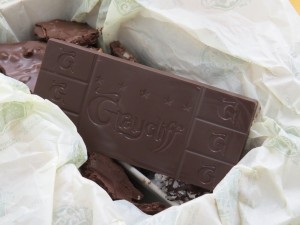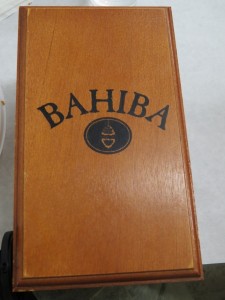 Similar Posts: